Omahan Pat Simpson loves to cook, and he loves beer.
So the head brewer for the Backswing Brewing Company often combines both.
Simpson has run the Lincoln brewery with Cory Sinclair and T.J. Walker for the past two years. Bar tending and cleanup is also part of the job.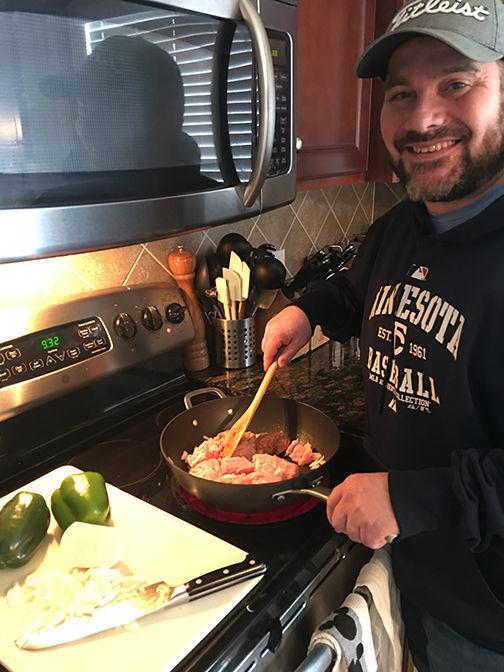 But when he's home and cooking for the family, Simpson will peruse the Internet for recipes, and then come up with his own twist.
A favorite with wife Maggie and daughters Hailey and Ella is his macaroni and cheese made with beer. He also makes a mean marinara.
Simpson says that while beer is part of the recipes, parents don't have to worry. As the beer is boiled, the alcohol is boiled out.
"It's almost like a distilling process,'' he said. "All that steam or vapor is what has the alcohol in it. That's what goes in the air.''
Simpson has been making his mac and cheese for 10 years, experimenting with various cheeses. He finally found the perfect combination three or four years ago. He makes it every year for Thanksgiving, and his extended family loves it, too. They call it Pat's Famous Mac N Cheese.
Another year for Thanksgiving, he marinated a whole chicken in his sauce and smoked it on the grill. That earned rave reviews, too.
"That helps fuel the fire,'' he said. "It kind of makes you want to do more.''
As Omaha Beer Week approaches Friday, we asked some other brewers and home cooks for their favorite recipes. Cheers!
Pat's Famous Mac N Cheese
16-ounce box of your favorite pasta, cooked to al dente
1 pound Velveeta Queso Blanco cut in 1 inch squares (I usually buy the 2-pound block in case I need more)
1 sleeve Ritz crackers crumbled (I use a gallon zip-top bag)
¼ cup grated Parmesan cheese
1 tablespoon Italian seasoning
In a saucepan, melt butter and saute garlic cloves and butter for 2 minutes.
Pour about half of the beer into the garlic butter and bring to a slow boil for 5 minutes. Meanwhile enjoy the other half of the beer.
Add enough water to the bottom pot of a double boiler so that it barely touches the bottom of the top pot or slightly below. Put the top pot on and adjust heat to bring the bottom pot to a slow boil. This will allow you to melt the cheese without burning it.
Put the beer, garlic butter mixture into the double boiler and begin to add the cubed cheese. Once the cheese starts to melt, little by little begin to add milk to create a creamy but runny consistency (add more cheese or milk if needed).
Once cheese is melted, stir in the dry mustard and white pepper. Add the pasta to a greased 9-by-13-inch pan.
Put Ritz crackers into a gallon zip-top bag and crush with a rolling pin. Add Parmesan cheese and Italian seasoning to the crumbs and mix.
Pour cheese sauce over pasta and gently mix together.
Evenly sprinkle the Ritz cracker mix over the top.
Bake about 30 minutes or until crackers have browned and cheese is bubbly.
Note: You could sub the IPA out for a Backswing citra Kolsch or wheat beer.
Pat Simpson, Backswing Brewing Company
Beer Dude Chili
2 pounds ground beef chuck
1 large green bell pepper, chopped
4 large garlic cloves, finely chopped
1 tablespoon ground cumin
2 teaspoons sweet paprika
2 teaspoons dried oregano
2 tablespoons tomato paste
12 ounces malty beer (bock, brown ale, Infusion Dean's Holiday Spice)
2 tablespoons unsweetened cocoa powder
One 28-ounce can whole plum tomatoes, hand crushed
One 15-ounce can low-sodium beef broth
Two 15-ounce cans black beans, drained and rinsed
Shredded cheddar cheese and sour cream (optional)
Cook the bacon in a Dutch oven over medium heat until crisp. Remove the bacon to a paper towel-lined plate. When cool, crumble and set aside. Pour off and reserve all but 1 tablespoon of the bacon drippings.
Increase the heat to medium high and add the beef. Breaking up the meat with a wooden spoon, cook until browned. Using a slotted spoon, transfer the meat to a plate then wipe out the pan.
Using the same pan, heat 1 tablespoon of the reserved bacon drippings over medium-high heat.
Add the onion and bell pepper. Cook while stirring until soft, about 5 minutes.
Add the garlic and salt and cook 2 minutes.
Add the chili powder, cumin, paprika, oregano and tomato paste. Cook while stirring until the mixture is deep red, about 5 minutes. (If the mixture begins to stick to the pan add a tablespoon or two of water.)
Add the beer and simmer until mostly reduced, about 3 minutes.
Stir in the beef and juices from the plate. Add the cocoa powder, beef broth, tomatoes and beans. Bring to a simmer over low heat. Cook stirring occasionally until the chili thickens slightly, about 90 minutes.
To serve, ladle into bowls and top with crumbled bacon. Add shredded cheese and/or sour cream if desired.
Whole Grain Beer Mustard
1/3 cup yellow mustard seeds
¼ cup brown mustard seeds
½ cup apple cider vinegar
½ cup Upstream's Weizenbock or Dundee Scotch Ale
2 tablespoons brown sugar
Pour both types of mustard seeds into a small mixing bowl and whisk together until well-blended.
Stir vinegar and beer into the mustard seeds until just combined.
Cover the mixture with plastic wrap and set in a cool, dry place for 12 to 24 hours or until all the liquid has been absorbed.
Stir the remaining ingredients into the mustard seed mixture and pour into a food processor.
Pulse mixture 5 to 6 times before running the motor for 30 seconds to 1 minute.
Pour mixture into a sterilized glass jar and refrigerate. For a spicier result, leave the jar of mustard at room temperature for 1 to 2 days before refrigerating, tasting each day.
Beer-Braised Onions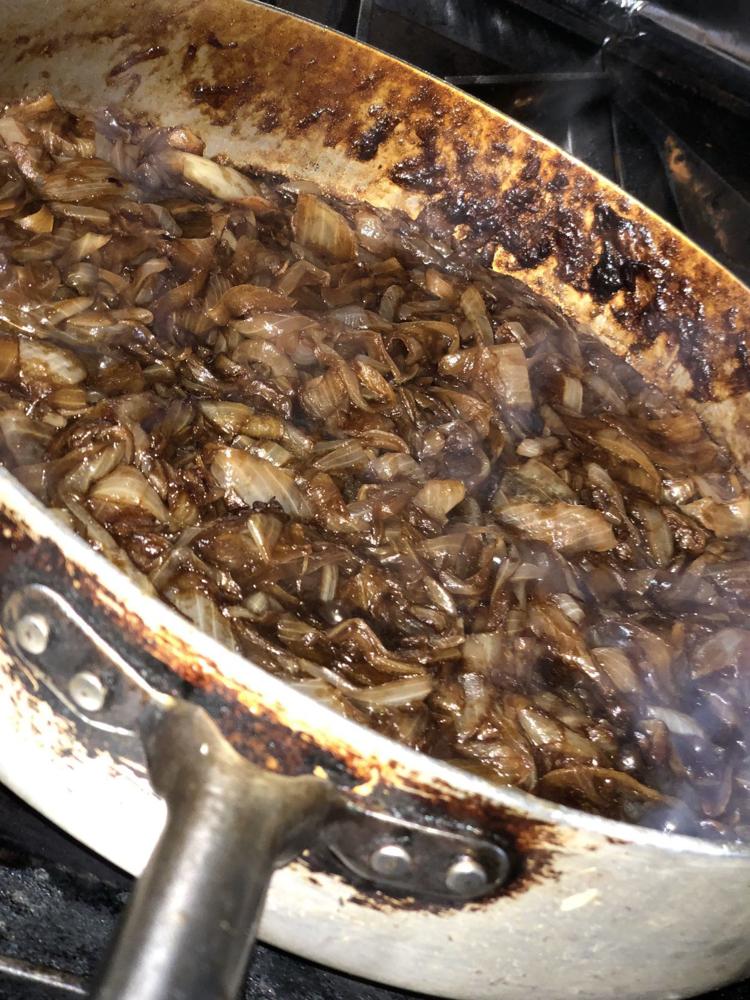 ½ cup Benson Brewery's Brewer's Duet Stout
Add butter and onions to pan over high heat. Cook until they start to soften. Lower the temperature and add the brewers duet. Simmer for 15 to 25 minutes.
Makes a great for steak toppings and burgers.
Christine Bielewicz, Benson Brewery
Basic Beer Brine
Makes 5 cups or enough for up to 2 pounds of protein
1 cup Upstream's Firehouse Red Lager or Dundee Scotch Ale
¼ cup packed light brown sugar
1 tablespoon black peppercorn
In a medium saucepan, combine all the ingredients except ice cubes and bring to a soft boil. Simmer for five minutes. Turn heat off. Transfer brine to a bowl and add ice cubes to cool.
Pour the brine over your choice of protein or into zip-top bags with your protein. Refrigerate and follow the guideline below for brine times. Discard brine when the protein is removed and pat dry the protein before cooking.
How long to brine depends on the size of the protein; a whole turkey will take much longer than a few chicken thighs; a pork loin left whole for roasting will take longer than a pork loin cut into chops. Be careful not to over brine otherwise the dish will taste over salted.
Bone in pork chops: 6-12 hours
Chicken breast: 1-2 hours
Duck breast or legs: 4-6 hours
Whole pork loin: 8-12 hours
Pheasant breast: 4-6 hours
Chicken thighs: 4-6 hours
Chicken Marinade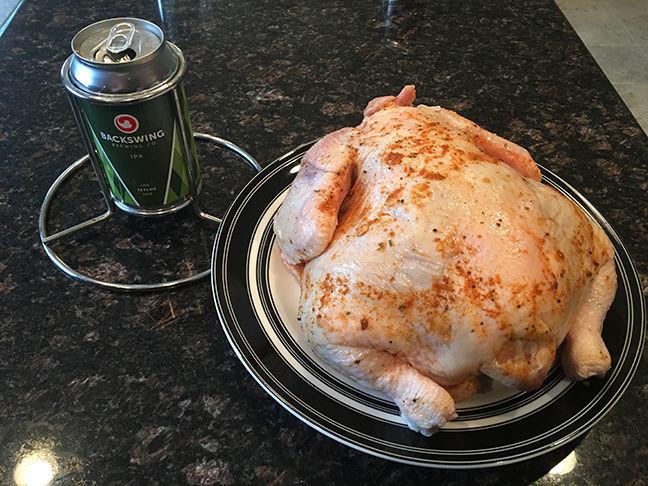 2 cans of Backswing wheat or citra kolsch beer
½ package of ranch seasoning mix
Amount of chicken as desired
Combine ingredients. Pour over chicken and marinate for 12 to 24 hours. Can be baked or grilled to an internal temperature of 165 F.
Double the recipe to marinate a whole chicken, then use a beer "butt" chicken holder with half a can of the wheat or kolsch. Slowly grill to 165 F.
Pat Simpson, Backswing Brewing Company
Beeramisu
8 ounces mascarpone cheese
12 ounces Farnam House Brewery's Taft American Nitro Stout
1 tablespoon espresso powder
3 ounce bar of dark chocolate (shaved)
Separate the eggs, yolks in a large bowl and whites in a medium bowl
Add pinch salt to whites, beat until stiff peaks. Add ¼ cup white sugar, beat until combined.
Add ½ cup white sugar to yolks, beat until light in color and rubbery. Beat in mascarpone.
Add the cream and ¼ cup powdered sugar to a medium bowl, beat until stiff peaks form. Stir the mascarpone into the whipped cream, then gently fold in egg whites until combined.
Stir beer and espresso powder together. One at a time, dip lady fingers in the liquid and lay in an 8-inch square baking dish.
Top with a layer of cream. Repeat until you have 3 layers.
Chill overnight. Sprinkle with chocolate shavings prior to serving.
Farnam House Brewing Company
Beef and Guinness Stew
Cook time approximately 2 hours 15 minutes
3 thick slices bacon, diced
¼ teaspoon ground black pepper
2 pounds lean stew beef, cut in 1 inch cubes
2 large onions, chopped, about 2-3 cups
2-3 cups carrots, diced or sliced
2 tablespoons tomato paste
2 teaspoons Worcestershire sauce
½ teaspoon dried leaf thyme
1 tablespoons fresh parsley, chopped
Freshly ground black pepper, to taste
In large saucepan or Dutch oven over medium heat, cook bacon, turning, until lightly browned.
In a food storage bag, combine flour, ½ teaspoon salt and ¼ teaspoon pepper. Add beef cubes and toss until well-coated.
Add beef and onions to the bacon and continue cooking, frequently turning, until beef and onions are browned. Add the garlic and cook, stirring, for 1 minute longer.
Add the carrots, stout and beef broth. Stir in tomato paste and Worcestershire sauce. Add the bay leaf and bring to a boil.
Reduce heat to low, cover and cook at a low simmer for 1½ to 2 hours, or until beef is very tender.
Add the thyme and potatoes and bring back up to a boil.
Cover, reduce heat and simmer for about 30 minutes longer, or until potatoes are tender.
Stir in the parsley and add salt and pepper to taste. Cook for 5 minutes longer.
Serve with crusty rolls, biscuits or slices of freshly baked Irish soda bread.