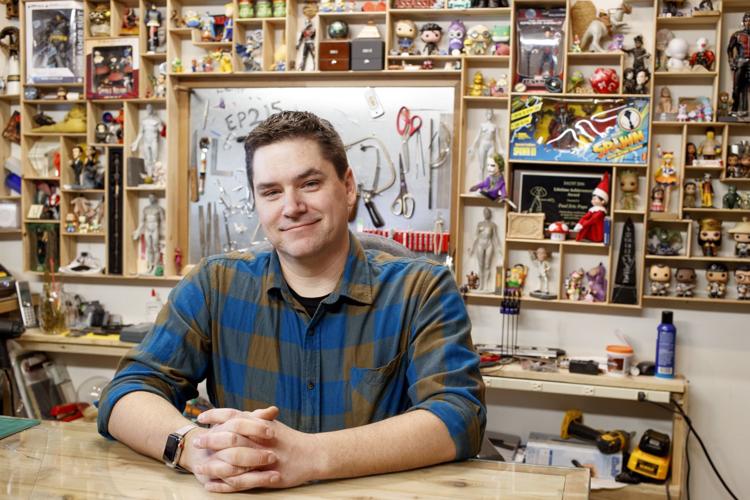 On Jan. 16, the former "Saturday Night Live" standout donned a comb-over wig and an extra-long tie, and wielded a shiny gold statue to and fro as he slammed Donald Trump's favorite journalistic targets.
That statue was born in a crowded yet fairly orderly basement workshop in Bellevue.
"We called it the Trumpscar," said Paul Pape, the statue's creator.
After about three years of freelance work for the show, Pape recently signed a blanket vendor agreement to make props like the Trumpscar at the same studio in which he builds custom-designed action figures, wedding-cake toppers, toys and other items as the owner of Paul Pape Designs, his 15-year-old company.
Many companies create similar items, but few will customize them to a buyer's specifications.
The Trumpscar is perhaps his most visible creation to date: Fallon's show had an average of 2.62 million viewers in the week ending Jan. 19, beating competitors Stephen Colbert and Jimmy Kimmel. And the YouTube video of the "Fake News Awards" sketch has had about 865,225 views so far.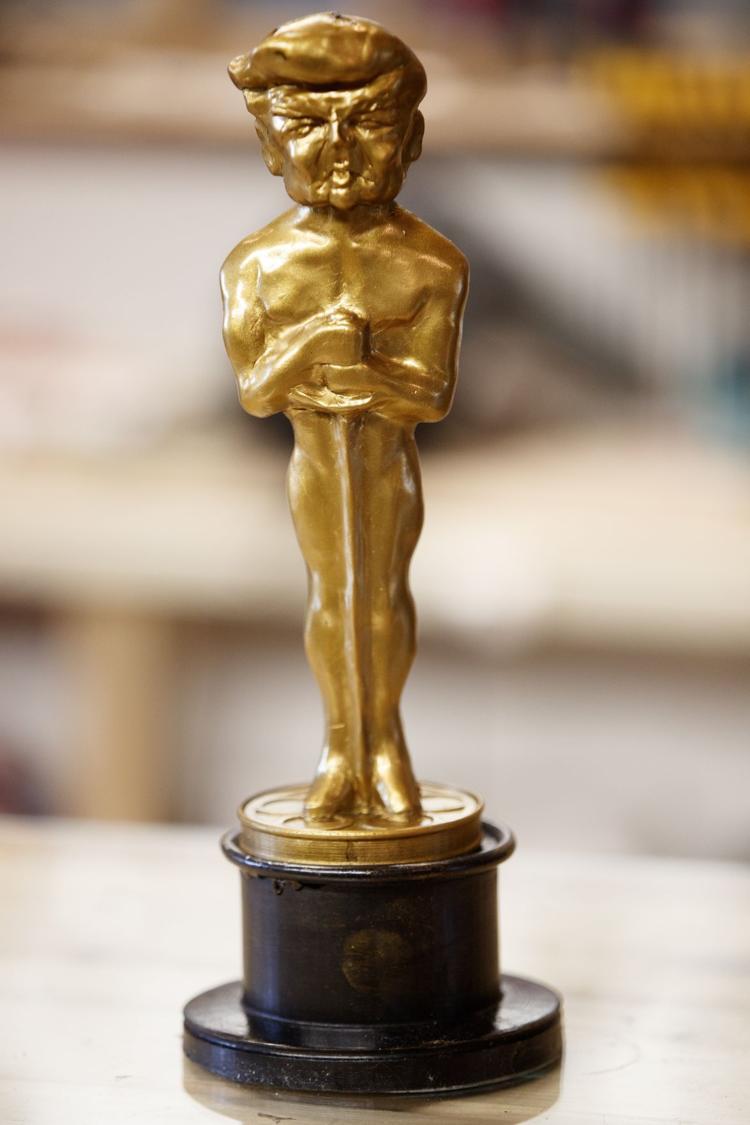 Pape is getting plenty of attention locally as well, as set designer for two current Omaha plays: "Ripcord," at the Omaha Community Playhouse through Feb. 11, and "I Am My Own Wife," at the Performing Arts Repertory Theatre, ending today. He originally built set pieces that were used in "I Am My Own Wife" on Broadway.
And he recently signed on with Twitch, an Internet platform where artists work in front of cameras, sharing ideas with each other and giving potential customers a glimpse of their creativity.
The 42-year-old Omaha native's career is as robust as it's ever been, and he says it's all about being in the right place at the right time.
Pape's "in" at the "Tonight Show" was through one of its production designers, a fellow student at the University of California-San Diego, where Pape got his master's degree in scenic and props design. He got his undergrad degree from the University of Nebraska at Omaha after graduating from Omaha Northwest High School.
A plastic action figure of Dwayne "The Rock" Johnson was his first piece for "Tonight." Fallon had a photo of Johnson early in his career, wearing '80s-style jeans and a gold chain. The show's producers wanted Pape to base his creation on that photo so Fallon could present it to Johnson during an interview.
Pape earned that commission when his wife, Lindsay, was in labor with their third son, now 3, and he still got it done.
He's used to quick turnarounds for the show, which features lots of time-sensitive humor. Late last year, he turned comedians Kate Berlant and John Early into "Elves on the Shelf" for a "Tonight Show" bit.
The work of props, figurine designer Paul Pape
"It was the day before Thanksgiving and they needed it for the Monday after Thanksgiving. I said 'You know I'm going to break for Thanksgiving, right?'," he said.
Did he have to stay up all night to finish them?
"Pretty much," he said. Lindsay, who is the resident costume designer for the Omaha Community Playhouse, helped with the sewing.
Apart from his "Tonight Show" work, he also has designed action figures for celebrities. He made a carbonite statue of film director Kevin Smith ("Clerks") in "Star Wars" character. He made a piece for Angelina Jolie to give to her brother.
He's done figures for film director J.J. Abrams and turned Blink-182 lead singer Mark Hoppus into a "Simpsons" action figure. Hoppus, a huge "Simpsons" fan, has been featured on the animated show.
"There are only two people in the world who do what I do: completely customize whatever you want," he said.
Other designers use stock bodies or other parts on their work, but Pape makes his from scratch, using photos to figure out the specs. He has a laser cutter and a couple of 3-D printers. He works off of three computer screens (one broadcasts his day on Twitch), with toy-filled shelves as his backdrop.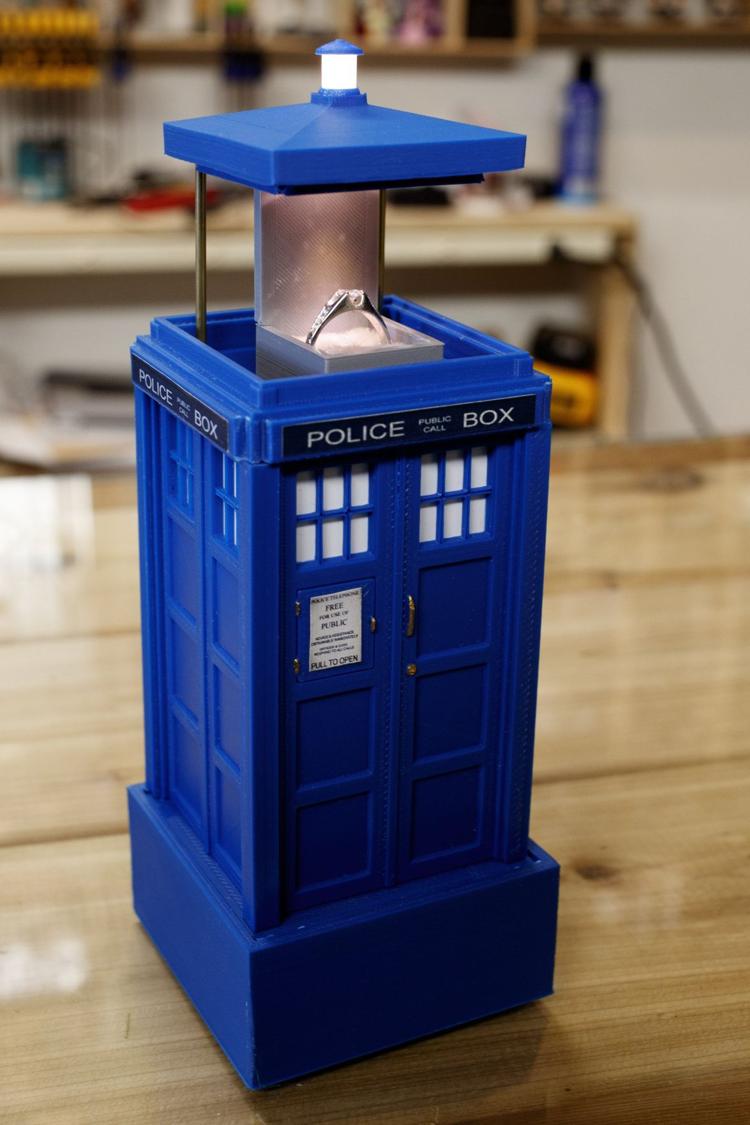 An architect in Ireland is the other custom designer, and he makes maybe 10 items a year. Pape, meanwhile, makes hundreds in that time. One booming part of his business is custom ring boxes people use in marriage proposals: One based on the TARDIS from "Doctor Who," for example, is wired to open from the top and reveal a ring. He even created a fake time bomb to hide a ring for an Australian man.
That was a mailing challenge, he said.
His work as a graduate student at the La Jolla Playhouse on the UCSD campus set the stage for what he does now, and brought him the first recognition in his career. He was a scenic design assistant at La Jolla Playhouse, a theater that's widely known as an incubator for Broadway shows.
He met Doug Wright, who was working on the script for "I Am My Own Wife," the story of a transgender woman who saved German artifacts from the Nazis. In the play, the woman is supposed to give a tour of a museum featuring some of the pieces she rescued. Pape came up with the idea to make small pieces of the furniture for the scene. He thoroughly researched what the furniture looked like and fashioned all the pieces out of wood.
Instead of a traditional tour, the woman brings out a box that contains Pape's 1-inch scale items.
"I'm the reason it's in the script," Pape said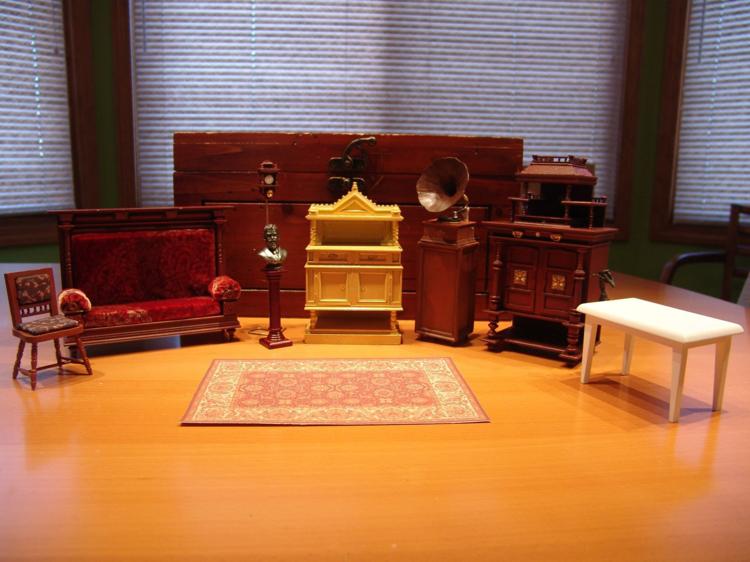 The furniture followed Wright to New York City, where "I Am My Own Wife" won a Tony Award for best play in 2004. Wright also won the Pulitzer Prize for the script.
Pape's original furniture now is in a Berlin museum. He made a second set that was stolen from someone's porch. His third set currently is at the Performing Artists Repertory Theatre. It won't stop there.
"It makes its rounds around the world," Pape said. "It's still booked through the end of the year."
It's been all over Europe and even made it to Zimbabwe. Pape charges theaters $50 a week for using the pieces, though they also have to sign a waiver stating that if it's damaged, they pay $5,000.
PART artistic director and founder Gordon Cantiello said he has known Pape for several years, ever since Pape designed the set for his production of "The World Goes 'Round" in 2010. He didn't know, however, about Pape's involvement in "I Am My Own Wife."
"I think he's an amazing talent," Cantiello said. "It was so interesting to me when I learned that he designed the miniatures for the La Jolla workshop production. He seems shy — he doesn't really talk about his experiences at all, which I like about him."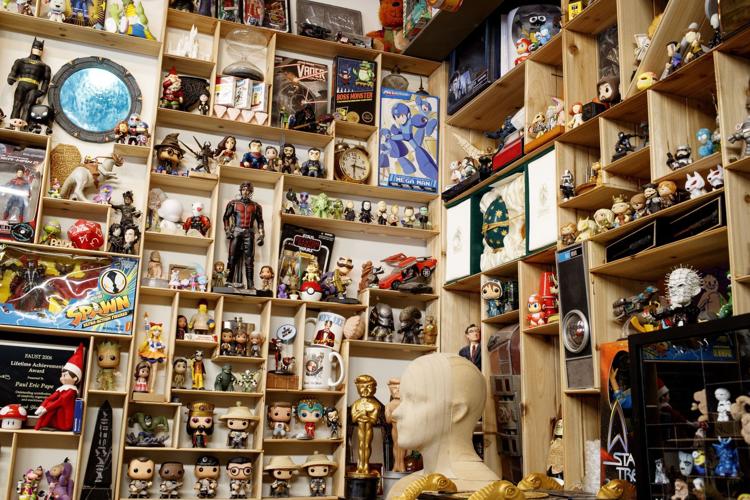 After Pape got his master's degree, he and Lindsay lived in Los Angeles for a while, but she wanted to return to their hometown. He got a job as an instructor at UNO, but quit when it became evident he could make a good living with his design business.
Now he gets to be a teacher of sorts on Twitch.
"I'm fairly popular," he said. "I'm very calm. They call me the Yoda Bob Ross because of my calm and my sage advice."
He thinks the Internet video is valuable for people who dream of similar work: "They can see you can have it as a career."
Playhouse Artistic Director Kimberly Faith Hickman, who worked with Pape on the "Ripcord" set, said he's a wonderful resource and a great collaborator. His scenic design for the comic play featured the innovative use of a rope-like yarn to symbolize spaces.
"He has some really fantastic outside-of-the-box ideas," Hickman said. "I just loved his creativity. He has a great attitude and is so pleasant to work with."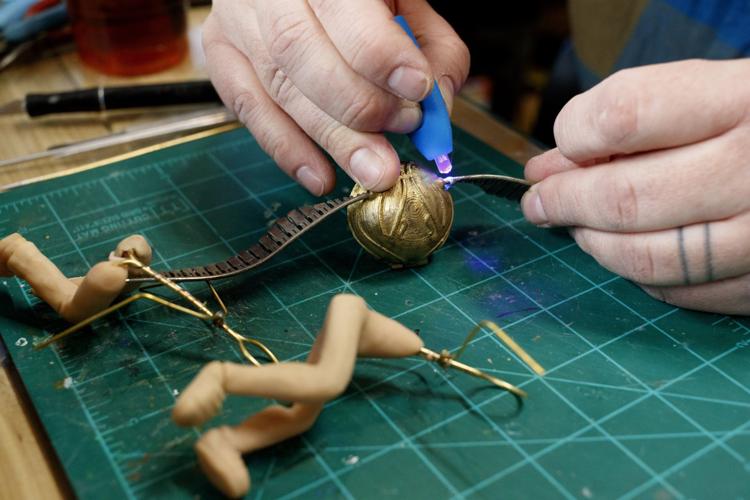 All in all, Pape's avocation is a cool gig. His three sons, ages 10, 6 and 3, certainly like it — they sometimes request favorite video game figures that aren't commercially produced, and Dad makes them.
Dad's also there every morning when they wake up and picks them up from school each day. And he's the cool dad: When the kids told him not to take down the Christmas celebrations because it would be sad, he left them up. The tree was merrily blinking in their living room last week.
Pape understands why his name isn't on the credits for "The Tonight Show." He says his creations are supposed to seamlessly fit into sketches instead of being lauded for their artistic properties. In the "Fake News Awards" skit, for example, the faux Trump makes a big deal that the award statues were made in China.
Seeing his work on the small screen is adequate recognition, Pape says.
"It's cool. Who wouldn't want to see yourself on TV?"