Three winners were chosen via an online vote, and two others were chosen at random, in the Grandparents' Day Contest sponsored by Hillcrest Services, with entries and prizes, courtesy of Hillcrest.
Two winners chosen at random
Each wins a $100 Visa gift card
Marge McCord, nominated by Lucas McCord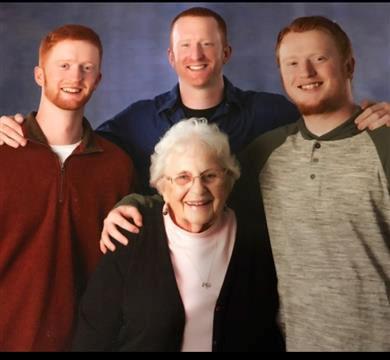 An incredible role model, a wonderful friend and a truly great individual are just some of the ways to describe my Grandma, Marge McCord. My Grandma has been through more in her lifetime than anyone should ever have to go through. She lost her husband Clair in his early 40s to a farming accident. She lost her son Roger, a Purple Heart recipient, fighting for his county in the Vietnam War. She lost her son Greg to illness as a young adult. These are things no one should have to go through, yet my Grandma has been through these tough times and come out as the most kind and generous individual I have ever met. My Grandma is the person that goes to the store and buys extra bags full of groceries just to take to the homeless shelter. My Grandma is the person that sends a "Get Well Soon" or a "Thinking of You" card to a family that she barely knows, just because she knows that a simple gesture such as this can mean so much. My two brothers and I have been so blessed to grow up with such an amazing role model. Not everyone can say that they have a Grandmother they know they can count on no matter what. Not everyone can say their 87-year-old Grandma sends them text messages from her smartphone either. She loves unconditionally. She has shown us what it truly means to be a good person. It is easy to be kind or generous when there is something for you to gain in return. It is not every day you see someone who time and time again goes out of her way for people with no expectation of anything in return. This is my Grandma. I am thankful each and every day that I am able to say I have the best Grandma that anyone could ever ask for.
Willy Theisen, nominated by Mia Spinello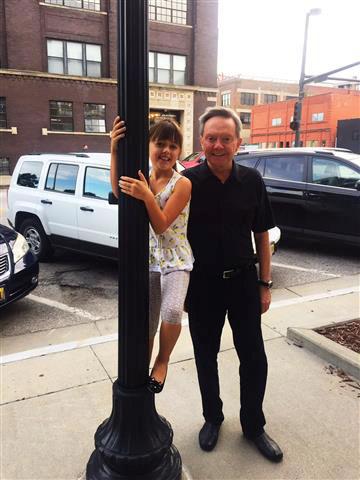 Grandpa Willy is truly the best grandpa I could ever ask for. He is generous, kind and loving. He is always helping people who need it and trying to make the world a better place. My grandpa is always taking me on one-of-a-kind adventures and he helps me learn how to become the best version of myself. My grandpa is so fun and he is young at heart. He is definitely one of a kind — we joke and kid each other all the time. He does so much for me and my family. My grandpa works hard (he's still not retired!) and he loves hard. I am the luckiest granddaughter in the world.
Three winners chosen via online voting
1. Mat and Jane Davey, nominated by Taylor (along with Morgan) Burghardt
They win tickets to "Disney on Ice" at CenturyLink Center Omaha.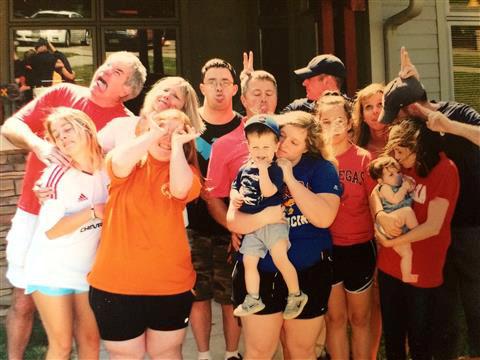 According to Webster's dictionary, a grandparent is defined as "a parent of one's father or mother," however grandparent means so much more to us. My sister and I would like to tell you about our grandparents and why we feel they are the most amazing and deserving of this award.
To our grandparents, family is about being there for one another. They are the kind of people who won't judge or take their love away because you made a mistake. You know they'll be there no matter what. That includes every play, every ceremony, every sporting event, no matter the weather. You can always count on them. This summer, I qualified to attend a competition in Orlando and was very apprehensive about going. My flight left early in the morning, and when my mom dropped me off guess who was there? That's right, my grandma — goody bag and all. Just seeing her reassured me. That's what family is. Making others feel better. When my sister had her surgeries when she was little, my grandparents were always there at the hospital and later at home, making sure everything was alright. We know there are better things they could be doing in their retirement, but they never act upset or like we are a burden. They listen to us, guide us, make us laugh, and push us when we need it. When we doubt ourselves, they never waver and always tell us we can do it. They make us feel invincible.
The other thing that makes my grandparents unique is their ability to have fun. They can take an ordinary day and turn it into an adventure. My grandpa is the most creative person I know. Every year he would make the most fascinating Halloween costumes from scratch. He would help with science projects and create opportunities for us to learn and explore. He was a teacher before retiring and I know he had the same attitude in the classroom: never be afraid to explore and learn.
But, if we had to choose just one reason that our grandparents stand above the rest, it would have to be their selflessness and care for others. It doesn't matter if you are their first-born child or a lady they met at the YMCA, they will be there to help you out. Our holiday meals always include people who aren't biologically related, but have become family nonetheless. Even our friends become their "adopted" grandchildren and they support them, recognize their birthdays and make them feel special. It's because they love unconditionally and have taught us all how to do the same. It amazes us to watch them, so focused on others and giving. It inspires me to be a better person every day and should inspire the world!
Now we are older: I, a freshman in college and my sister a sophomore in high school. Growing up has made us realize just how much our grandparents mean to us and how truly amazing they are. They don't need an award to be the best, they are the best, but the least we could do is write an essay that showcases just how much they are loved and how no matter what, they will always be No. 1 in our eyes!
2. Mary V. Krebs, nominated by Katy Core
She wins tickets to "James and the Giant Peach" at the Omaha Community Playhouse.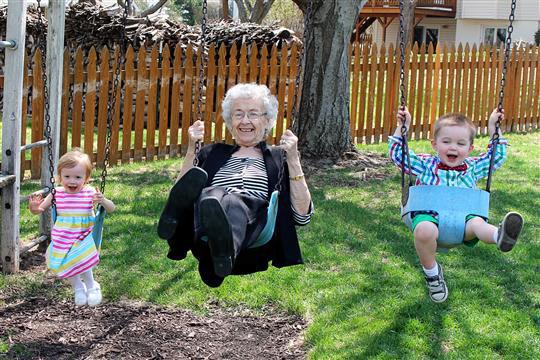 Katy, 33, granddaughter, wrote:
My grandma is the most kind, tolerant & patient person ever. Having 4 kids, I cannot imagine raising 8. She's an inspiring example of motherhood to the next generations. I have never in my life heard her raise her voice. She embodies all the best qualities that describe "The Greatest Generation." Although she has 27 grands & 58 greats (+1 on the way) she was always present at every important life event from dance recitals, school activities, graduations ... everything. She always made me feel like she was MY grandma even though her attention was divided among lots. Anyone who has ever met her would hands down agree she is deserving of this award.
Comments from more grands/great-grands:
Kaleb, age 11: Best chocolate cake, her coming to my sports activities & taking me to the park. She fed me pickled beets. I remember how fun and brave she was to ride the Alpine slide with me when I was 6 & couldn't ride alone. She was 84 & willing to ride with me. We crashed & I have a scar on my arm from it; grandma cut her ear, but she still rode down the slide even after we crashed & I was scared.
Jake, 22: Best homemade chocolate sheet cake ever. Both my mom & aunt have tried to make it but it's never as good.
Christian, 16: Grandma Mary came to watch me play football in MN & it poured down rain & all of the other fans left but she didn't. She stayed until the very end. She also was able to talk to me about the game afterwards with great understanding.
Abby, 20: I was always amazed that grandma had so many grandkids but she always remembered what I was doing from our previous conversation.
Milo, 4: Sometimes she gives us treats — only the kids though! She's really really fun to play with.
Benji, 5: Every time we visit her she always has something, like sometimes she might have a visitor, sometimes she might have candy ... that's why she's the best!
Charlie, 35: She is always so happy! I can't remember a time even as a kid where she got mad or yelled. She always just has a calming presence among the chaos that is our huge family.
Patrick, 29: Grandma is one of the most positive & supportive people I know. She doesn't have a bad bone in her body. Any time you see her she makes you feel like you're the person she's been waiting to talk to, even if there are 124 other relatives in the room. From baseball games to graduations & babies & all milestones in between, you can always count on grandma to be there with a warm smile and a big hug.
3. John and Rosie Meuret, nominated by Caroline Maloley
She wins tickets to the Creighton-Villanova soccer game at Morrison Stadium.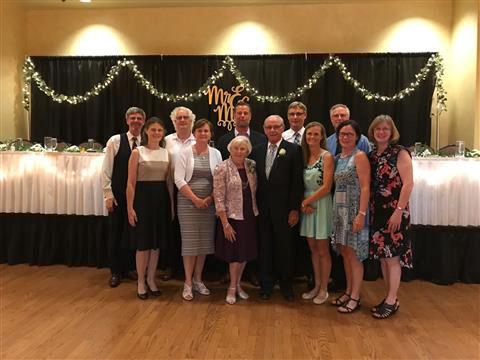 I know this is a contest for one grandparent, but you can't talk about Grandpa John without Grandma Rosie. John and Rosie Meuret raised 10 kids and have been married for 64 years. I am the 55th of 66 grandchildren with 35-and-counting great-grandchildren. Grandma and Grandpa always have their choice of birthday parties, basketball games, recitals, and graduations to attend. Grandma Rosie is always armed and ready with Cap'n Crunch, Rice Krispies bars, homemade blankets and cards when needed. On Thanksgiving she makes the BEST mashed potatoes this world has ever tasted. Grandma Rosie and I share a birthday, so every April 9th we can be heard singing "Happy Birthday to us!" Grandpa chimes in saying, "Today is all about Grandma!" Know that Grandpa loves birthdays: especially his. One year he decided that his birthday would last all year, so it was all about him, all year. Each of his 10 kids threw him a birthday party. That year he got 10 cakes and sang "Happy Birthday to me" 10 times. He may not have helped pick out your present, but he always has a "Roses are Red" poem ready, and he will definitely sing Happy Birthday. Anyone who has had Grandpa John at their birthday party knows that when Grandpa sings "Happy Birthday," he REALLY sings "Happy Birthday." Always ready to give four-wheeler rides, Grandpa will steal your heart with comments like, "You know Caroline, I kinda like you."