Human kindness overflowed in the form of people and flowers at First Presbyterian Church in Wahoo for the funeral of beloved teacher Kim Brigham this summer.
"We had just oodles of flowers," said Rob Brigham, Kim's husband. "We were so blessed with all of the support we received for the last 3½ years, from the time she was diagnosed until the time she passed away. We were looking in the sanctuary at all these flowers and thinking, oh my goodness, what are we going to do with all of these?"
Her family, practiced in the art of seeking silver linings through her battle with cancer, found a way that sad June day to send a little of that human kindness rippling back into the small Nebraska towns of Mead and Wahoo, where Brigham had taught middle school and high school art.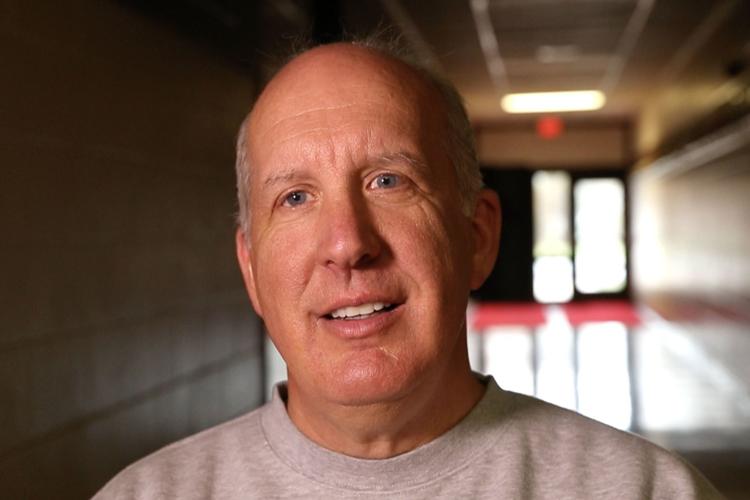 They called an old friend, Brad Nygren. He leads Mead High School students in their program called Blooming Smiles. The students gather donations of gently used flowers from weddings, funerals and other events, with help from Nygren and their FFA adviser and agriculture teacher, Cole Blomendahl. They compose them into smaller arrangements. Then they give away the bouquets, making the kindness bloom another day.
The students picked up the flowers from Mrs. Brigham's funeral. They took the arrangements apart. They put the pieces back together, creating dozens of arrangements. Then they delivered them to people in assisted-living centers, and randomly door to door to people's houses. The students attached cards that read, "in loving memory of Kim Brigham."
"You could tell that brought the family so much peace, because that's just what Mrs. Brigham would have wanted," student Abby Miller said.
That is true, Rob Brigham said.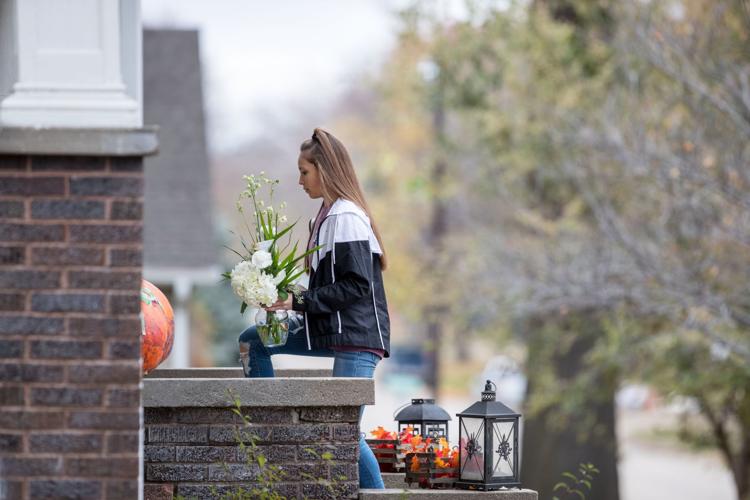 "We were going through a period of great grief," he said. "Being able to go full circle and hear of the smiles on the other end, that was awesome."
Blooming Smiles has been growing for 2½ years in Mead, a town of 552 people about 30 minutes west of Omaha. In the first school year they did it, the students gave 280 arrangements to older people in independent or assisted-living centers, hospital patients and families door to door. This school year, the two dozen Mead High School FFA members in Blooming Smiles are on track to easily outpace their goal of doubling their first year's efforts. They've made and delivered more than 300 bunches of green glee.
Along the way, they're learning lessons about plants, the flower business, responsibility and what a gift it is to give.
"We get really, really positive reactions," said Emily Hanson, who has been in Blooming Smiles two years. "A lot of people don't get very many visitors. They get talking to us. It's really nice to be able to sit there and hear their stories."
Blooming Smiles sprouted from Mead High School students' participation in the National FFA Organization's floriculture contest. Like animal science, dairy judging and welding, floriculture is one of many career and leadership development events available in FFA. The organization with the iconic blue corduroy jackets is not just for future farmers anymore, although it has a lot of them.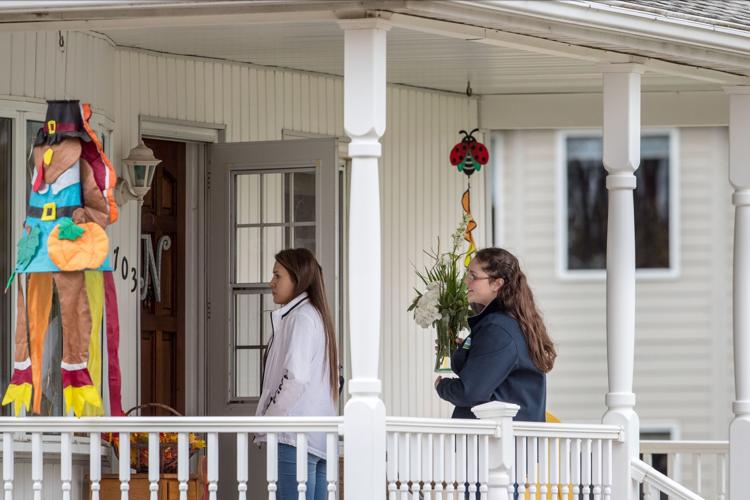 FFA is a popular activity at Mead High School. Fifty-two of the school's 90 students belong to FFA. More than 20 are involved in Blooming Smiles.
Nygren, a native of rural Mead and former FFA member himself, helps teach the students about floriculture. He doesn't work with flowers for his day job. He's a strategic relationship manager for Farm Credit Services of America, based in Omaha.
Using skills learned from helping a friend with a flower shop in Wahoo, Nygren introduces the students to concepts of arranging flowers and how to run a flower shop. It helps them prepare for the FFA floriculture contest, which involves identifying plants, taking a test over such areas as plant science and floral design, and creating something with plants.
A couple of years ago, Brad and his wife had the FFA floriculture force over to their home for an end-of-year dinner celebration. As the kids noshed on tacos, Nygren posed a question: "Are there any ways that you could do a community service project using the skills you've learned?"
He had an answer in mind. He was familiar with an organization called Random Acts of Flowers, which gives recycled flowers to people in health care institutions in several cities around the nation.
"There have been studies showing that people who get flowers in the hospital heal faster," Nygren said.
The concept was an easy sell at the taco party.
"The kids said, oh, absolutely, we would love to do something like that," Nygren said.
They set about planning the work, and then they worked the plan. Students went to talk with funeral directors and people in the flower business. That led to connections with people who plan events.
With help from Nygren, they wrote grants. They set a goal for their first year: to give away 150 arrangements. They nearly doubled that.
Blooming Smiles at work
Mead FFA students donate gently used flowers.
It's fun and the kids get warm fuzzies. But it's also work, often on nights and weekends.
The first weekend in November was a great example. The organizers of the Children's Hospital & Medical Center Foundation Gala donated the flowers from tables. Cole Blomendahl, Brad Nygren, four kids and a dad were at the CHI Health Center convention center in downtown Omaha by about 10 p.m.
They waited nearly an hour for the event to wrap up. When the band stopped playing near 11 p.m., the flower force hit the floor. They walked from table to table, gathering up the arrangements: Tall vases filled with giant green leaves, frilly fronds and showy white blossoms while people in suits and party dresses said long goodbyes and the catering crew bustled through to clean.
They formed a procession of sorts, the children carrying vases in a line, with a soundtrack of clinking silverware and lingering laughter. The FFA members and their adult helpers gently packed elephant ear leaves, palm fronds and long curly willow twigs into long boxes they had brought. They lowered hydrangeas into plastic floral crates.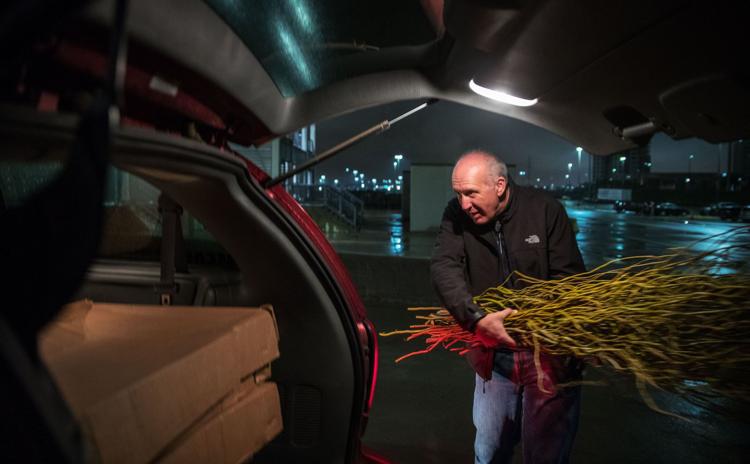 It was nearing midnight when they loaded the greenery and themselves into Mead High School vans for the drive back to the school.
By 1 p.m. the next day, Emily Hanson and 14 other FFA members were back at work in the Mead High School shop. Many of them had been out late the night before, playing in the district volleyball tournament championship. In a small school, the FFA members are also in sports, speech, band and a one-act play.
They took the leaves and flowers from a floral cooler that the group bought with a grant. Working on shop tables, they went to work on arrangements of their own design.
Following Hanson's idea for the elephant ears, they cut strips from the big leaves and wrapped them around the insides of vases. They cut the palm fronds, hydrangeas and curly willows into smaller pieces, combined with some larkspur and eucalyptus left over from another event, and pieced together arrangements with balance and sometimes symmetry.
Some sang along with country music on the radio as they worked.
"It's like one, two three/ Just as easy as can be/ Just the way you look at me/ You make me smile."
While several kids made the flower arrangements, several others filled out cards to put in them: "Have a great day! Blooming Smiles Mead FFA." As they drew hearts in colorful ink, they talked about people they have met, such as a man in a nursing home who thought the flowers must be for his neighbor, then teared up when he realized they were really for him.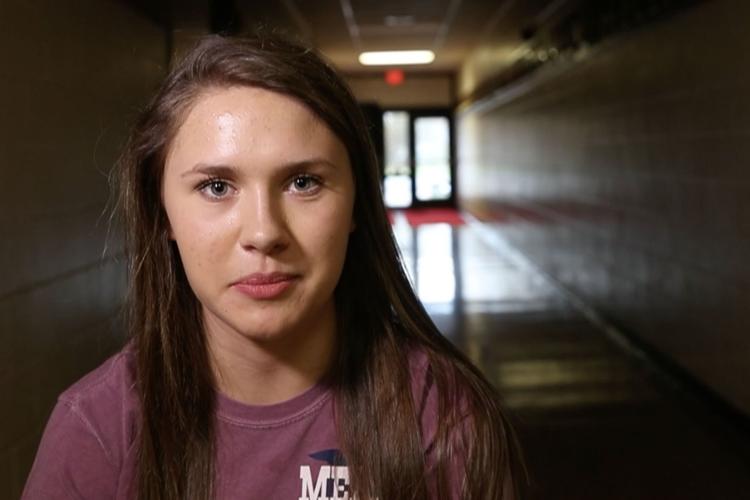 "It's good to hear that," said Lauren Holloway. "We love doing it, but it can be used to make other people's days, not just ours."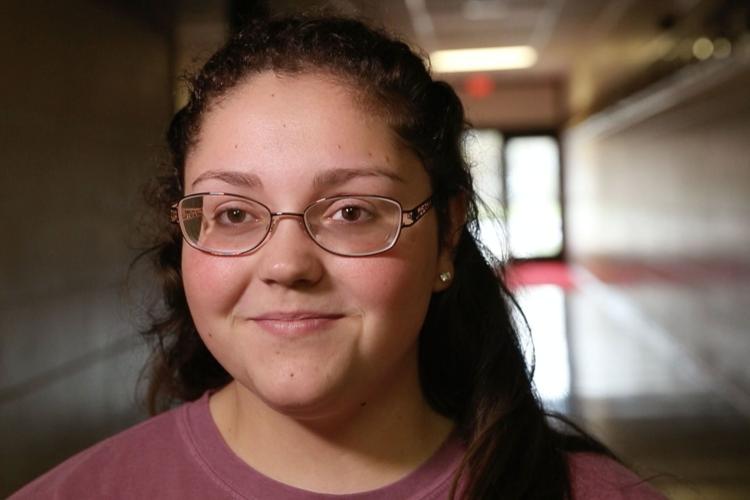 Sometimes, people who have received flowers recently send the students on to a lonelier neighbor.
"It's fun to see the kindness cycle keep going," Kyla Hrdlicka said. "People say, go give them to someone else and talk to them."
By 2:45 p.m., the vans wheeled away from the high school and into town. The students first stopped on a street of houses between a cornfield and grain elevators on the edge of Mead. They bundled out of the vans in bunches and knocked on doors, flowers in hand.
At one house, railroad worker Lowell Divoll answered the door and called for his wife, Jody, to join him.
"Thank you, guys, thank you!" they told the flower bearers. As the kids moved on to the next house, Divoll said he thought that was cool.
"I really love them," he said of the flowers. "It makes our day."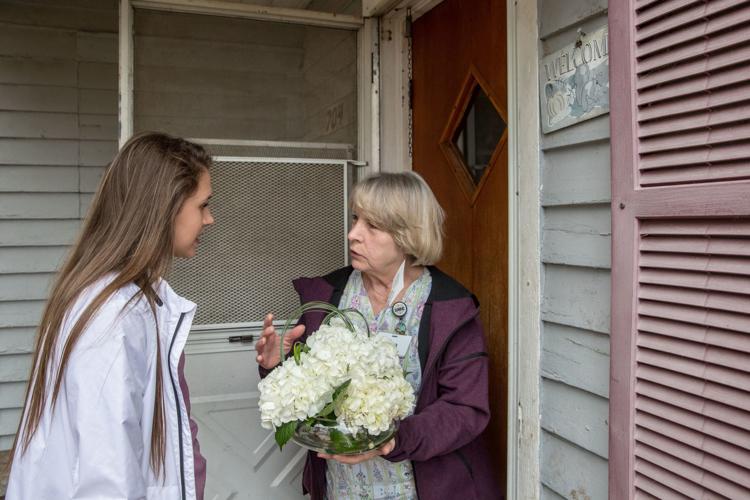 After going door to door, the merry band in school vans trundled off to South Haven nursing home in Wahoo. They loaded vases of flowers onto carts, wheeled them down hallways and took them into people's rooms. Reactions ranged from smiles to exclamations — "Oh, it's so beautiful!" — to jokes.
"One of the guys told me he was a past farmer, so he thought it was really nice that the future farmers were giving something to the past farmers," Hanson said.
"We went to this one woman's room and she just started crying," Holloway said. "It made me tear up."
Gladyce Nelson rolled her motorized wheelchair around with the flower crews, reveling in the activity. Nelson said the people who live there love it when the FFA kids come around.
"Especially because it's kind of a surprise," she said. "Today is such a dreary day outside. There's no sunshine. This is our ray of sunshine."
All around the Omaha metropolitan community, people are quietly performing selfless deeds to make our communities stronger. The good life? You…