McPHERSON COUNTY, Neb. — It's 5:45 a.m. on the last Saturday of April and the pre-dawn sky over the Sand Hills is mesmerizing. On the western horizon, the moon glows massive, full and golden. On the eastern horizon, the sun's first rays bathe the hills in soft pinks and blues. Previous whining about the wee hour flies out the window as we head north of Tryon on Highway 97 to mile marker 36.
A dozen pickups, most towing stock trailers, roll into a vast pasture as the sky brightens and meadowlark calls fill the crisp, cool air. Cow-calf rancher Mike Waits is eager to get things moving as he mounts his cutting horse, Alysheba, and begins his rounds of hellos and instructions.
It's branding day on the Waits homestead. In a span of six hours, Mike, his brother Steve, their father, Vernon, and 70 family members, neighbors and hired hands will round up 1,120 Black Angus cows and calves, cut (separate) the mamas from the herd, and brand, neuter and vaccinate the babies.
"This is one of those bittersweet days where it's kind of exciting, but the stress level is pretty high" for the crew as well as the cattle, Mike tells me. "We try to make it as easy an experience as we can."
In the Sand Hills, where more than a half-million cattle are raised by ranching families who live tens of miles apart, branding day is a much-anticipated springtime ritual. Deb Waits Olson of Lincoln comes home every spring for branding.
"This is their life and their livelihood," she says of her dad and brothers. "These guys love their cows. They live and breathe this every day, seven days a week." She's not waxing poetic. The passion is apparent as Mike talks about the ranch and the herd, and the kinship that brings ranchers together each spring for a ritual as old as the West.
Come along, then, as branding day unfolds.
Meadowlark calls fill the air as the branding crew assembles at West Place, grazing ground managed by Mike and his wife and ranching partner, Wanda Jo. Eight ropers limber up their horses as family patriarch Vernon Waits and a half-dozen other branders unload propane tanks, portable stoves, branding irons, vaccines, cutters and other equipment that will be used in three branding corrals before the day is out. A dozen teenage boys from Mullen and Tryon, hired for the day as calf wrestlers, fuel up on Wanda Jo's breakfast burritos and sweet rolls. Gabe Licking of Seneca is among them. Recently graduated from high school, he's an experienced hand, something that's getting harder to find. A day's wage — $80 on average — will be helpful when he heads for Central Community College in Hastings this fall.
For the Waits family, branding day is always the last Saturday of April — unless Mother Nature pulls a fast one with the weather. The past two years, surprise snowstorms postponed the Waits branding by a week. That set off a flurry of rescheduling. "Ranch families have to trade help, so it's important to have a standing date every year," says Deb, who worked the ranch alongside her brothers and dad growing up. Today, the mother of two is an IT specialist with Duncan Aviation in Lincoln, where her ranching background is a novelty. Her niece, Alyssa Waits, 19, experienced her first branding at age 4. She now owns and manages 14 cows of her own. "It helps pay for school," she says. A sophomore at the University of Nebraska-Lincoln, she's studying animal science and thinks she might like to return someday to ranch with her dad, Steve. "Alyssa is one girl who's probably going to be out here as much and as often as she can," Deb says. "Any task that requires riding a horse, she's on it." Alyssa invited college pal Oscar Munoz to join her for the day. Munoz, 18, is on the UNL equestrian team with Alyssa, competes in the National Reining Horse Association and ropes in Mexican rodeos back home in Lockport, Illinois, but branding is new to him. On this day, he looks like a natural.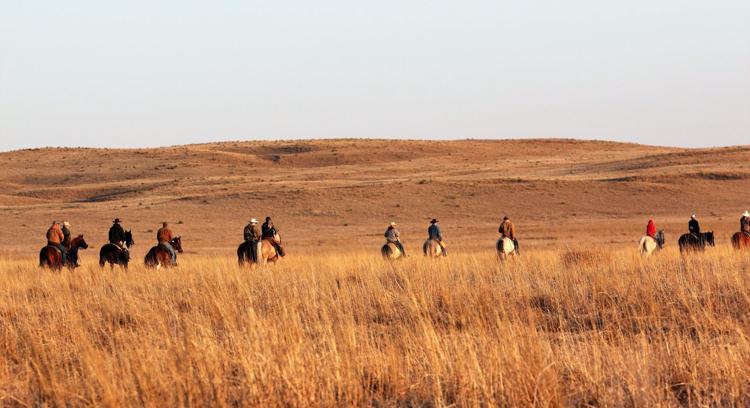 Mike Waits, wearing spurs, fringed chaps and a black ball cap, mounts Alysheba, a 17-year-old American Paint mare raised from birth. She'll soon show her stuff as the first bunch of 180 pairs of mama cows and older bull calves are brought in by Mike and 11 riders who head out posse-style and disappear over the pasture ridge. Fifteen minutes later, the herd thunders into view. Organized chaos ensues as the cows and calves head into the corral. For safety and efficiency, the mama cows are cut from the herd, leaving only the calves in the corral. The exercise brings the bawling to a fever pitch. When the sorting is done, some of the mamas hug the perimeter of the corral while others head back into the pasture. Mike's son Ty, 23, helps manage the cow-calf operation and has stock of his own. The fifth generation to be born on the homestead, he lives on the main ranch. "He's the last of the Waits to carry on the family name," Wanda Jo says.
In the corral, a flatbed truck serves as a station for clippers and other branding tools. With a propane-fired stove nearby, two to three pairs of wrestlers claim spots on either side of the flatbed. Mounted ropers warm up their arms and practice throwing the lasso. Mike taps a few wrestlers to follow him, Wanda Jo, Ty and neighbors Josh Streiff and Rusty Kemp to a nearby corral to brand a second bunch — 160 heifer (female) calves. Having two teams will speed the work of the day.
Vernon Waits is manning the branding stove and keeping a friendly eye on the scene as ropers on horseback start lassoing calves by one back leg or both back legs and slowly pulling them to the wrestlers. As they're coming in, the branders eye each calf's tag color for the appropriate brand: red for Vernon; yellow for Steve; green for Mike and Ty; purple for Alyssa. The wrestlers have their hands full; these calves weigh 120 pounds, and there's an art to getting — and keeping — them in position. One wrestler takes the calf's rear half while the other takes the front, and each tries to double hock the legs. The rear wrestler grabs the lasso from the roper and flips the calf onto its backside in one continuous motion. The front wrestler "pins" the calf's shoulders to the ground by using his or her knees in a squatting position. That's right. Gals do this, too. Deb's daughter, Emily Olson, and her fiancé, Steve Morrison, work side by side for much of the day. Emily even castrates a few bull calves with guidance from Mike. "I'm proud of my family; they work so hard," Deb says. Her future son-in-law even gets praise. "We're really impressed with him," Wanda Jo says. "And he's a city boy!"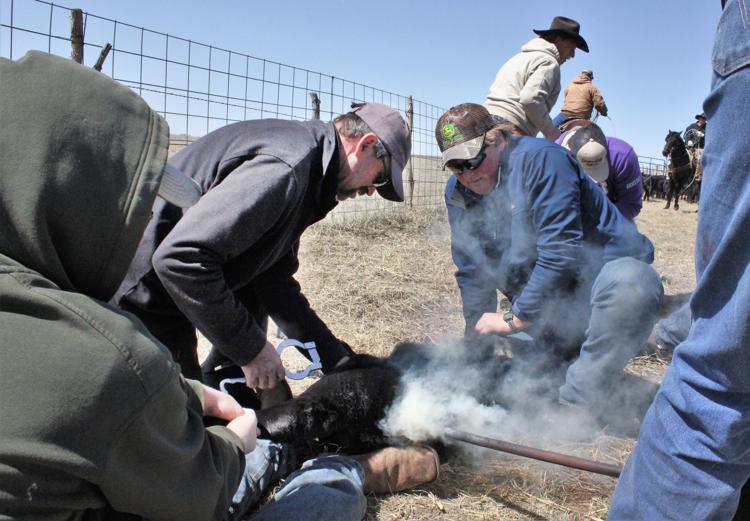 The last calf of the first bunch is branded. While the branding crew breaks down its equipment and the wrestlers rest, Mike and four ropers head for a pasture adjacent to the ranch house. Wanda Jo rides ahead on her four-wheeler to open a gate. The roundup crew fans out by twos and disappears into the hills. Twenty minutes later, it's mayhem all over again as 440 Black Angus stampede over the ridge. The bawling rises to an indescribable roar as cowboys, cows and calves, in a scene like a Western movie, drive toward the temporary corral. Mike and Alysheba work the fringes at a gallop, cutting wayward calves back into the fold. Alyssa Waits and Oakie, her horse, bring up the rear, coaxing a tiny straggler, while Wanda Jo, riding her ATV, cuts off a would-be escapee.
In the corral, confusion prevails as mamas and a mixed bunch of heifers and bull calves search for one another. Mike and two others on foot, plus two on horseback, separate the bunch. Hands on horseback pull out their ropes to kill time until the rest of the crew arrives. Rusty Kemp's son, Tucker, has been with us the whole time. He's riding Crazy Alice. Yep, she's named after John Wayne's spirited pony in 1972's "The Cowboys." Nearly 10, Tucker is the youngest on the crew. "A lot of kids helping are family or friends of family," Mike says. "When they do this work, they're learning good husbandry. They start looking for problems the calf might be facing ... they know to doctor that calf as it's coming in."
The heifers are inoculated and branded and sent on their way; the bull calves get shots, are branded and turned into steers before hopping up and trotting back to mama. The whole process takes about two minutes per calf and, Mike says, doesn't inflict a great amount of pain. "Most of the sounds you hear in branding are a little bit of stressfulness, but more of a worry type of sound," he says. "The calves aren't as worried about the pain that they feel as much as they are the inability to move and get away." By this time, a gallery of spectators is growing — a sure sign that we'll be heading to dinner soon. A Methodist minister and his wife, natives of South Korea on their first rural assignment after 13 years in Los Angeles, are enthralled. "This is the beauty of the small town," he says, moved by the ritual among friends and helping hands.
"I don't know if I've got another bunch in me," brander Kevin Harms says as the last calf scampers out of the corral. He lives 100 miles away in Madrid, where he and his brother, Myron, provide winter cornstalks for the Waits' pregnant cows each year. He's ready for some chow and knows Wanda Jo will have her usual spread. Today's headcount: 75. On the menu: roast beef, au gratin potatoes, green beans, assorted salads and sides, homemade wheat bread and spaghetti corn, a Waits family recipe that you're apt to find at every church, school and family event within a 100-mile radius. For dessert? An assortment of fruit pies, cheesecakes, lemon bars and brownies. All made from scratch, of course. Plates are piled high with food. And nobody is shy about seconds.
Mike Waits steals away to a corner to write checks for the hired hands. "Kids around here can make really good money doing two or three brandings a week," says Wanda Jo. Oscar, Alyssa Waits' college friend, has a bit of a revelation. "I'm to a point that, hopefully, I could make an investment and start an Angus herd back home." Will he be back next year? "I could be doing this every weekend," he says with a wide grin.
Mike and Wanda Jo head back into the pastures to check on the three newly branded bunches, just to make sure there isn't something to doctor. In July, their yearlings and this spring's calf crop will be sold via video auction; bulls will be introduced to the heifers for breeding; and auctioned calves will be preconditioned for buyers who will arrive in October for their stock. Then it'll be time to move a new bunch of pregnant cows to winter cornstalks. When that first calf is born in mid-March, Deb says, everybody is excited; never mind that it's going to be an exhausting winter and spring. And when the last calf arrives in early June? "Everybody celebrates."