Jacob C. Miller — born Aug. 4, 1840, died Jan. 13, 1917 — rests in a patch of shade in Papillion's Cedardale Cemetery. His gravestone isn't the biggest or the most-eye catching among the rows of markers, but it is notable for the phrase inscribed just beneath Miller's name.
The man buried here — Sgt. Jacob C. Miller, Company G, 113th Illinois Volunteer Infantry, Union Army — had an eventful war. During the Siege of Vicksburg, one of the decisive episodes of the Civil War, Miller volunteered for a dangerous mission that meant almost certain death. He survived and was later awarded the U.S. military's highest honor.
Sign up for the Go newsletter
This complete guide of local music, movies, dining and entertainment will have you weekend ready.
This Jacob Miller went on to live a quiet life as a carpenter. He settled in Nebraska. He married and had children. When he died at his Omaha home in 1917, the newspapers barely noticed.
Evidence of his story is scant and subtle — listings in old pension records, a brief account in The World-Herald archives. It is a story that's gone mostly untold. Because in recent years, it has been conflated with that of another Jacob Miller, a man who bore the marks of his wartime experiences far more explicitly: in the shape of an open musket ball wound right between his eyes.
The lives of the two Jacob Millers had become intertwined by at least 2016, when a post on the website American Civil War Forum used a photo of the battle-scarred Miller alongside Jacob C. Miller's dates of birth and death. The post mentions Miller was awarded the Medal of Honor for actions at Vicksburg, then continues: "Perhaps uniquely, the Metal (sic) of Honor is by far not the most remarkable of Miller's wartime experiences."
The writer then describes in dramatic detail how the same man was allegedly also shot in the head at the Battle of Chickamauga. Thought dead, he miraculously survived and lived on for decades with the hole in his forehead.
It is, perhaps, an easy mistake to make. The two men's lives share enough similarities to confuse Internet sleuths almost a century after they lived. Jacob C. Miller grew up near DeKalb, Illinois. The second Jacob Miller was born in Indiana but later moved to Braidwood, Illinois, about an hour and a half south of DeKalb.
It also doesn't help that in a famous photo of the wounded Jacob Miller, he is wearing the medal of the Grand Army of the Republic, a fraternal organization formed after the war for Union veterans. The GAR medal looks strikingly similar to the Civil War-era Medal of Honor.
But to combine the two men's stories is to highlight one at the expense of the other. Taken separately, side by side, both experiences form a unique picture of a ruthlessly bloody war.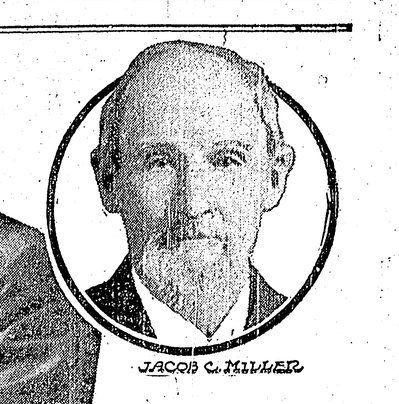 Jacob C. Miller, 1840-1917
The Jacob Miller who would eventually wind up in a Nebraska cemetery left few traces of himself. Ancestry records indicate he was born in Ohio and later moved to Illinois, where he enlisted "when the call for volunteers was given," according to a World-Herald story published months after Miller's death.
In the spring of 1863, Miller, then a private, joined thousands of other Union troops in the campaign near Vicksburg, Mississippi, where Gen. Ulysses S. Grant hoped to wrest control of the Mississippi River from Confederate forces.
In May 1863, with the Confederate troops driven from the surrounding countryside into Vicksburg itself, Grant called for assaults on the fortified city. After a failed attack on May 19, the Union commanders planned for a second attempt a few days later. But first, they had to weaken the Confederate line.
On May 21, the regimental commanders of the second division of the 15th Army corps called for 150 men to volunteer for an important mission: "That mission was to precede the charge of the Federal army, to go right in front of the charge, to get to the Confederate earthworks and make a breach so that the charging army could get through when it arrived," The World-Herald reported later.
The group of 150, later known as the "forlorn hope," would draw the concentrated fire of the Confederate line. Death seemed almost certain. Only unmarried men could volunteer.
Jacob Miller was one of them.
The group advanced, and the Confederates began firing. As The World-Herald reported later, Miller "got as far as the trench outside of the Confederate earthworks, but he could not get through into the fort, nor could he withdraw. Together with others of the little band, he lay in the trench until nightfall when he succeeded in rejoining his command."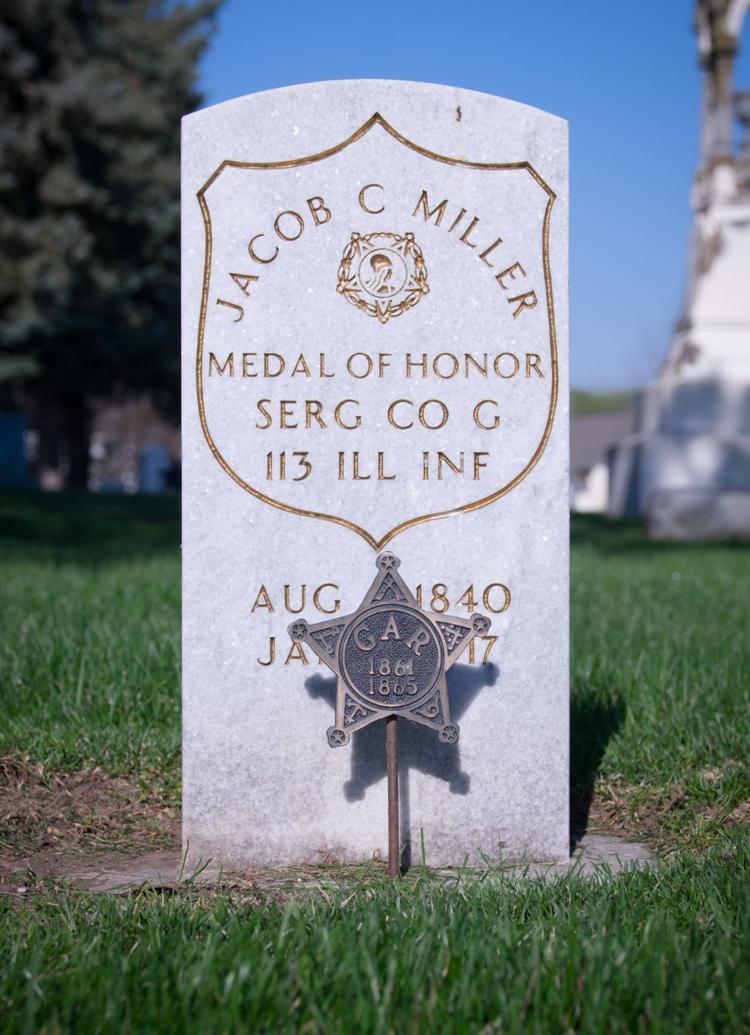 The assault was a failure, and the Union casualties numbered more than 3,000. Nearly half of the forlorn hope volunteers were killed. But the Union forces would eventually prevail: After a siege, the Confederates finally surrendered in July 1863.
The more than 70 surviving forlorn hope men, Miller included, were later awarded the Congressional Medal of Honor for "gallantry in the charge of the 'volunteer storming party.' "
But despite the accolade, Miller appears to have lived a relatively quiet life.
"I am guessing Mr. Miller was a modest man who did not call a lot of attention to himself," said Matt Piersol, a researcher with History Nebraska, the state's historical society.
In census records, Miller lists himself as a laborer, a "house carpenter" and, later in life, a mail carrier. He lived in Illinois for a time, and later settled in Nebraska. He had a wife, Martha, a daughter, Lottie, and two sons, Percival and William. William died in 1879 when he was just 8 years old.
When Miller died in January 1917, no grandiose account of his life or wartime deeds ran in the local newspapers. His death is mentioned only in passing in the Omaha Bee, one among a list of other names: "Jacob C. Miller, 76, 2408 Camden Avenue."
The newspapers finally published a brief account of Miller's war experience months after his death, in November 1917, when he and 10 other Nebraska veterans were recognized by Congress for their service.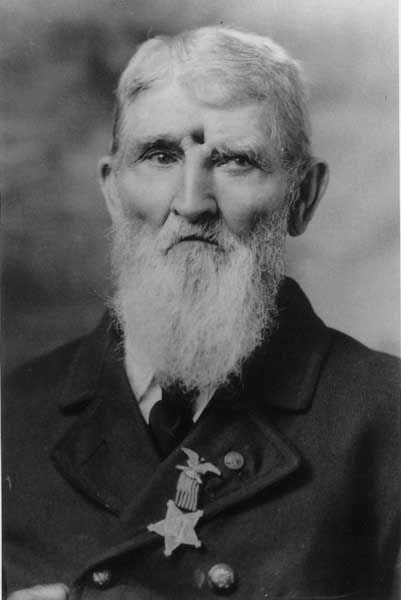 Jacob Miller, 1838-1927
The man who unwittingly stole Jacob C. Miller's identity is well-known back home. His descendants still tell stories about him.
"We all knew about Jake," said Jim Radford, 75, a distant relative of Miller. "He always made for a good story around the dinner table."
This Jacob Miller, born in Vermillion County, Indiana, in 1838, enlisted in the 9th Indiana Volunteer Infantry in 1861. He saw plenty of action, according to one newspaper account of his life, published in honor of his 75th birthday.
"During his military service, Mr. Miller, in addition to being under fire in a great number of skirmishes and small engagements, participated in the battles of Greenbriar, W.Va., Siege of Corinth, Perryville Ky., Stone River and Chicamaugua (sic)."
It was in this last battle that he sustained the wound that would define his legacy.
Miller didn't like to talk about the experience. It remained too vivid, too painful for him well into his old age, according to a 1911 story in a Joliet, Illinois, newspaper. But he did handwrite an account of his injury for his family, which was later published.
In September 1863, as the Union and Confederate armies battled in a forest along the Chickamauga Creek in Georgia, a musket ball struck Miller in the forehead as he was aiming his weapon. Facing heavy losses, the Union soldiers retreated, and Miller was left for dead.
When he came to some time later, he realized that he was at the rear of the Confederate line. Fearing the prospect of becoming a prisoner, he used his gun as a crutch, pulled himself up and started walking.
"I suppose I was so covered with blood that those that I met did not notice that I was a Yank," Miller wrote.
As he stumbled toward Union territory, his eyes began to swell shut: "I could see to get along only by raising the lid of my right eye and look ahead then go on till I ran afoul of something, then would look again and so on ..."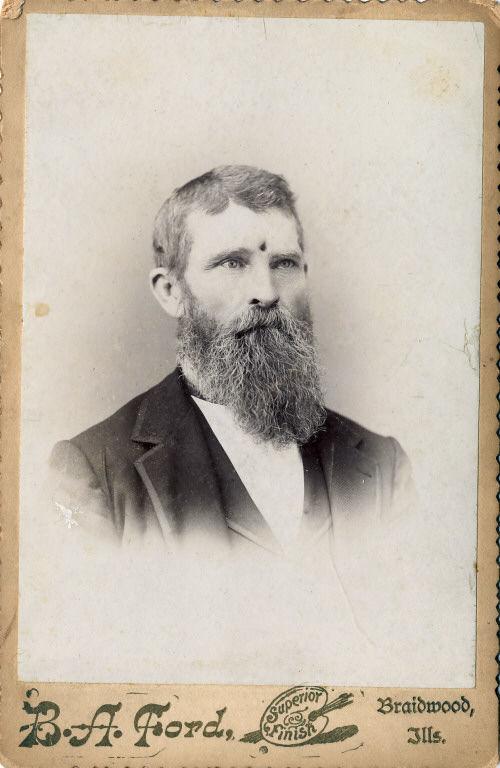 Exhausted, he eventually collapsed on a roadside and lay there until he was discovered by a team of litter-bearers, who carried him to a Union field hospital. There, surgeons determined it would be useless to operate: Miller, they said, would surely be dead soon anyway.
The next day, as the Union retreat continued, doctors told Miller he was too badly wounded to be moved. Still dreading becoming a Confederate prisoner, Miller resolved to keep going. He had a nurse fill his canteen, then started on.
Again, he collapsed and was picked up by a passing ambulance team. He began blacking out, and during a series of stops to several hospitals, he begged doctors to operate on his head. All refused.
"I suffered for nine months then I got a furlough home," Miller wrote. There, doctors finally removed the musket ball. But the experience wasn't over.
Miller, who lived to be 88, suffered from agonizing headaches for much of his life, Radford said. At times, the injury would leave him in a daze for weeks. According to one newspaper account, he would sometimes hallucinate that he was back in the war.
But, over the decades, his symptoms eased as the wound spilled forth more remnants of the battle: "Seventeen years after I was wounded a buck shot dropped out of my wound," Miller wrote, "and thirty one years after, two pieces of lead came out."
Years later, some would ask Miller how his memory of the battle and his journey afterward could be so clear. To that, he had a firm response.
"My answer is I have an everyday reminder of it in my wound and constant pain in the head, never free of it while not asleep," he wrote. "The whole scene is imprinted on my brain as with a steel engraving."
Check out 42 stories that built, defined and characterized Nebraska
The World-Herald has gone back through the archives and uncovered stories that define not only the Omaha area, but the entire State of Nebraska.