About 70 Americans now are expected to arrive in Omaha on Friday from China's Wuhan area, epicenter of the new coronavirus outbreak. They will land first at Omaha's Eppley Airfield and then be transferred to the Nebraska National Guard's Camp Ashland.
These returning Americans will be quarantined at the camp 30 miles southwest of Omaha for 14 days. The clock starts when they leave China. They will be monitored and cared for upon their arrival in Nebraska and throughout their stay by a team from the U.S. Department of Health and Human Services, including the Centers for Disease Control and Prevention.
But federal officials and University of Nebraska Medical Center officials, who briefed the news media Thursday, stressed that none of the 70 have shown signs or symptoms of coronavirus. Further, they will be monitored and observed before they leave China and until their 14-day quarantine runs out.
Once that happens and public health experts are convinced that the travelers are not exhibiting symptoms or laboratory signs of the virus, they will be allowed to go home.
Dr. Eric Kasowski, who is leading the CDC's quarantine team, said the returning Americans are considered at increased risk of exposure because they lived in Wuhan.
However, he said, "it's important to note that we expect these individuals to be healthy upon arrival. They'll have been screened many times before arriving here. The purpose of the quarantine is to identify any new onset of illness in this group right away, should it develop."
Health officials have said the chance of the travelers contracting the illness is minimal.
The experts also stressed that the travelers will not have contact with local residents.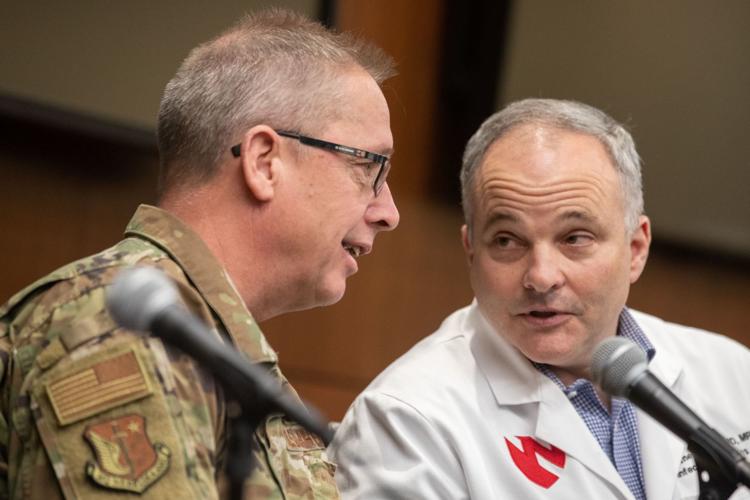 The passengers will arrive in a remote and isolated aircraft parking area at Eppley and will not enter the airport terminal. At Camp Ashland, they won't eat at the camp's dining hall, use its fitness facilities or have contact with soldiers in training.
Nebraska Gov. Pete Ricketts said Nebraskans face another opportunity to "step up" to help — this time at a national level — as they did during last year's devastating floods.
"These are Americans," he said, "and we are going to take care of them."
He said he is confident that UNMC and its clinical partner, Nebraska Medicine, have the expertise to deal with the coronavirus, as they demonstrated while treating patients with the Ebola virus in 2014.
"Of anybody in the world, we have the expertise and facilities to be able to handle this," he said.
Ricketts also encouraged Nebraskans to rely only on trusted sources for news and information about the situation. The CDC is updating a webpage with the latest information. So is the World Health Organization.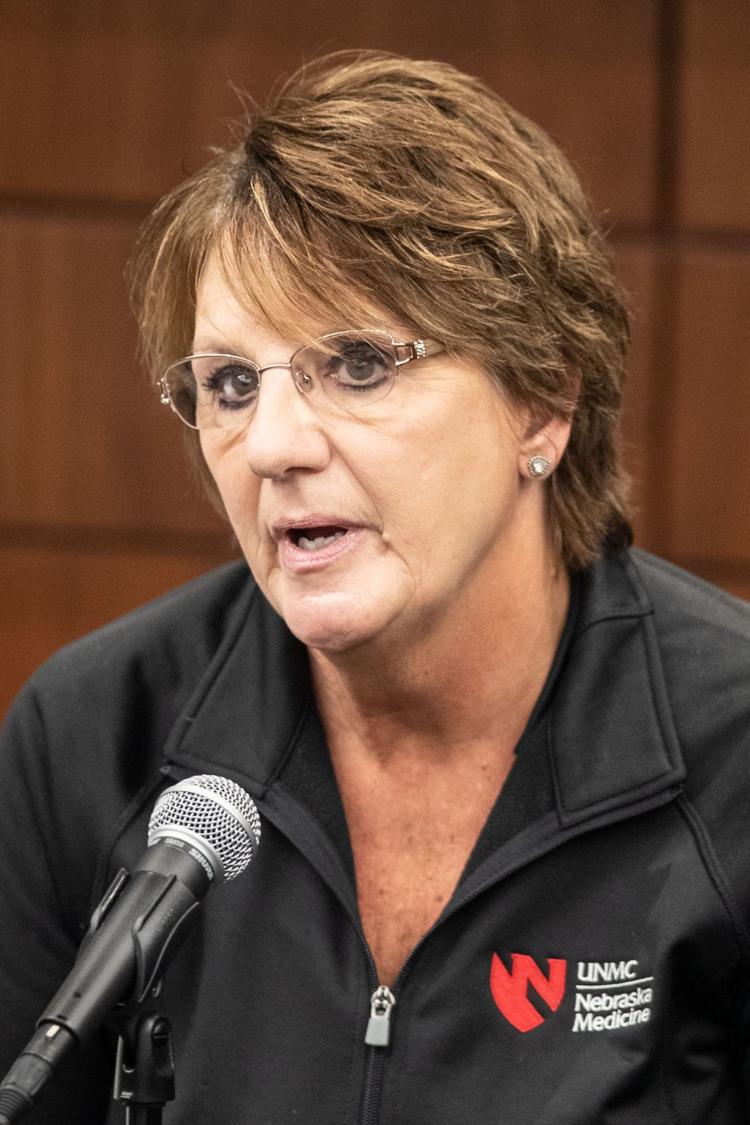 Shelly Schwedhelm, executive director of emergency management and biopreparedness at Nebraska Medicine, said the medical center will play a supporting role to the federal effort. Its staff will not interact with the quarantined travelers.
If someone develops the virus, however, that individual would be transferred to the Nebraska Medical Center. Where such individuals would be housed there would be determined based on their symptoms, she said.
A traveler with mild symptoms probably would go to the new 20-bed National Quarantine Unit, the nation's only federal quarantine center. It's in the newly opened Training, Simulation & Quarantine Center on the ground floor of the $121.8 million Davis Global Center on the UNMC campus.
An ill traveler who required hospitalization probably would be housed in the Nebraska Biocontainment Unit, also at the med center, Schwedhelm said. An ambulance company that provides infectious disease transport for the state will be based at the camp 24/7 to transport patients if necessary.
Kasowski, the CDC official, said the passengers will be issued quarantine orders upon their arrival at the airport. The legal order is intended to protect the travelers, their families and the community.
Other planes with Americans returning from Wuhan will be landing at Air Force bases in California and Texas, the CDC said Wednesday.
The plane bound for Omaha had not left China by the time of Thursday morning's press conference.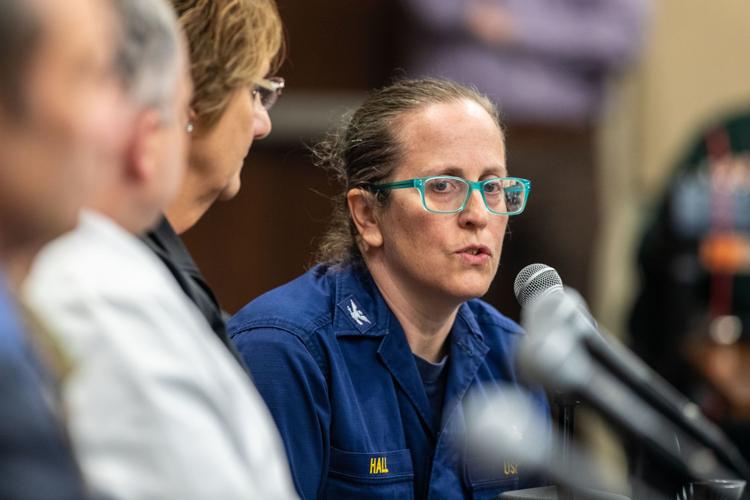 Capt. Dana Hall, incident commander with HHS's Office of the Assistant Secretary for Preparedness and Response, said federal officials do not yet know who will be on the Omaha-bound flight.
However, they are expecting Americans and their families, from children to adults, she said.
Dr. Jeffrey Gold, UNMC's chancellor, earlier said the travelers most likely would be U.S. government workers or privately employed Americans who have been in Wuhan.
As of Friday, more than 31,400 cases of the virus — and more than 636 deaths — had been confirmed worldwide. Confirmed cases in the United States stood at 12. The 12th, a Wisconsin resident who had traveled to China, reportedly is recovering at home.
The plane arriving at Eppley will be met by a team from the CDC, which will evaluate the passengers' health.
Coronaviruses are respiratory illnesses, which typically are spread by droplets produced when people cough or sneeze. Based on what's known about coronaviruses, Kasowski said, they can travel only about six feet. Beyond that distance, he said, "your risk of coming into contact with the virus is extremely low."
The CDC will follow established guidelines for protecting people, including air crews and bus drivers, he said.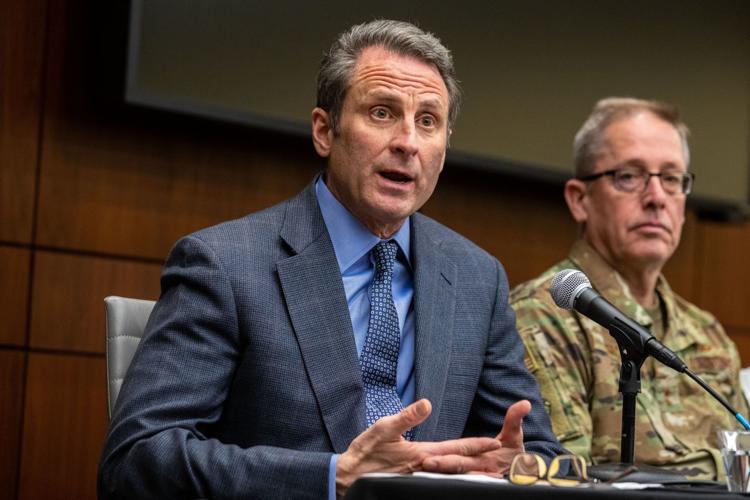 The planes that will be transporting the travelers, Hall said, are contracted civilian planes that will be cleaned after use.
Federal officials were to get a call when the Omaha-bound plane was wheels up from China, when it stopped for refueling and when it's on the final leg to Omaha, she said.
The federal team, she said, is made up of members who have "vast years of experience" in responding to such events, often under austere conditions.
Gold said the team will continue to practice for the travelers' arrival until they land. Area residents may see the team out in the community in protective gear.
UNMC and Nebraska Medicine continue to play an ongoing role in training local and national health workers to respond to disease outbreaks and other emergencies. Two members of the federal team responding to the outbreak, in fact, have trained at the med center.
Hall said the quarantine is the largest that federal teams have been responsible for on U.S. soil in her experience.
The returning Americans are arriving at a time when influenza remains prevalent in the community.
Kasowski, of the CDC, said local residents experiencing cold or flu symptoms should not immediately think they have coronavirus. It's not being spread on a sustained basis within the United States.
However, Americans who have left other parts of China during the past two weeks are being advised by the CDC to isolate themselves and monitor their conditions at home.
The Nebraska Department of Health and Human Services on Wednesday asked such travelers to contact their local health department for guidance.
Informing local health departments of recent travel history to China, state health officials said, is the most direct way to ensure timely medical care if needed and to minimize potential risks to others.
No cases of the new coronavirus have been confirmed in Nebraska. Additional information is available at dhhs.ne.gov/coronavirus.
Locally, the Douglas County Health Department has opened an information line that residents can call with questions about the virus, including about the Americans at Camp Ashland. That line will be open from 8:30 a.m. to 4 p.m., seven days a week, at 402-444-3400.
---
A look back at the Nebraska Medical Center biocontainment unit's Ebola patients