Quinton Guerrero came in from taking his dog for a walk in late December, removed the pup's harness and leash, then sat down and began talking with his girlfriend.
The 23-year-old Bellevue resident found his mind drifting. He began having difficulty moving — and speaking.
Guerrero, who had taken first aid while working for an after-school program, suspected he was having a stroke. But it didn't make sense.
"I was kind of confused, because I thought that only happened to people who were 60 or 70, not 23," he said.
The couple called 911. Guerrero was taken to Nebraska Medicine-Bellevue, given blood clot-busting drugs and transferred to the Nebraska Medical Center.
Later, he got a workup through Nebraska Medicine's Brain-Heart Clinic, a roughly year-old, interdisciplinary clinic where patients see a neurologist and cardiologist at the same time. The clinic's aim is to identify patients with certain conditions that place them at risk of stroke and, working together, determine the appropriate steps to prevent it, said Dr. Andrew Goldsweig, associate director for structural heart disease at Nebraska Medicine.
With those conditions, stroke typically occurs as a result of a blood clot traveling from the heart. Many of the patients they see are younger; Goldsweig estimated the average age for the clinic's patients at late 30s to early 40s, with lots of years of work and life ahead of them. Stroke is the No. 5 killer in the United States, according to the American Heart Association, claiming the lives of about 142,000 people each year. It's also a leading cause of disability.
His primary partners in the clinic are Drs. Michael Pichler, a neurologist, and Jeffrey Delaney, a pediatric cardiologist who practices primarily at Children's Hospital & Medical Center but also sees patients at the medical center.
Tests ruled out a number of potential causes for Guerrero's stroke, including abnormal heart rhythms, clotting disorders and blocked carotid arteries.
That left what's known as a patent foramen ovale, a hole or open flap between the upper chambers of the heart that can — in relatively rare cases — allow clots to flow through the heart to the brain and cause a stroke.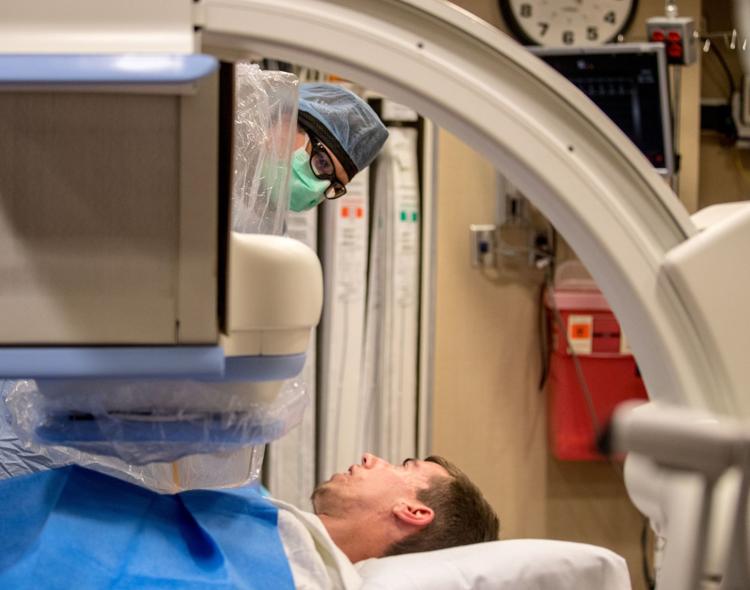 Such holes are normal in the hearts of babies in the womb, who get oxygen through their umbilical cords instead of their lungs. The flap allows blood to pass between chambers of the heart, bypassing the lungs. But it typically closes after a baby takes his or her first breath and eventually seals completely.
However, military studies indicate that the hole doesn't close in about 25 percent of people, Goldsweig said. For the vast majority of those people, it won't ever prove a problem, so doctors don't screen for the condition. Screening likely would result in many people getting procedures they don't really need, which can create a risk of complications.
But in some, like Guerrero, it lets a clot through. In fact, such holes — known as PFOs for short — are involved in about 40 percent of strokes with no known cause.
"(In) young people who have strokes," Goldsweig said, "this is by and large the cause."
To prevent future strokes, doctors may opt to close the hole. Evaluating such patients is one of the clinic's main focuses. Another is evaluating those with a type of irregular heart rhythm for another stroke-preventing device called a WATCHMAN.
CHI Health will soon be launching its own heart and brain clinic at Immanuel Medical Center, said Dr. Himanshu Agarwal, an interventional cardiologist at Creighton University Medical Center-Bergan Mercy.
Goldsweig said the number of closures has increased since devices were specifically approved for PFOs in 2017 and 2018. But there's no tally of how many are done each year. The medical center performed 25 last year and is on pace to complete more this year.
So far, however, there are no national guidelines indicating which patients should get closure. Goldsweig is part of a 12-member work group made up of representatives from two cardiology and neurology groups that is working to write such rules.
Agarwal said he expects the number of closures to increase once the guidelines are completed. He's been performing the procedure for about 15 years and now does up to 30 a year. His youngest patient was a then-22-year-old nurse who works for the health system.
Though they don't have a dedicated clinic, Bryan Health in Lincoln also performs the procedure, and Methodist Hospital began offering it earlier this year.
Guerrero was a good candidate for closure. Last week, Goldsweig threaded a catheter through a vein in his upper leg to his beating heart, guided by X-rays and ultrasound.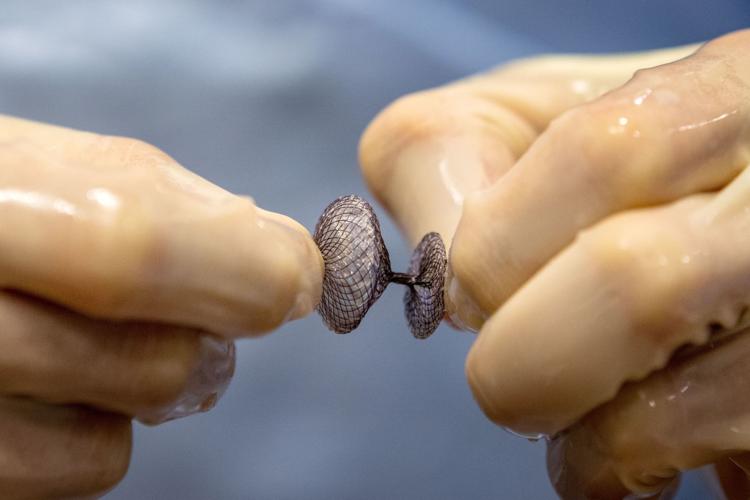 Once Goldsweig was satisfied the catheter was in the proper position, he deployed the device, which had been flattened inside a sheath. The device is comprised of two nickel and titanium mesh disks, connected by a short bar, that sit on either side of the flap. He also did some checks to make sure the leak was closed. The lining of the heart typically heals over the device in about a month.
Guerrero, who went home that night, will take aspirin and an anti-clotting drug for a few months, checking back in at one, six and 12 months. He'll be the first patient from the medical center to be entered in a registry the FDA has asked the device's maker to maintain to confirm the results of the original study that led to its approval.
Guerrero said after the procedure that he's still surprised he had a stroke in the first place. He said he still lacks feeling in his right arm and has some other symptoms, but he's back working for a liquor distributorship.
And he's glad Goldsweig was able to fix the hole. His stroke experience is not something he cares to repeat.
"I just don't want it to happen again," he said.
17 rare and unusual health stories out of Omaha
One rare disease left an Omaha doctor eating a shakelike formula to supplement her diet. A friend said it tasted like cat food. An Omaha man woke up after his family took him off life support. And a Lincoln teen is allergic to almost everything.
Check out the stories on their unusual ailments and sometimes equally unusual treatment plans.