With his time in Omaha ticking away, new Creighton University graduate Timi Onafowokan set himself a challenge that he hoped would get him in shape, shake the post-graduation blues and remember the city he'd come to love.
He decided to run for 60 minutes at 6 a.m. every day for 60 days straight. He set a course from his house in midtown Omaha to the beak of the bronze Billy the Bluejay statue outside Creighton's downtown soccer stadium, then back home again by a circuitous route through the Gifford Park and Cathedral neighborhoods.
It wasn't easy. Onafowokan developed a love-hate relationship with the California Street hill that climbs from the Creighton campus up to Duchesne Academy. He found out how cold his hands could get (colder than bronze Billy). He pushed though headaches, fevers, ice, snow and aching Achilles tendons.
Onafowokan came to Omaha from Nigeria by way of England. He had attended Catholic school while growing up in Lagos. He started college in England, playing goalkeeper for the school soccer team as he had as a lad in Nigeria, then decided to continue his schooling in the United States.
He picked Creighton because in 2015, the Bluejay men's soccer team was near the top of the NCAA heap, and Onafowokan harbored dreams of playing college soccer. It also helped that it's a Jesuit school.
Onafowokan said he had no idea what to expect in Omaha, except that his relatives in the northeastern United States told him that Nebraska would be cold in winter.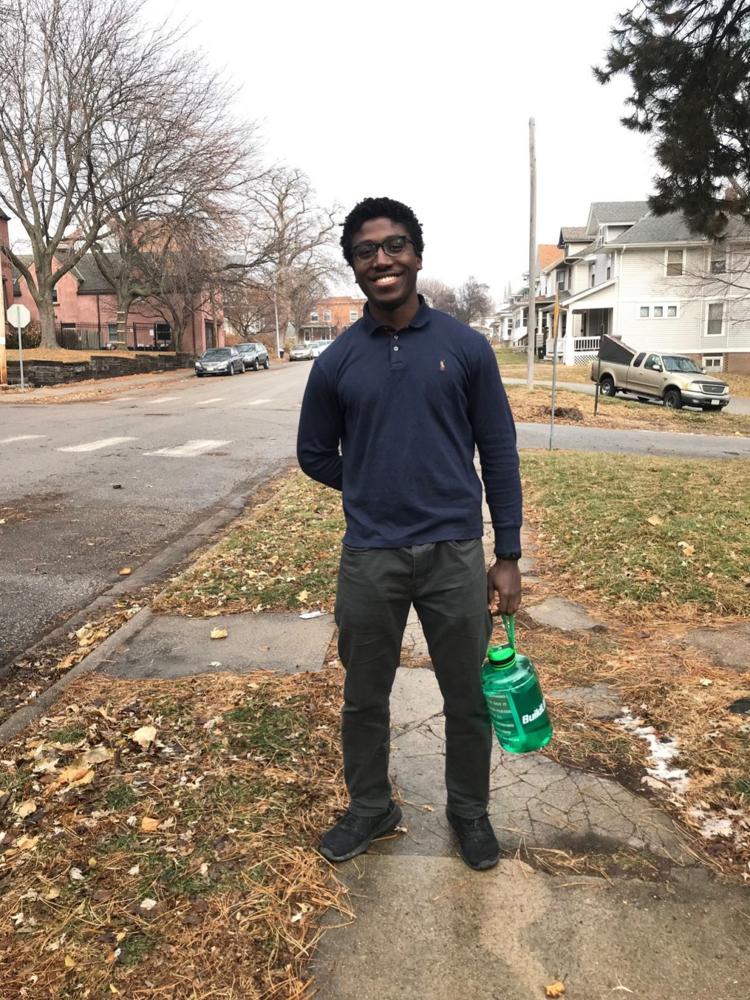 What he immediately found is that people in Omaha can be very warm. Onafowokan said people immediately welcomed him. He had worried that he might face bias because of being African, but what he generally found was the opposite. He said Creighton students and faculty made him feel at home. The staff of Creighton's International Student and Scholar Services were especially helpful.
A lot of that reception had to be because of Onafowokan's own engaging personality. He's bright, curious and plenty happy to converse. He got to know Creighton and other students quickly by becoming a student tour guide in his first year on campus.
Onafowokan didn't achieve his dream of playing NCAA soccer. The closest he got was volunteering as an assistant student manager one season. And he sometimes struggled to find his way through college. His mother owns a school in Lagos. His father is a high-level corporate accountant. Onafowokan started out in chemical engineering. He switched to accounting. Eventually, with advisers' help, he settled on a Bachelor of Science in business administration with a concentration in business intelligence and analytics. It combines business and computer technology, Onafowokan said.
He graduated in May. He got accepted to graduate school at Georgetown University to study sports industry management. But his friends left town. He had a breakup. He postponed starting graduate school for a semester to try to help with the Creighton men's soccer team this fall, but he wasn't needed. He couldn't go to work right away for visa reasons.
Onafowokan decided to throw himself into a fitness challenge. He eventually did get a temporary job, interning with the Refugee Empowerment Center. He helped the organization set up and launch a web platform where donors can go online to schedule pickups of donations.
He's a fan of "The Iceman" Wim Hof, a Dutchman known for such extreme challenges as running a half-marathon above the Arctic Circle barefoot. Onafowokan also is a fan of "Yes Theory," a YouTube channel with nearly 5 million followers whose creators encourage people to take on challenges and "seek discomfort."
Onafowokan knew that sitting around and moping wouldn't make him feel better.
And Onafowokan wanted to fix Omaha in his memory. He really liked it here.
He decided running for 60 days straight was a worthy challenge. He's glad he did it, although he wasn't always happy doing it.
Sign up for The World-Herald's afternoon updates
Receive a summary of the day's popular and trending stories from Omaha.com.
He started Oct. 14. He figured out a route, just under 6 miles, that at the beginning took about an hour, but which he had to extend as he got faster. The run took Onafowokan from his house near 31st and Cass Streets through the Creighton campus on Burt Street and the bronze Billy at Morrison Stadium, then through campus again on the Creighton mall that passes St. John's Catholic Church and Creighton dorms. He ran up California Street past Cali Tacos and St. Cecilia Cathedral to 40th Street. He ran about a half-block downhill beyond 40th Street before pivoting around and winding his way back home.
How did Onafowokan know where he should turn around past 40th and California? It was the barking dog. Anyone who runs in town knows the fear of being chased. Onafowokan didn't want to be chased. So he turned around before he got to the dog's house.
"The best part was the peace and quiet," he said. "No one's really awake. Most people's days are spent with work, people talking, like music playing. Even if you want to be in peace, you can sit in your house in the afternoon, and you know that it's not going to be quiet. There could be music, there could be cars, there could be sirens going by. On the run, there was none of that, except for cars going by every now and then."
As he ran, he felt "at peace."
"It was a lot of reflection," Onafowokan said. "Reflecting on the negatives of my time and the positives, how I've grown as a Christian."
After each run, he did his daily devotions of Bible reading and prayer before work or weekend activities.
The worst part? Well, the worst stretch of the run is that Duchesne Academy hill, which midtown joggers and cyclists will agree is a bear. Onafowokan learned to take it one step at a time, and not to think about how far it was to the peak.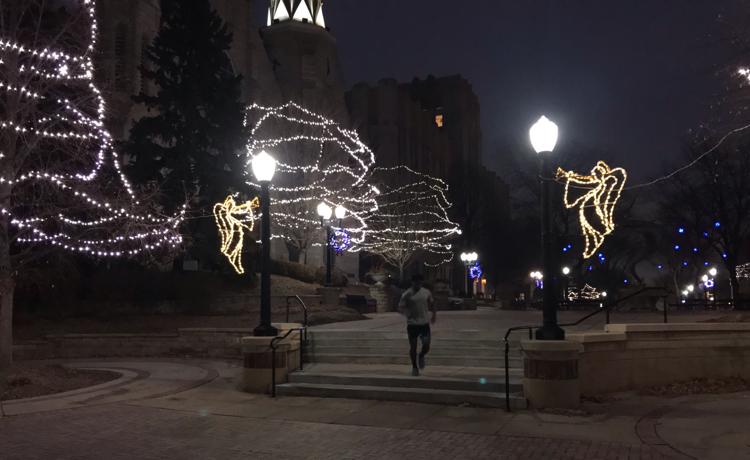 The part he thought he just couldn't take was the cold hands. He would leave his keys and phone in a drawer on the screened-in porch of the house. After winter came, by the time he got home his hands were so cold that he could barely open the drawer because his hands were like stone.
The worst stretch of the 60 days came in early December. Onafowokan got sick. His Achilles tendons and muscles on the top of his feet hurt as bad as his head did. He slipped and fell more than once.
He had to talk himself into getting out of bed.
"It was painful to start, but like halfway through you forget about the pain," he said. "The headache was so bad, when I woke up it was banging, but once I got halfway through, believe it or not, I couldn't feel it anymore. Like 30 minutes into the run, I felt great. I didn't feel the fever."
Like taking the hill one step at a time, Onafowokan took the challenge one day at time, which sounds like a big-picture takeaway.
It worked for him. On Dec. 13, Onafowokan tapped Billy the Bluejay's beak, sprinted past St. John's in its Christmas lights, topped the Duchesne hill, turned around at the barking dog and ran on home before the sun rose. And then, for good measure, he took one more lap. He made it home just as a freezing rain began to fall.
The next day, he was off to Nigeria for Christmas before heading on to Washington, D.C., for grad school, feeling like he'd had a good run — or 60 of them — in Omaha.
The literal ups and downs of the hilly route paralleled the figurative ups and downs of Onafowokan's spiritual journey and his trek through college.
"I just kept telling myself, you're just taking each day as it comes," he said. "Don't think about when it will be Day 60. Don't think about the end; think about now. Think about the next step."
A roundup of inspirational stories from Midlanders with heart
There's the woman with MS who runs despite her diagnosis. The 7-year-old born without his left hand who plays baseball just like the other kids his age. The refugee who turned to Zumba to help her recover from cancer treatments. Check out their inspiring stories and others below.