Ghosts of Benson bicycle parking past visited Omaha on Monday.
White-painted protest bicycles greeted people at the Metro bus stop in Dundee near 50th and Dodge Streets and at the former Benson home of the city's first and former bike corral.
The protest artists even parked a white bike at City Hall, on a bike rack that is visible from Mayor Jean Stothert's office window.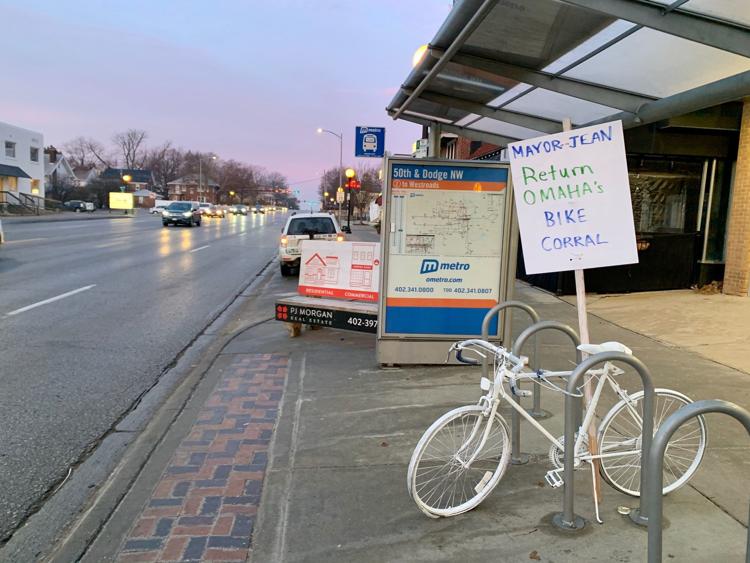 The installations included handmade signs, with many imploring the mayor to return the city's lone bike corral in Benson, which the Public Works Department removed last week to restore a single vehicle parking space along Maple Street, near 60th Avenue.
All of the protest bikes were donated and painted by riders, a protest spokesman said.
"Omaha is a very vehicle-driven city," said the spokesman, Greg Lilly, a Benson resident and bicycling advocate. "But I know a lot of young professionals, we want to get around the city in different ways."
Cyclists want people to know the bike corral in Benson was more than just 12 places to lock up a bike, he said. It served as a local hub for large-group bicycling. It helped Benson become a place where people could park their bikes before or after a ride and grab food or drinks together.
By midmorning Monday, Public Works crews removed the Benson protest bikes using chain cutters. The bikes were placed in a no-parking zone, said Todd Pfitzer, assistant Public Works director. The other white bike installations are probably fine as long as they are legally parked, he said.
"If that's how they want to use their infrastructure, that's their business," he said. "This is just a simple engineering decision. It's supply and demand."
The Public Works Department argues that bicyclists have other parking options in Benson that are rarely full, including regular bike racks not far from where the former on-street bike corral was located. Stothert's chief of staff, Marty Bilek, said the city found more demand for on-street parking for cars.
Bilek said the city remains open to hearing from the Benson Business Improvement District, which he said took no formal position on the corral because business owners in the district have different opinions about it.
The Public Works Department has said it would consider returning the bike corral to its former location if justified. But interest from the new tenant coming into the former Omaha Bicycle Co. building is not enough, officials said.
Pfitzer said the bike corral was placed where it was because of the bike shop. People would need to show the city the need for the new bike parking, and that would require more than a short-term burst of protest parking.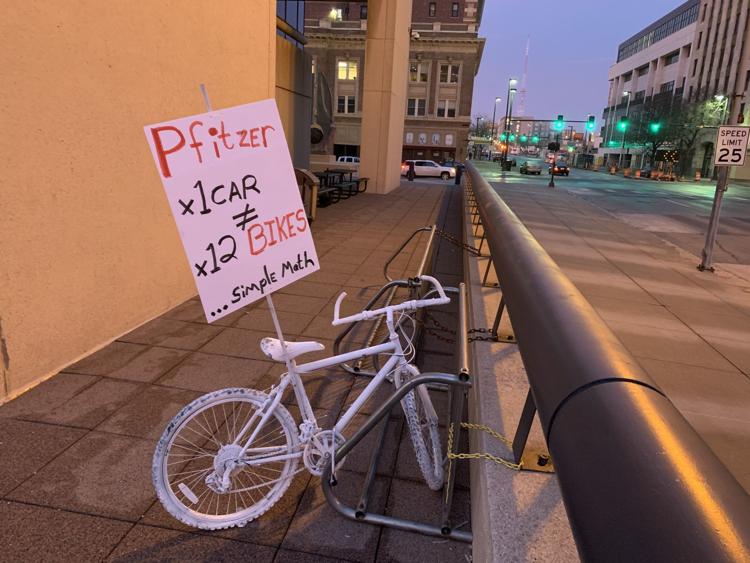 City Council member Pete Festersen, who tried to stop Public Works from removing the corral, said he plans to meet with the Benson improvement district on Jan. 8 to discuss a parking and mobility strategy for the district, including car parking and other transportation options.
He says the answer shouldn't be either cars or bikes, but both.
Both sides say they see the need for more vehicle parking in Benson. The city, which receives complaints about too little parking in the lively district, is studying more parking options for the area.
But cyclists say the need for vehicle parking shouldn't shove them aside. They say the bike corral conveyed to car-centric Omahans that bikes, too, are legitimate modes of transport worth sharing the road, and parking, with.
Said Lilly: "Biking, especially in Omaha, is very terrifying. If you're in bike lanes or on the street, you're gonna get honked at and flipped off. This helped make people feel like it's OK to bike here."
Photos: Our best shots of 2019 (so far)
Take a spin through the best of our staff photos from 2019. The gallery will be updated throughout our journey through the next year.