Aug. 1 was a fun, carefree evening for my husband and me.
My husband, Doug, was going to meet friends for the Thursday night Taco Ride on the Wabash Trace. I had walked over to the Capitol District from our new downtown apartment to watch a pole-vaulting event with some friends.
Doug got off work around 5 p.m. and left his job at an electrical contracting company in Council Bluffs. Riding his bike on Veterans Memorial Highway, he spotted a sign for the Wabash. But then he got lost. He backtracked along a railroad access road and was trying to get back to the highway when he entered what he thought was a clearing near East Manawa Drive.
As he rode his bike through the clearing, tall grass obscured a culvert, and Doug flipped head over handlebars, falling about 3 feet. His bike landed on top of him.
In a ditch and unable to move, Doug grabbed his cellphone and called 911. It was 5:40 p.m.
"My emergency is that I've been in an accident on a bike," he told the dispatcher. "And I think I might be paralyzed."
When the phone rang, I almost didn't answer because I didn't recognize the number. But I picked up, just in case.
Doug and I had sold our northwest Omaha house over the summer and had just moved into an apartment downtown.
We were looking forward to shortening our commutes — I could walk to The World-Herald's downtown offices and Doug could bike or drive to his job.
We wanted to walk along the riverfront, to walk to restaurants, to walk our dog.
The nurse on the phone said Doug had been in a bicycle accident, and he had asked her to call me. She said something about him having difficulty moving his legs.
I grabbed my keys and headed to my car as I tried to reason with myself. Don't jump to conclusions, I thought. How bad could it be?
On my way to the hospital, I made two phone calls: I called my friend Heidi, who is sort of my 911 for life emergencies. She said she would come. Then I called our 20-year-old daughter, Madi. She's a student at Western Colorado University and was doing a summer internship in Gunnison, Colorado. Madi told me not to panic. I told her not to panic.
I got to the emergency room to find Doug on a hospital bed with doctors and nurses around him.
The neurosurgeon resident said two vertebrae in Doug's spine were fractured — at some point, I would find out they were C6 and C7 in the cervical, or neck, region.
Someone handed me a plastic bag with Doug's belongings — his clothes had been cut off.
After he tumbled off the bike, Doug landed in tall grass and couldn't see anyone — and figured no one could see him. Emergency responders from the Council Bluffs Police and Fire Departments and the Pottawattamie County Sheriff's Office worked furiously to find Doug, pinging his phone and sounding sirens. The dispatcher, Rachel Bieghler in the Pottawattamie County Communications Office, asked Doug if he could hear the sirens.
At one point, Bieghler asked Doug to call out.
"Help!" he yelled, before adding, "I'm not yelling very loud."
At the beginning of the call, which I listened to recently, Doug sounded calm. By the end, his voice was unsteady, and he was breathing heavily.
But even as he lay in the ditch, unable to move his legs, Doug was unfailingly friendly. "How are you doing today?" he asked Bieghler at one point.
She replied: "I'm doing well, sir. Unfortunately, I'm sorry you're having such a rough time. ... We're doing the best we can to try and find you."
Thirty-two minutes after he called 911, at 6:12 p.m., an officer located Doug. "He found me. He found me," Doug told Bieghler. She replied, "OK, I'm going to stay on with you until that officer is directly next to you."
At 6:36 p.m., a LifeNet helicopter landed nearby to take Doug to the Nebraska Medical Center.

At the hospital, Doug was smiling. He said he was hungry; he asked me to take a picture of him to send to Madi (he didn't want her to worry).
Doug is a great dad, the kind who calmed a fussy newborn by walking him around the neighborhood in the middle of the night, the kind who arrived with snacks in the minivan for the swim team carpool.
Doug went into surgery that night, after Dr. William Thorell, a neurosurgeon with Nebraska Medicine, was called in.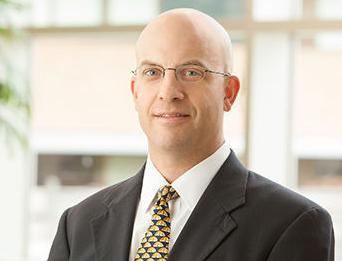 We knew by then that Doug had some kind of spinal cord injury, but I was having a hard time staying focused. I was cold, wearing shorts and a tank top, and I was shaking.
I talked to our son, Evan, 24, on the phone. He was already in the car, driving to Omaha from Houston with his girlfriend, Monica.
When the three-hour surgery was over, Dr. Thorell came out to meet with us in the waiting room. He had fixed Doug's broken spine but told me that Doug had a devastating spinal cord injury. I asked if he would walk again. He said it was too early to know but, if he did walk, he may not walk normally.
It was sometime after midnight on Aug. 2, my 51st birthday.
Dr. Thorell told me later that he knew, judging from my reaction, that this was the moment I first grasped the seriousness of Doug's condition.
In the darkness of the worst night of my life, there was only shock and sadness and fear. But in the days and months ahead, light began to break through — through friends and family, through those who cared for Doug and through Doug himself.
I was humbled by the support our family received — meals from my World-Herald colleagues, legal help setting up a power of attorney, prayers from priests at Doug's bedside and visits from Doug's co-workers at New Covenant Consulting.
F3, the men's workout group that Doug had joined the year before, asked for prayers for him on Twitter. Everyone gets a nickname from the group, and Doug had been dubbed "Waffle House" after he told the group that he liked breakfast.
"Waffle House ... was in a serious bike accident. He is in the ICU being treated for fractured back and spinal cord injury. Please pray for him. He's one of a kind — imagine Mr. Rogers crossed with Batman," read one tweet. "That's our guy."
For @F3Nation - Waffle House is one of our PAX. Thursday he was in a serious bike accident. He is in the ICU being treated for fractured back and spinal cord injury. Please pray for him. He's one of a kind - imagine Mr. Rogers crossed with Batman. That's our guy. https://t.co/XF9ji2U0Qi

— F3Omaha (@F3Omaha) August 4, 2019
Doug, my guy who never seeks attention for himself, had his own hashtag: #wafflestrong
It was the advice I heard that first night in the hospital, and I tried to hold onto it in the days and weeks to come.
Our kids arrived in Omaha over the next couple of days, taking turns sleeping in the recliner near Doug's hospital bed. They read to him and watched YouTube clips of comedians with him.
We spent 14 days in the hospital, with all but a couple of those days in the Nebraska Medical Center's eighth floor trauma ICU.
I remember thinking a healthy guy like Doug didn't need to be in the ICU. Yet over the coming days, his heart rate yo-yoed. A couple of times, he seemed to pass out. His blood pressure was low. His breathing was labored, and he was on oxygen.
I was stunned. What was going on?
Sign up for The World-Herald's afternoon updates
Receive a summary of the day's popular and trending stories from Omaha.com.
Dr. Thorell explained it this way: Think of the spinal cord as a long column of cables that runs down your spine, with each cable sending out messages from your brain. At each level, it's peeling off cables with nerves sending messages to different parts of the body. The higher the injury to the spinal cord, the more disruption.
Doug's injury was high, in the neck. That meant the motor function of his legs was impaired. But it also meant that the cables that control his chest muscles, which help him to take deep breaths or cough, were disrupted. His cardiovascular system was affected, too, causing his heart rate and blood pressure to drop.
I drove home from the hospital a couple of times a day, usually to walk our dog. I envied the people I saw along the riverfront, walking outside on warm August days.
I lived in two worlds — life on the outside, where people weren't connected to feeding tubes and heart monitors, and life on the eighth floor ICU.
It was one of Doug's nurses who first suggested that I write about our experience. She thought it might help me to process things. So I started tapping out notes on my laptop as I sat in Doug's hospital room.
I wasn't sure that the notes would ever leave my computer screen.
But as time went on, I decided that I wanted to share Doug's story as a thank-you to the many people who have cared for Doug and because I hoped to raise awareness about spinal cord injuries and the resilient people who survive them.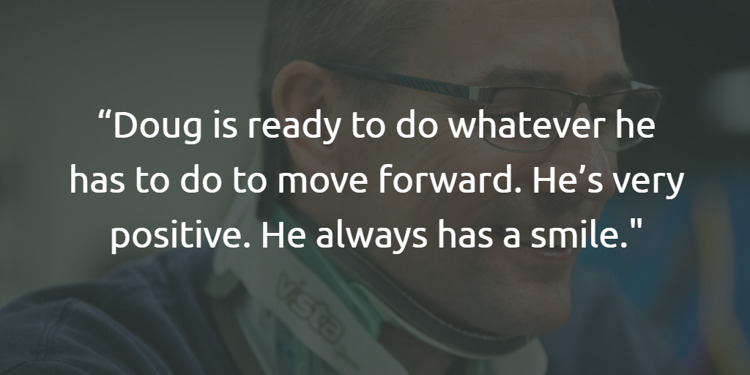 With the help of the hospital staff, I began to understand his condition. Doug had an "incomplete" spinal cord injury. He had some feeling in his legs but could not move them.
In a "complete" injury, meaning the person has no feeling or ability to move below the injury, the chance of walking again would be extremely low, Dr. Thorell said.
But an incomplete injury is a "huge gray area," he said. "The probability that a person will walk is really hard to predict." And, it takes six months to two years after the injury to know how much a person will recover.
Dr. Thorell said motor vehicle accidents, especially with unbuckled passengers, and falls from heights are the most common causes of a traumatic spinal cord injury. He has seen farmers injured in falls from barns or combines, tree trimmers hurt in falls from trees, football players injured if they are hit in just the wrong way.
And he has seen people injured in falls from bikes. Doug was at least the third person Dr. Thorell had treated with almost the same injury resulting from a bicycle accident.
"It happens to people in the middle of their lives," he said, "so it's extremely disruptive."
We knew this only too well. Doug was no longer able to work. Family members and friends took care of our dog. I threw out the food at our apartment after it went bad. I would crawl into bed exhausted at night, but couldn't sleep.
Eventually, Doug was stable enough to be moved out of the Nebraska Medical Center and to Madonna Rehabilitation Hospital in Lincoln.
Moving day was Aug. 14. Doug arrived at Madonna that afternoon in an ambulance. Pulling into the parking lot, I saw people in wheelchairs, rolling around campus. Doug was brought in on a stretcher, with a feeding tube. He hadn't been out of bed.
He was assigned a wheelchair the next day. This felt like hope.
Our focus shifted from his legs to all the other things that Doug needed to learn to do again. Once-simple tasks, like tying his shoes or writing, were difficult because of the weakness in his arms and torso caused by his paralysis.
He began to learn to navigate life in a wheelchair. Two people at Madonna, Kyley Callahan, an occupational therapist, and Janelle Hansen, a physical therapist, were his primary teachers. They were among the many professionals Doug praised for being "so good at what they do."
As Doug put it, they "communicate exactly the right message to me, at exactly the right time, to get me to move onto the next step."
Kyley sees her role as an occupational therapist as helping people "get back to doing the things that they were doing before. It's a traumatic experience for most patients. We not only help people physically, but emotionally cope through this experience. Life may look a little bit different."
But, she said, "you can still get back to doing the things you were before."
At a basic level, that includes things like dressing, bathing and going to the bathroom. But it's also resuming whatever role the person had before the injury — as a wife, husband, son, daughter, employee.
Kyley introduced Doug to a driving simulator, where he began to learn to drive again, using hand controls instead of his feet to push the brake and gas pedals. She helped him to learn to transfer in and out of bed, and she worked with him to strengthen his hands.

I never saw Doug express bitterness or anger, even as I struggled some days to keep from crying as I sat in church or drove home from the hospital.
His workout group, F3, threw a surprise party for Doug for his 52nd birthday, on Aug. 26. More than 30 people crowded into a conference room at Madonna. One of Doug's workout buddies told of how Doug had inspired him through his positive attitude during life-changing circumstances.
Kyley, Janelle and many others noticed it, too.
"Doug is ready to do whatever he has to do to move forward. He's very positive. He always has a smile," Janelle said.
Janelle taught Doug how to get around in a wheelchair, how to get in and out of his chair, how to prevent pressure sores, how to take apart and reassemble a wheelchair for transportation in a car.
On one of his last days at Madonna, Janelle accompanied Doug as he rode a hand cycle, a modified bicycle powered by his hands, around campus. I worried about Doug being anywhere near a bike, but I knew this was his decision: "I'm pumped. I want to go," he said.
"It's something that he loved," Janelle said. "I think it's something that we can show him that he can do, in an environment where he's protected."

On Sept. 25, Doug took the next big step in his recovery, moving to QLI, a rehabilitation facility in Omaha. There, Doug is continuing to get stronger and working to improve the skills he needs to navigate home and work in a wheelchair.
Recently, Doug visited home for the first time. He rolled around the apartment with his QLI physical therapist, Brad Dexter, to assess the modifications that need to be made. It's not a lot; we're in a new complex, with an elevator and wide hallways and doorways.
Doug made himself lunch. He sat on the balcony. He smiled.
One recent day, Doug played pool with Evan in the QLI recreation center. Always a good shot, he easily won, calling out the bank shots as he went. "Beginner's luck," he said.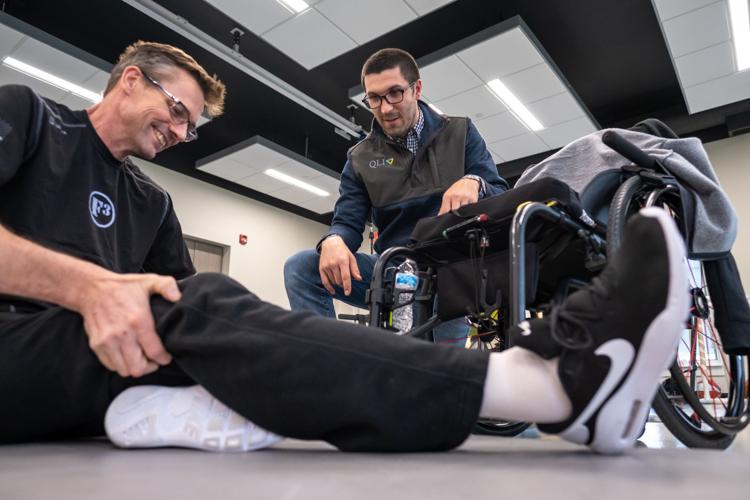 Doug speaks of his recovery in terms of "benchmarks," a word he uses to describe his work with industrial-scale electrical panels. "I've been able to progress every week and meet benchmarks," he said.
Doug said he accepted his paralysis while still in the ditch, waiting for rescue workers to arrive: "It was obvious to me that everything had changed when I crashed my bike."
He regrets not getting off his bike and walking through the ditch that night, but there's nothing he can do about that now.
He's immensely grateful to the first responders who worked to find him.
"I got the best possible care that I could imagine," Doug said. "They took charge and took care of me."
Doug has turned his focus to living a "productive life while still in a wheelchair."
He misses the freedom that he had before to set his own schedule, when he went for a workout at 5 a.m., then was at work by 7 a.m.
Even learning to get into and out of a car has been a weeks-long process, one that Doug just recently mastered with the help of Brad, his QLI therapist.
"It's been hard, absolutely," Doug said. "I want to be doing other things."
Doug has two goals: to get home and to get back to work. What is he most looking forward to?
"Walking the dog, looking out the window, making hot tea, making breakfast — the normal things that will happen once we get home."
I grow more confident every day that we'll get there, with the help of medical professionals who define people by their hopes and ambitions, not their disability. And because of Doug's optimistic outlook.
A roundup of inspirational stories from Midlanders with heart
There's the woman with MS who runs despite her diagnosis. The 7-year-old born without his left hand who plays baseball just like the other kids his age. The refugee who turned to Zumba to help her recover from cancer treatments. Check out their inspiring stories and others below.