It's 6:33 a.m. when we start pedaling our bikes for downtown.
We have a long way to go.
We're in Millard. At 131st and Q Streets. Downtown is 150 or so blocks away. And our first move is toward Sarpy County, which, if you know anything about Omaha's geography, is not in the direction of downtown. Oh, and the rain just started.
But Josh Corrigan knows this route. It's his everyday commute from Millard to his job at the Metro Area Planning Agency just outside Creighton's campus. On National Bike to Work Day, Corrigan is one of the experienced guides leading a group of cyclists on a journey to see if commuting by bicycle just might work for them.
Omaha has a small group of bike commuters — a fraction of a percent of all the people who commute. In all, Omaha has about 700 bicyclists total, according to U.S. Census Bureau estimates.
Minneapolis, St. Paul and Denver have developed a much deeper bike commuting crowd and better biking networks. Thousands of cyclists bike to work there, even with the rugged winters.
But Omaha is a city thinking about ways to change its transportation system, maybe even taking some steps away from our dependence on the car. So could biking to work become a thing?
We have a long way to go.
Based on my one-day experience and a week talking to people about this issue, I can report: If we want to get more people commuting by bike, we can get there.
My ride Friday wasn't easy. It went out of the way — turns out a ride to get from Millard to downtown can go through a few other communities besides Omaha.
But it was safe. And though the two-hour, 17-mile ride was a lot of work, it was actually pretty enjoyable, offering glimpses of the city in a way I never experience.
"It's so fun," fellow rider Karen Allen said as our trio pulled up to the City-County Building.
Allen is an experienced bicyclist, enough that she'll captain First National Bank's Bike MS: Nebraska ride this September. That's, ahem, a 150-mile bike ride for her. But she's never completed a bike ride to work and decided to join the ride just a couple days ago.
Right now, Omaha is in a place where it needs to do something different if it wants to get more people riding to work. Bike advocates believe that we have a large group of recreational cyclists who might be willing to take a next step given the right conditions.
Friday's ride was part of that; organizers wanted to break the ice for potential bike commuters by showing them the routes and offering a friendly welcome into the community.
Julie Harris, executive director of the group Bike Walk Nebraska, breaks down the types of bicyclists this way, based on national research:
3% of bicyclists are "strong and fearless." They're the ones who've been riding in Omaha forever, Harris says.
7% are "confident and enthusiastic." They're out there already, will ride in traffic sometimes, but put some limits on themselves.
60% of cyclists are "interested but concerned." They want to ride, but don't feel safe with what we have right now.
"That's who we need to get riding," Harris said of the last group.
Sarah Johnson, owner of Omaha Bicycle Co. in Benson, says she talks with that type of cyclist every day, people who tell her "how they wish they felt safer on the streets."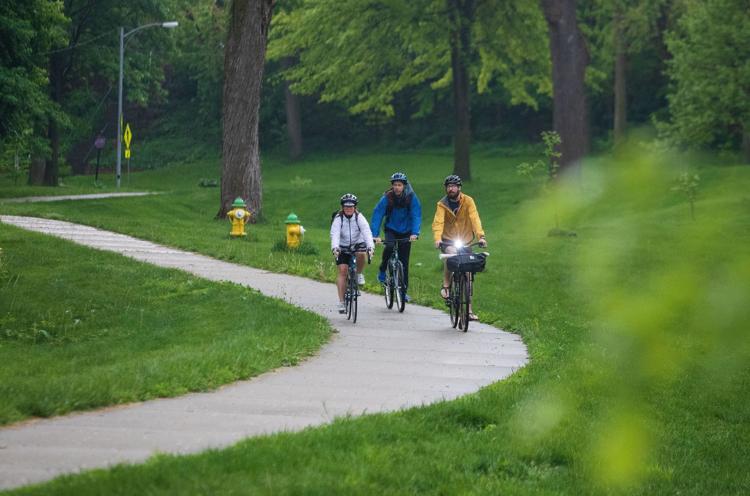 "If you look at other cities, we don't have to reinvent the wheel," Johnson said. "We just have to adopt policies that work elsewhere."
Breaking news: One of those projects is coming as soon as this summer.
Cyclists want a stretch of street where a bike lane receives a dedicated, protected, buffered section of the street away from car traffic. That's been the trend for cities trying to encourage bicyclist traffic, and it's a step beyond the basic striped bicyclist lanes that Omaha has tried around downtown.
The City of Omaha is preparing to implement a pilot project this summer to create an on-street protected lane that could work for bikes, scooters or pedestrians, said Kevin Andersen, Mayor Jean Stothert's deputy chief of staff for economic development and development services.
Andersen wasn't prepared to say where the temporary protected lane would go. But he said the city is looking at the project as part of a local "Smart Cities" effort and would study data on usage of the corridor to see what functions best and is safest.
Harris said change will come incrementally, even if some in the cycling community want it to happen faster. Her group is working with the city on the pilot project, but she also couldn't discuss details.
"We're very excited about it," she said.
I was a little nervous to join the Omaha Bikes event. I read about the local event last Friday, and told Ben Turner I was thinking about joining in. Turner is a leader in the local cycling community and executive director of Heartland Bike Share. His response, "That is super exciting!"
The effort set up nine rides from around the Omaha metro area: north Omaha, South Omaha, Gifford Park, Aksarben, Dundee, Council Bluffs, Bellevue, Papillion and Millard. I live at 168th Street and Giles Road in Sarpy County, but the Millard trailhead is pretty close for me.
My first question for the organizers: Where in the world is the route from Millard to downtown? I grew up in Millard, too, and I've always wondered what it would take to ride that distance.
Sign up for The World-Herald's afternoon updates
Receive a summary of the day's popular and trending stories from Omaha.com.
Enter Corrigan, the Millard route leader.
Corrigan has been biking to work from his neighborhood around 144th and Q Streets for four years. He's forged the path. He tried the bad options and rode on Q Street while trusting that cars would go around him. He's also the GIS (geographic information system) mapping coordinator with MAPA and knew where to look for viable biking options.
Last year, when the Papio-Missouri River Natural Resources District opened a trail at 131st and Q, Corrigan decided the trade-off of a few extra miles was worth the extra safety to get away from the street and fewer hills.
He can ride the route in about an hour and 15 minutes.
"It's usually a pretty pleasant experience," he said.
As the rain clouds gathered Friday morning, our ride looked to be less than pleasant. But the rain is nothing new to the other riders. This newbie? I was equipped as best as I knew, considering my recent riding experience comes from spin class.
The first leg takes our initial group of four 3 miles southeast into La Vista at 108th Street and Giles Road. Our fourth rider, Kim Rempel, peels off on her nifty electric-assist bike for work at TurnKey Solutions, and the three of us — Corrigan, Allen and I — make our first move off trail.
For the next couple of miles, Corrigan leads us through La Vista on continuous, low-volume neighborhood streets. We rarely have traffic on our backs.
By about 7 a.m., we're at 84th and Harrison Streets, crossing from La Vista into Ralston. It's down Ralston Avenue, whose diagonal turn offers a rare sight in Omaha — a nearly perfect view of downtown's Woodmen Tower and First National Bank directly on angle.
Corrigan leads us along the Ralston Trail, along 72nd Street past Ralston Arena, down the Big Papio Creek trail and around the Karen Western neighborhood as I realize we're getting pretty far east. But I'm lagging, and Allen calls back: "How are you doing, Jeff?"
Interstate 80 is in sight now, and we skirt it on the South Omaha Trail before ducking under the Interstate at the Vinton Street grain elevators. We've made it to 35th Street and the place nearby where my Prius commute on the Interstate turns me into downtown.
From there, we go north up the Field Club Trail, pass the Field Club country club and the VA Medical Center, then go down Woolworth Avenue to see the fantastic houses in the Field Club neighborhood.
At Turner Boulevard, we glide down the S-curve before taking a break to see if any other riders might join us for the last leg.
Allen is enjoying the ride. "That's pretty cool," she said.
Our route then heads down Leavenworth Street and through downtown; it's the only part of the entire ride where we're riding in traffic. I didn't feel unsafe, but I definitely felt more exposed, even if Leavenworth has a section striped off for bicyclists.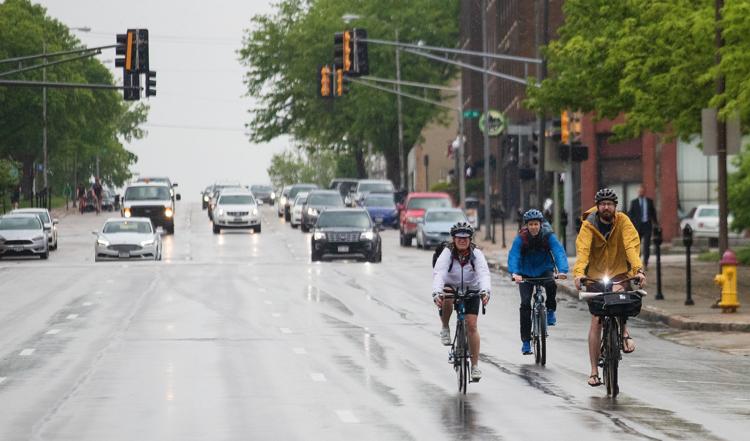 We rolled in to the City-County Building at 8:33 a.m. to a little cheer, even if we were soggy and muddy. Corrigan did the ride like it was nothing. His route takes us up 786 feet in elevation. One word came to mind watching him ride ahead of me: comfortable.
I asked Allen: Would she ride it again?
"Yeah, oh yeah," she said. "When are we doing it again?"
It's a similar question for Omaha: Do we want people to commute this way more often?
If so, it's going to take more safe biking corridors. The Omaha metro area has developed what's considered a top-notch recreational trail system, which works great if you want to get in a long ride creekside.
But we need more connections between those, sometimes on streets. The trail connections are an issue the NRD is focusing on, said John Winkler, the local NRD's general manager, adding that commuting could be the next phase of growth for the trails.
"We've got these great recreational trails," he said. "Now let's connect them."
The City of Omaha has bike lanes envisioned in street projects meant to slim down vehicle traffic on South 24th Street and North 30th Street. The city's capital improvement plan indicates that the bike lanes are the basic striped barrier, not a built buffer.
Turner is one advocate pushing for fully separated lanes somewhere.
"It would be the obvious next step for our community," he said.
Friday's Bike to Work rides drew a few dozen bicylists, and a few new people trying it out. Thunderstorms didn't help encourage people to jump in.
But as I came back to work, sopping wet and wearing a bike helmet to crown my achievement, I met Erin Hartigan on the elevator. She and her husband, Ben, took the Bellevue route to their jobs at National Indemnity in my building. They're recreational bicyclists and tried the ride to work for the first time, no matter the rain.
"We'll definitely be doing it again."