University of Nebraska Medical Center administrators say they've never had the front door they desired, but soon they will.
The earthwork on the northwest corner of 42nd and Leavenworth Streets hints at what is coming. The med center will have its gateway at that intersection, and officials there guarantee it will be appealing.
Eighteen colorful Jun Kaneko-designed "columns" will rise from a low, curving wall. A walkway with benches will give people — patients, family, visitors, staffers and the public — a place to relax. Lawn and tall trees will go in. Across 42nd Street on the northeast corner, a smaller park will include trees, grass and large signs saying it's the entrance to UNMC/Nebraska Medicine.
"The business we're in can be very technical and very stressful," said Jen Bartholomew, UNMC/Nebraska Medicine's executive director of facilities. A one-acre plaza or park, Bartholomew said, will provide breathing room, foliage, art and colors that promote quietude.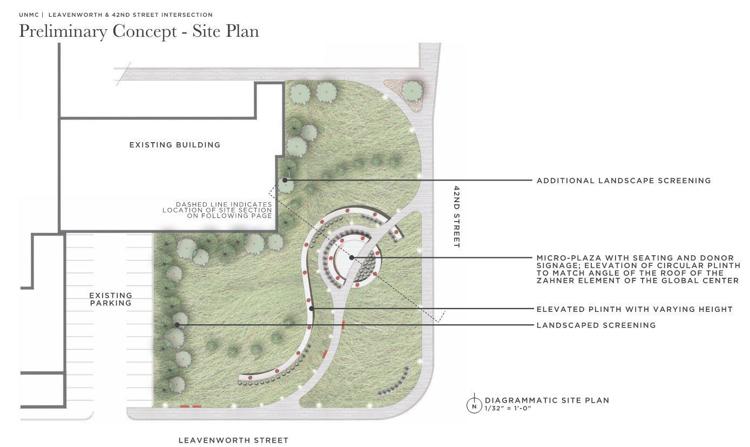 UNMC Chancellor Jeffrey Gold said he's eager to have the gateway completed. It is "going to be incredibly attractive and will present a very warm entry," Gold said. "It's a great project."
The total cost of the effort on both sides of that intersection is roughly $3.9 million, much of it donor-funded and the rest paid with university and hospital money. The total includes $900,000 for the Kaneko obelisks, which were acquired by an anonymous donor. Kaneko is an acclaimed, Omaha-based artist.
The northeast corner will contain a below-ground stormwater retention basin. Parking on that side will enable people to walk into the $121.8 million Davis Global Center. And that building will have on its corner facing 42nd and Leavenworth a three-story art piece, provided by Zahner, a Kansas City-based art and architecture firm. The Global Center is expected to open in late September, and the two sides of the greenspace project will be completed earlier that month.
The intersection at 42nd and Leavenworth is busy with vehicles headed for UNMC, Nebraska Medicine, Clarkson College and just passing through. A traffic study four years ago determined that 16,000 cars a day entered the south end of the campus there, Bartholomew said.
Sign up for World-Herald news alerts
Be the first to know when news happens. Get the latest breaking headlines sent straight to your inbox.
Andy Balus, director of property management for UNMC/Nebraska Medicine, said "the campus never really had a front door."
Last year a right turn lane was installed on Leavenworth going west, so a turn could be easily executed onto 42nd Street going north. A right turn lane also was placed on southbound 42nd Street to westbound Leavenworth.
Gold said the park on the northwest corner of the intersection will provide a sanctuary for patients, families and others. "It's a place where people can sit, and walk," Gold said. The exposure to art pieces, Gold said, will reflect the med center's belief that art can benefit a patient. "This was a recognition that art and healing go hand in hand," he said.
Bartholomew said it will be nice to have an intersection that makes it clear to out-of-towners that they've arrived at their destination.
Photos: Our best shots of 2019 (so far)
Take a spin through the best of our staff photos from 2019. The gallery will be updated throughout our journey through the next year.