Children's Hospital & Medical Center on Tuesday welcomed its second facility dog, Sansa, a goldendoodle specially trained by Canine Assistants in Atlanta, Georgia.
Debbie Snyder, Sansa's handler and a child life specialist, said Sven, the hospital's first full-time facility dog, had proven popular and was seeing a lot of patients.
"This will allow for more patient interactions," she said, "and to spread the love a little bit."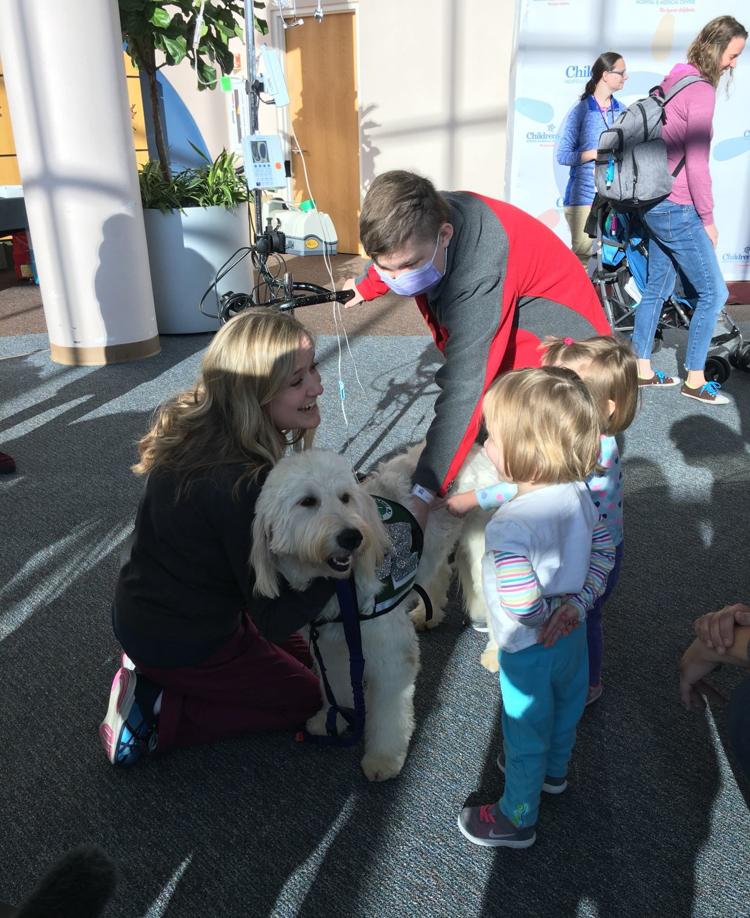 Sven became a full-time hospital employee about two years ago. The facility dogs work a full day and go home at night with their handlers, who are also child life specialists at Children's. At the hospital, the dogs motivate patients to get out of bed after surgery or treatment, comfort kids when they're scared or sad, and make the hospital feel a little less like a hospital.
Snyder said the partnership is a once-in-a-lifetime opportunity to combine a job she loves with a furry friend.
"We're just a better team," she said.
Snyder, who grew up on a farm and loves animals, takes Sansa home after work at night, where the pup joins Snyder's three young children and two dogs.
At Tuesday's party, patients and visitors got to meet both dogs. Sansa sported a glittery bow on her vest and Sven wore a tuxedo scarf.
After meeting the pups, patients could adopt a stuffed animal and play games, like bowling and checkers. Two tic-tac-toe boards swapped standard Xs and Os for pictures of Sansa and Sven.
Pet Parade: The Midlands' best pet pictures of 2018
Check out a collection of the best photos of local pets. Have a picture you'd like to submit? Email it to pets@owh.com with your name and hometown, along with the name of your pet(s) and an interesting note on what makes him or her unique. You can also follow us on Twitter.