The Simonsen family of Lawton, Iowa, already had been in a kind of semi-quarantine months before cases of the novel coronavirus began mounting in the Midwest.
Baby Karlee, the youngest of Krystal and Carl Simonsen's three children, was diagnosed with a difficult-to-treat form of acute lymphoblastic leukemia in mid-September. She was just 7½ weeks old.
A month of chemotherapy put her in remission, although she struggled through a severe bout of sepsis. At Christmas, the Simonsens divided forces, taking turns taking their two older children to celebrate with the couple's respective parents while the other stayed home with their vulnerable infant.
But by Jan. 1, the cancer was back. After Karlee's doctors reviewed the research, they settled on a newer treatment that would involve extracting immune cells from her body and modifying them to attack the cancer.
On March 13, as the coronavirus began to surge in parts of the United States, Karlee got her engineered cells. While nonessential surgeries and procedures were soon to be put on hold in the metropolitan area, this was the kind of treatment that couldn't wait, the kind that health care providers continue to deliver almost behind the scenes.
Karlee, now 8 months old, went home Friday, just in time to celebrate her first Easter. While she didn't get to sample any Easter candy, she did get some mashed potatoes. They're a favorite, along with chocolate pudding.
"She is doing fantastic," Krystal Simonsen said. "She's giggling, she's smiling."
Her treatment also marked a milestone for the Nebraska Medical Center. According to officials there, Karlee was the first pediatric patient in Nebraska to receive the therapy.
One other pediatric patient has received the treatment within the past month. Nebraska Medicine, which runs the Nebraska Medical Center, began taking part in clinical trials of CAR-T cell therapy in 2016. The therapy moved from trial to treatment there in April 2018.
"This is a tremendous step forward for children in the region," said Dr. Sachit Patel, Nebraska Medicine's medical director of pediatric bone and marrow transplant. He also called the treatment a major breakthrough in the treatment of refractory childhood leukemia.
The Simonsens' journey, however, began last fall.
Krystal Simonsen said she became concerned that Karlee's iron levels were low because she was pale and sleeping a lot.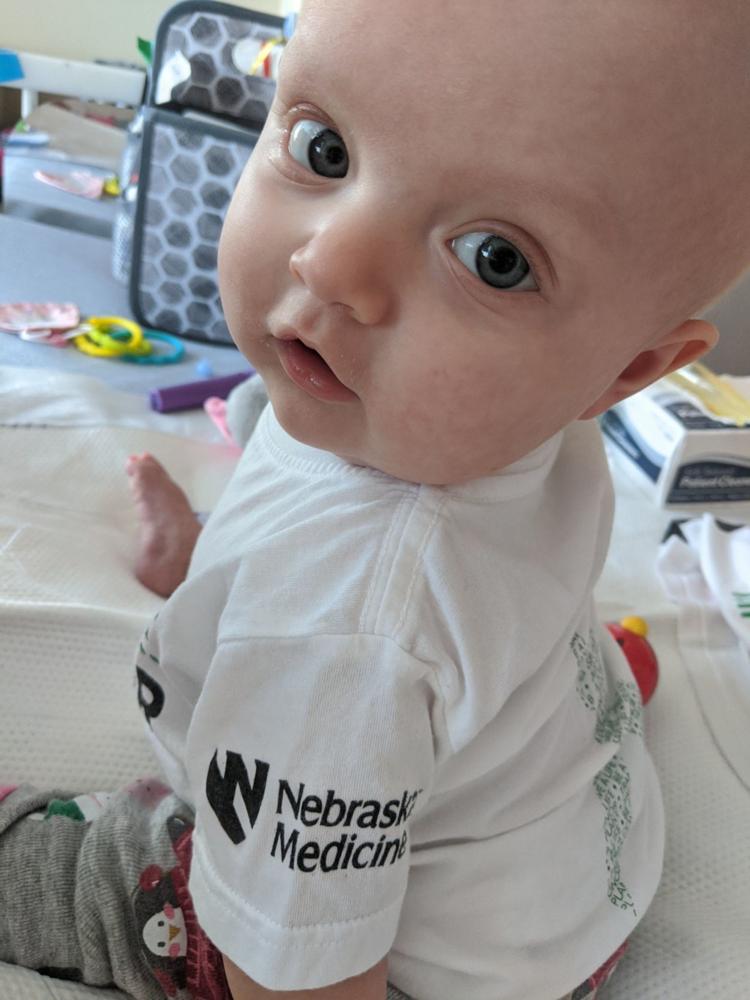 She took her to a local urgent care. Karlee's hemoglobin, the oxygen-carrying molecule in red blood cells, tested critically low. They went by ambulance to a hospital in Sioux City, Iowa, and then by plane to Children's Hospital & Medical Center in Omaha.
Then came the diagnosis, the chemotherapy, the relapse. Doctors collected Karlee's T-cells in two sessions Feb. 4 and 5.
After the modified cells were infused a month later, Simonsen said, Karlee suffered seizures and an immune reaction that caused a fever and a rash on her forehead and hands that looked like a sunburn. Both can accompany the therapy.
But Simonsen said it was kind of nice to be in the hospital during that stage, because doctors could learn more about the therapy. "And we knew we were safe and secluded in the hospital," she said.
Simonsen said she has thought about the coronavirus outbreak but has not dwelled on it. "I try not to read about it and worry that much more," she said.
But when outbreaks occurred in Woodbury County, where their home is situated, the couple pulled their daughter out of day care. Then schools were canceled. Carl Simonsen's parents cared for the children while he worked.
Now that they're home, Krystal Simonsen said, "It is a little more intimidating, because we have to even watch going to the grocery store."
Instead, they're having groceries delivered. Carl Simonsen, considered an essential employee, has taken a temporary leave of absence from his job at a northwest Iowa manufacturer that makes — of all things — hospital doors.
Karlee is tentatively scheduled for a bone marrow biopsy at the medical center next week. She'll have two more after that, one every three months.
But for now, the family is just enjoying having her home. As of Wednesday, Karlee had spent 142 days in the hospital and 132 days at home since she was born. The family also looks forward to celebrating her first birthday this summer.
"We're hoping COVID-19 is over so we can have a birthday bash," Simonsen said. "One heck of a party."
A roundup of inspirational stories from Midlanders with heart
There's the woman with MS who runs despite her diagnosis. The 7-year-old born without his left hand who plays baseball just like the other kids his age. The refugee who turned to Zumba to help her recover from cancer treatments. Check out their inspiring stories and others below.