You'd know that Jamey Dougall watched a Husker game by looking closely at the television. There might be nose prints.
The Omaha native perches on a stool with his left eye facing the screen, inches away.
Dougall, 37, is legally blind.
When Dougall watches a game, like he does every Saturday in the fall, he can't see the ball, but he can make out formations and follow movement on the field.
He relies on the announcers for play-by-play.
This season, thanks to new technology and a pair of glasses, Dougall caught all the details from a seat inside Memorial Stadium.
The glasses look similar to a pair of virtual reality glasses. A lens on the front of the eyewear records live activity happening around the wearer and projects it onto two screens in front of their eyes.
"It was everything I thought Husker nation was," Dougall said of his game day experience. "That's something I never knew I was going to see in my life."
When Dougall was an infant, his parents noticed that his eyes looked lazy, like they were floating. He struggled to focus or look in a certain direction.
Doctors found that he had no vision in his right eye. He had very little vision in his left eye. By the time Dougall was 5 years old, he had undergone more than 20 surgeries.
Still, Dougall wanted to try everything, said his father, Herb Dougall. He rode bikes, played soccer and was a member of his high school football team.
He said his on-field highlight at Omaha North High School was "getting ran over by Eric Crouch."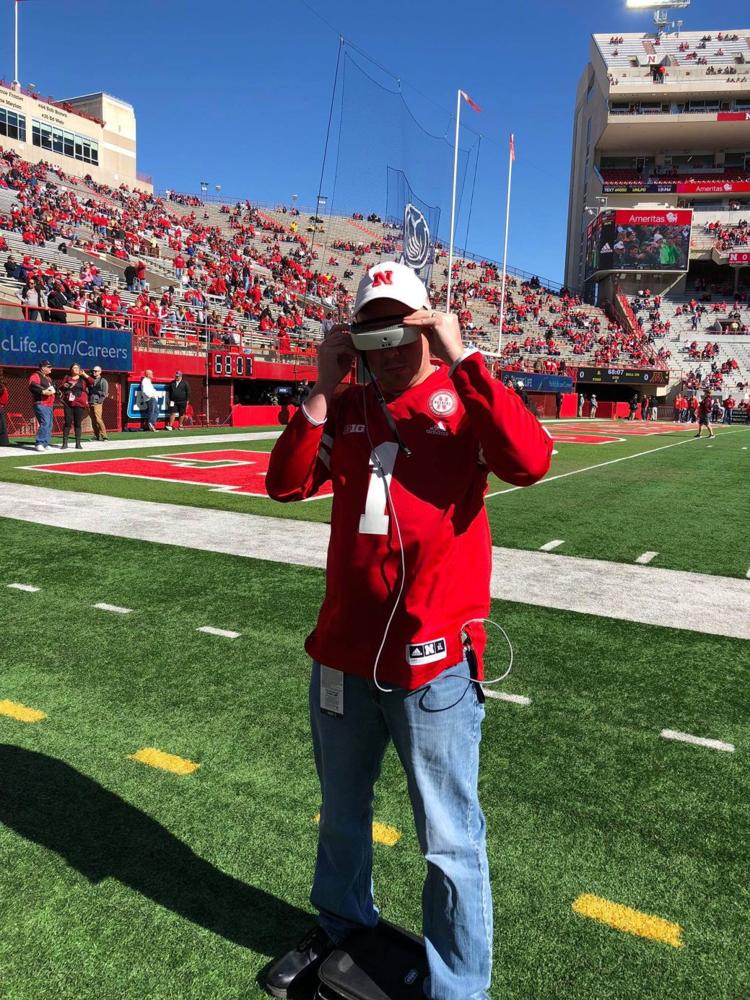 Dougall was able to get around his home, school and other familiar places by memory. He has since married, has two daughters and lives in Phoenix.
Dougall found a story on Facebook last year about an Indianapolis Colts fan who wore a special pair of glasses to watch the team play. Dougall was intrigued, so he reached out to the Toronto-based company eSight.
Earlier this year, Dougall tried the glasses. He made sure to keep his emotions in check, just in case the glasses didn't work for him. But when he put the specs on, he was able to read an eye chart, see a laptop and read a book.
Yet the first thing he saw was his wife, Kandice, sitting across the room. To see details of someone's face without the glasses, Dougall said, he has to get nose to nose with them. Seeing Kandice from 12 feet away was "unbelievable."
"I didn't know what a face looked like," Dougall said. "There were tears. It's incredible to be able to see cheekbones and eyelashes and eyebrows."
Dougall was sold. He made some calls, and family helped set up a GoFundMe page to raise money for the roughly $10,000 glasses. They weren't covered by his insurance.
The glasses tweak and optimize the footage to stimulate healthy photoreceptors so wearers can see it, said Eric Down, an eSight spokesman.
Some people may put the glasses on and see a dramatic increase in vision. But for others, it's less significant, Down said.
"Vision loss is like a snowflake," Down said. "Everyone is different."
The product launched about 18 months ago, and Down said there are thousands of users in North America, including some in Nebraska.
Dougall received his glasses this spring. At home, the first thing he saw was his two daughters, Maddy, 11, and Lacie, 7.
Later, his girls started dancing and singing in rhyme, "OMG, daddy can see."
"I flipped the glasses up and lost it," he said. "It was a very emotional time."
Dougall had always wanted to see his wife, his daughters and a Husker game.
He's been able to see animals. He knew that a zebra had black and white stripes, but he didn't realize that it resembled a horse. He can now watch TV from the couch, instead of from a stool right next to the screen. He saw his grandma and his siblings for the first time.
"Every day I put them on, there's something new," he said.
Dougall and his wife landed tickets for the Huskers' opener against Akron. After hearing about Dougall from a season ticket holder, officials in the athletic department offered him the chance to watch the tunnel walk from the field.
As the players ran onto the field, he could touch their shoulder pads and caught a whiff of the new uniform smell.
"It was incredible just to be down there," he said. "Who would have thought for (Scott) Frost's first tunnel walk, there's no one closer than me unless you're part of the team?"
Later, his daughters met actress and Omaha native Gabrielle Union and her husband, NBA player Dwyane Wade.
And for the first time, Dougall was able to take in the sea of red, the scoreboard and jets flying over the field.
The Akron game was canceled after the kickoff because of weather, but Dougall knew that he would be back with his dad to see the Huskers take on Minnesota.
Dougall used to go to Husker games growing up. In recent years, he and his father have gone to a game every season.
Dougall said he never cared that he couldn't see what was going on. He was there for the atmosphere. He could make out the green field, the N in the center and the white paint on the perimeter. Dougall knew where the scoreboard was but couldn't make out any details on it. He cheered when the crowd cheered and relied on his dad or the radio to tell him what was going on below.
Once again, he got a call from the NU athletic department. They arranged for a behind-the-scenes tour of the facilities, and Dougall ended up meeting Frost.
In the stands at game time, Dougall was able to make out more than just colors. He saw the yard lines and numbers on the field. He noticed details on the Huskers' uniforms, like the N emblazoned on helmets and numbers on the jerseys. He spotted details on the scoreboard, although he was more focused on the game.
The experience took Dougall's "fanatic level" up a notch.
"Being able to see their arms move, linebackers going to the line of scrimmage. This is all stuff I didn't appreciate," Dougall said. "I didn't get it."
As for dad, he had to remember that his son could see the action now. Describing the game will be a hard habit to break, Herb Dougall said.
"He reacted to the crowd before; now he's reacting to the actual game," his father said. "He nailed it and was beaming ear to ear."