As one lawsuit plays out in Omaha against Children's Hospital & Medical Center, its CEO is named in more than a dozen lawsuits from his time at a hospital in Cincinnati.
Before coming to Omaha, Dr. Richard Azizkhan worked as chief of surgery at Cincinnati Children's Hospital Medical Center. During part of his time there, the hospital employed a spine surgeon since cited in lawsuits involving more than 500 patients treated at Cincinnati Children's and several other area hospitals. The lawsuits allege that the spine surgeon performed unnecessary — and in some cases botched — surgeries.
Some of those lawsuits, filed late last year in federal court in Ohio, name Cincinnati Children's and Azizkhan. The patients and their attorneys allege that the hospital and its administrators should have acted more quickly to identify the situation and stop the surgeon.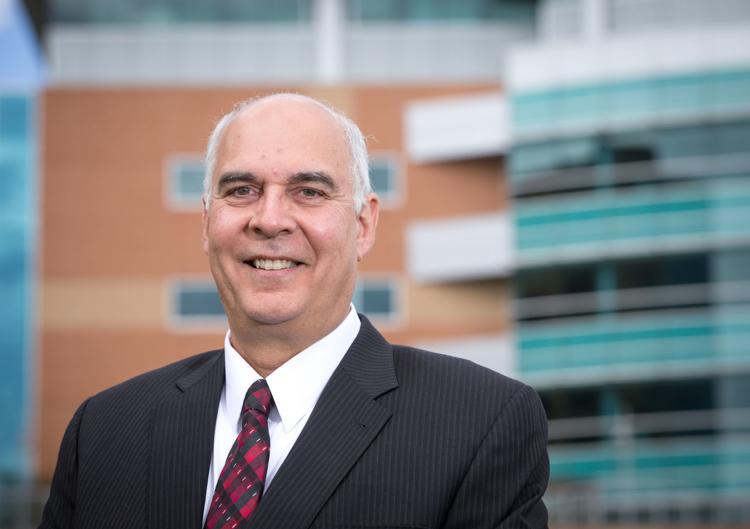 In January, Omaha Children's and Azizkhan were named in an Omaha lawsuit. In it, two surgeons allege that when they raised concerns about the competence of a surgeon the hospital employs, their privileges at the hospital were suspended. Both said they eventually were forced to resign.
The cases in the two cities are not tied but have some common themes. Those include questions regarding surgeon competence, patient safety and administrative oversight. There are also questions about the role finances played in administrators' decision-making.
Omaha Children's officials told The World-Herald that the hospital does not comment on litigation, including litigation related to other institutions. But in an internal hospital message obtained by The World-Herald, Azizkhan wrote that it's common for hospital administrators to be included in litigation, even when they've had no involvement in a patient's care.
"This is usually done to exert pressure to settle or to increase a plaintiff's opportunity for a monetary settlement — and that can lead to sensational headlines," he wrote to staff at Omaha Children's. "While it would be inappropriate for me to speak to specifics of that ongoing litigation, I can say this: patient safety has always been and remains my highest priority."
Azizkhan's attorney in Omaha, Michael Coyle, said in a statement that Azizkhan and two other physician administrators were named in November 2018, "suddenly" and "without prior notice," as additional defendants in lawsuits that had long been pending in state and federal courts in Ohio. Motions to dismiss the suits and recent alleged claims against Azizkhan are awaiting rulings from Ohio courts.
"Dr. Azizkhan remains singularly focused on doing what is best for children and families," Coyle said in the statement.
The Cincinnati cases, which continue to develop, and the Omaha suit, which is in early stages, include some twists and turns.
In Cincinnati, the lawsuits revolve around Dr. Abubakar Atiq Durrani, who was employed by Cincinnati Children's from 2005 to 2008.
Among the allegations against Durrani, who started his own clinic and practiced at other Cincinnati hospitals after he left Children's, are that he:
» Told patients that their cases were urgent and that grave injury could result without surgery. Specifically, he told some with neck problems they could suffer paralysis or "the head would fall off" if in a car accident.
» Made false assertions in operation reports about diagnoses and what was done.
» Left patients in worse shape because of unnecessary surgeries.
» Misrepresented the nature of problems when complications arose.
» Defrauded Medicare and Medicaid.
Questions also have been raised in court filings about whether Durrani had actually graduated from medical school; he lists graduating from two Pakistani medical schools in separate documents.
Paul Vollman, a Cincinnati defense attorney for Durrani, said he was under a gag order from a judge and couldn't discuss the matter. He also said he didn't know how to contact Durrani.
Three Cincinnati medical institutions where the spine surgeon worked declined to comment on the lawsuits.
A federal grand jury in 2013 indicted Durrani on five counts of health care fraud and five of making false statements. Durrani was arrested after being charged, fled the United States while out on bail and returned to his native Pakistan. He remains there, out of American authorities' reach, according to federal officials. Durrani's licenses to practice medicine in Ohio and in neighboring Kentucky were revoked in early 2014.
Sign up for The World-Herald's afternoon updates
Receive a summary of the day's popular and trending stories from Omaha.com.
The Cincinnati law firm representing many of the patients there said Cincinnati Children's administrators — including Azizkhan — were named in new filings of earlier lawsuits after the firm obtained new information.
Azizkhan's level of knowledge or responsibility, as chief of surgery, isn't clear.
Durrani was recruited in 2004 to Cincinnati Children's and to the University of Cincinnati faculty. Azizkhan at the time was chief of surgery and on the hospital's medical executive committee. Azizkhan also was on the hospital board of trustees.
Cincinnati Children's has about 100 faculty-surgeons on staff. Azizkhan wasn't Durrani's direct supervisor; another physician directly oversaw Durrani and other orthopedic surgeons.
Azizkhan said in a deposition that he performed surgery with Durrani about 20 times and found him to be skilled and capable.
Sometime in mid-2008, some of Durrani's supervisors met with Azizkhan in his office to discuss concerns about Durrani, according to a letter included in court filings.
Durrani resigned from Cincinnati Children's in a letter to Azizkhan in August 2008.
The patients and attorneys allege in lawsuits that hospital supervisors knew about the problems earlier, cooperated with Durrani or used "intentional ignorance because Dr. Durrani was one of the biggest moneymakers" for them.
According to one court document, Durrani was the "highest clinical revenue faculty member in surgery" at Cincinnati Children's. Between 2005 and 2008, the hospital collected more than $10 million from Durrani's billings, according to court files. The hospital reported $2.3 billion in revenue in its 2016 tax filings, the most recent available.
Jay Wolfson, associate vice president of USF Health in Florida, said a chief of surgery "would surely know who the big producers are" and "generally caters to those individuals."
He added that there are times when a chief of surgery must take action to determine whether clinical outcomes or personal behavior "falls below the standard for the institution and the community."
Wolfson is not involved in either the Omaha or Cincinnati cases.
Dr. Keith Wilkey, a New York orthopedic surgeon and expert witness for the Cincinnati law firm, said in 2014 that the Cincinnati Children's cases as a whole "show the lack of supervision of Dr. Durrani by this facility during the five years that he (Durrani) was on staff."
Wilkey said in an interview that Azizkhan should have known of the concerns about Durrani's work. "To say you don't know is even worse than saying you knew," Wilkey said.
Dr. Charles Mehlman, an orthopedic surgeon at Cincinnati Children's, said in a June 2018 deposition taken as part of one of the lawsuits that administrators and Azizkhan should have acted and failed to do so.
Eric Deters, a spokesman for the Cincinnati law firm representing many patients, said hospital administrators' names will be added to more Cincinnati Children's suits.
Deters' own law license in Ohio is listed as retired. Deters also has been suspended multiple times from practicing in nearby Kentucky and is currently suspended.
Documents accuse Deters of using intimidation, false advertising, making false statements against a judge, filing frivolous claims and threatening people. His elderly father, attorney Charles Deters, took over ownership of the firm when his son was suspended. But court documents suggest that Eric Deters still is heavily involved in the firm. Deters disputes findings against him and says they're irrelevant to the Durrani cases.
In Omaha, surgeons Jason Miller and Mark Puccioni alleged in their January suit that Omaha Children's suspended their privileges to practice at the facility after they raised concerns about the death of a 7-month-old during an operation. That surgery was performed last year by Dr. Adam Conley, who is employed by Omaha Children's. In the suit, Miller and Puccioni question Conley's surgical skill.
Conley is a neurosurgeon. Conley had trained and practiced at Cincinnati Children's before coming to Omaha in 2017.
Miller and Puccioni also say the hospital wants to "own and control" doctors by employing them, thus gaining a "more profitable and predictable stream of revenue" for the hospital. Miller and Puccioni have privileges to operate at numerous area hospitals.
Puccioni is a pediatric neurosurgeon, and Miller is a plastic surgeon trained in pediatric craniofacial work.
Miller's and Puccioni's attorney, Tom White of Omaha, sees a connection between their suit and those in Cincinnati. He said the Omaha suit could halt problem surgeries perpetrated by an incompetent surgeon.
"We must prevent what happened in Cincinnati from happening in Omaha," White said.
Omaha Children's fired back in its own court filing in late January, saying the surgeons "have callously and intentionally used the tragic death" of a child to help make their case. The hospital also alleges that the two surgeons are trying to protect their business interests by making false accusations against Children's, Azizkhan and Conley.
In an April statement, hospital officials said safe, high-quality care is and has always been the hospital's top priority. "Any assertion to the contrary is false and a shameless attempt to mischaracterize the important work done by thousands of dedicated Children's providers and staff who improve the health of children every day," they wrote.
Hospital officials said it was "unfortunate" that some apparently disagreed with the hospital's efforts to better serve children and families through the recruitment of more pediatric specialists.
The public dispute among doctors is unusual.
Many physicians are reluctant to report their colleagues, experts say, often for fear of retaliation or alienation by members of the medical community, the bureaucratic hassle of getting involved and the understanding that everyone commits errors.
Before the local lawsuit, concerns out of Omaha Children's had caught the attention of the Nebraska Medical Association. The group's president sent a letter to the hospital board on behalf of the organization expressing concerns about "patient care, safety and quality" there. The letter also expressed concern about a loss of longtime physicians and the transfer of children to other institutions.
Dr. Britt Thedinger said the physicians' group did not intend for the letter to become public.
Both Omaha and Cincinnati lawsuits continue to unfold.
After Durrani left Cincinnati Children's, he started his own clinic in Cincinnati. A lawsuit alleges that his patients followed him to his new practice not knowing of any problems.
Florida's Wolfson said a hospital "can't really warn others about something that has not come to the point of disciplinary action." On the other hand, he said, suspicions "need to be followed up and investigated."
Durrani also continued to perform surgeries at other area hospitals, including a sister hospital of Cincinnati Children's called West Chester, court filings say. His privileges to operate at West Chester ended in 2013. A federal grand jury returned its indictment against him that year.
West Chester has settled with some of Durrani's former patients, according to media reports and the Deters law firm.
In December, Cincinnati Children's was ordered to pay $2 million in one Durrani case, the Cincinnati Enquirer reported. A jury determined that the procedure he'd performed on the plaintiff was unnecessary.
A jury in a state court last week awarded more than $1 million to another former Durrani patient. That suit named Durrani, not hospitals or administrators.
Photos: Our best shots of 2019 (so far)
Take a spin through the best of our staff photos from 2019. The gallery will be updated throughout our journey through the next year.