Veterinarians at the Nebraska Humane Society, where the 10-month-old kitty continues to recover from the injuries he suffered in a house fire, turned to the unusual technique because they believed he could recover if they could find a way to help him heal.
On Friday, King got a visit — and plenty of petting and scratching under the chin with a toothbrush, a favorite treat — from his family, Shane and Blaze Martinez.
Shane Martinez said the time since the fire destroyed the family's home has been difficult for the father and son, too. But it's been made more bearable by the outpouring of help and support they've received from family, friends, co-workers and others in the community.
"Bad things happen daily," he said, "but there's always something good that helps balance" that out.
The pair were out of their home near 28th Street and Titus Avenue for a short time Dec. 21 when the fire broke out. A cause has not been determined, Martinez said.
They got the call about the fire from Humane Society officers while on their way home. In addition to losing their belongings, they lost their Great Dane, Chico, to smoke inhalation.
King had been rescued from the burning home. Martinez said he first saw the cat a couple of days later. At the time, he did not believe King would survive. They'd adopted him from the Humane Society through a Petco adoption event.
The vets had other ideas.
"We were going to do everything we could to help this guy," Dr. Amber Horn, the Humane Society's animal medical director, said Friday.
Tilapia skin had been shown to provide some pain relief while protecting wounds and helping to speed healing. A veterinarian from the University of California, Davis used the technique in 2017 to treat bears and a mountain lion injured in a wildfire. Last year, the California vet used the same procedure to treat domestic dogs and cats injured in another large fire. The UC Davis vet reportedly decided to try it after reading how doctors in Brazil, who lacked access to tissue banks and other costly treatments, were experimenting with fish skins to treat burns in humans.
The Humane Society vets found tilapia with intact skin at an area market, then cleaned and disinfected the skin, leaving the scales on the outside surface. Horn and Drs. Katie James and Michelle Rutz stitched the skin into place on Dec. 29.
Horn said they removed the fish skin earlier this week. A significant amount of healing tissue had formed underneath. In fact, she said, the veterinary team was "actually kind of gleeful" about the improvement they saw.
"It had done it's job as a biological bandage," she said of the tilapia skin.
On Wednesday, they performed another surgery to make what's called an advancement flap — moving skin from the abdomen up and over the worst of the burned areas. They'll continue to manage the rest medically rather than with surgery.
Sign up for World-Herald news alerts
Be the first to know when news happens. Get the latest breaking headlines sent straight to your inbox.
Horn said the team continues to be hopeful about King's recovery. They're managing his pain and anxiety with medications. King, who's always been what Shane Martinez called "an aggressive eater," has had no problem eating. He chows down on canned chicken and cat food.
The veterinary team also takes steps to allow him to do normal cat things. As with people, Horn said, keeping an animal patient's mood up is important to their recovery. They've allowed King up to walk a little and periodically remove his Elizabethan collar, known to pet owners and fans of the movie "Up" as the "cone of shame," so he can groom himself. Their goal is to return him to his family.
Shane Martinez said the family has found temporary housing but has yet to relocate permanently. They don't yet know when King will come home. But he's already a bit of a miracle, a remnant of what they've lost.
"To be able to see King," he said, "it's just like a little piece of something that doesn't exist any more."
The Omaha World-Herald's best images of 2019
Canada geese fly over Flanagan Lake at sunset in Omaha, Nebraska.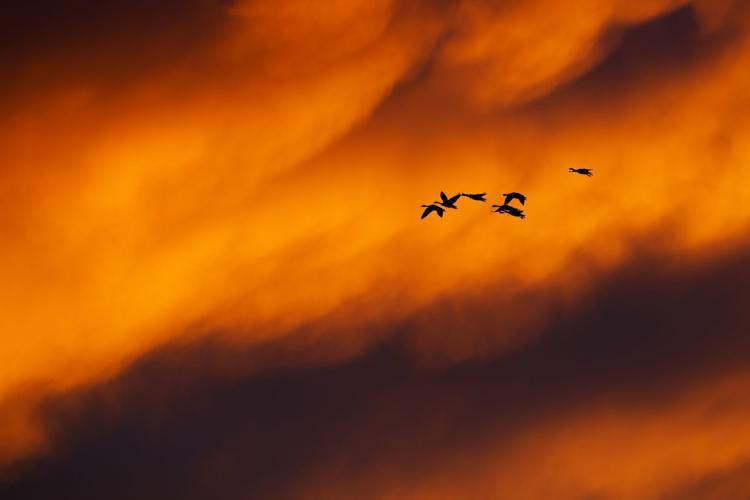 Director and CEO of Omaha's Henry Doorly Zoo and Aquarium Dennis Pate, speaks to the media about newly hatched gentoo penguin chicks before they enter their habitat in the Suzanne and Walter Scott Aquarium at the Henry Doorly Zoo.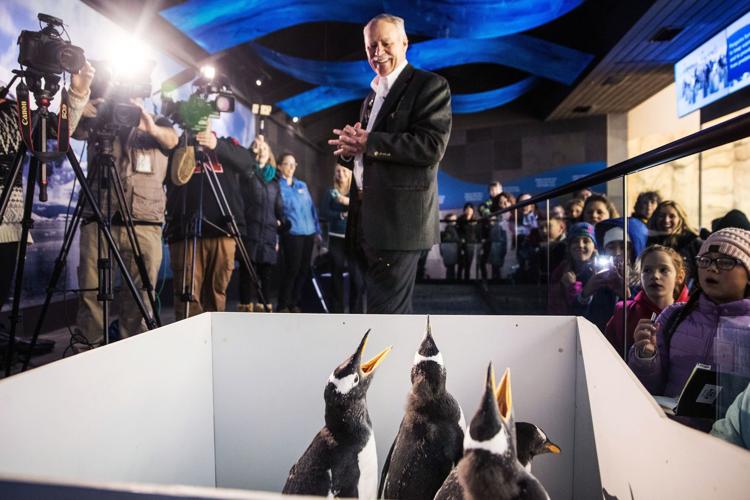 Creighton players huddle up prior to a college basketball game against Georgetown at the CHI Health Center.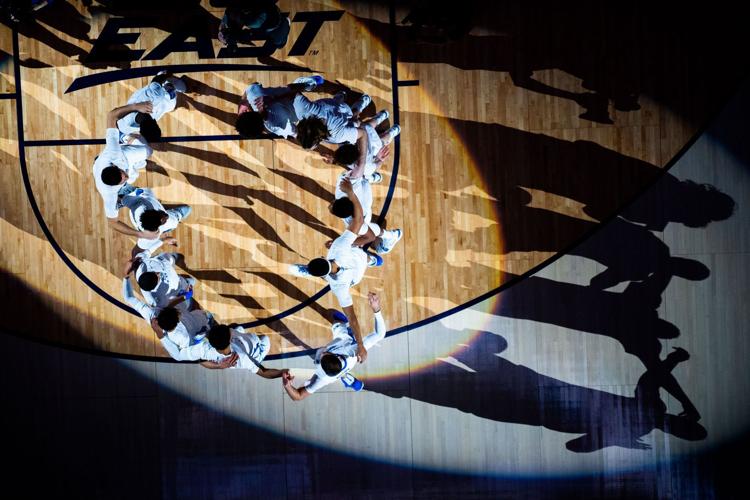 Charles Relford waits to pick up his brother at 24th and Pratt Streets with his three dogs.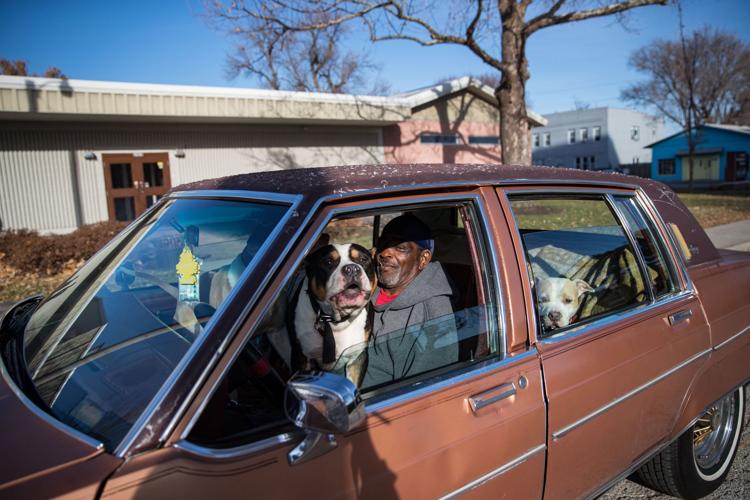 Two-year-old Hannah Bonnot of Denver, Colorado, stands in awe before "Mountain Outlaw" taken at Grand Teton National Park, Wyoming, on display at Tom Mangelsen's "Life in the Wild" exhibition at the Durham Museum in Omaha, Nebraska.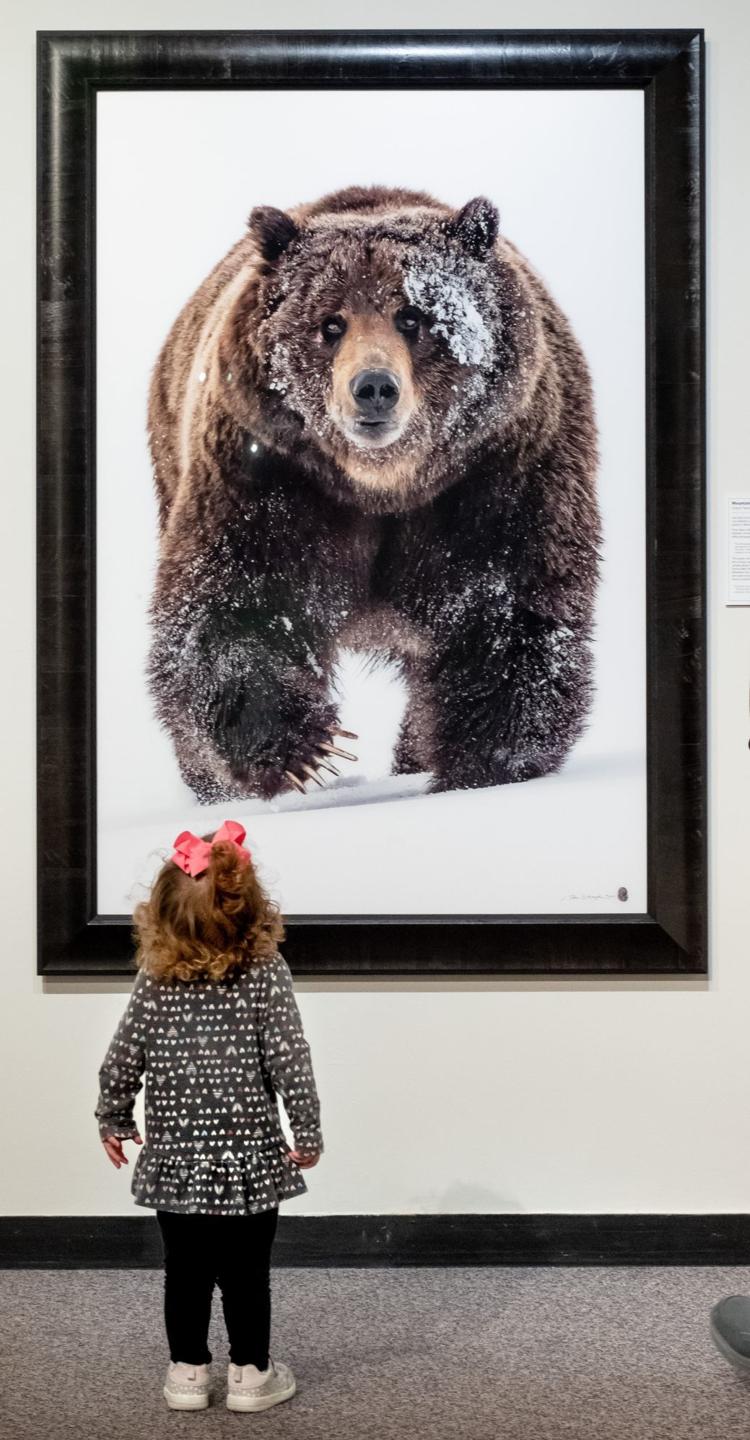 High School football players from Nebraska and Iowa who have been selected as the Omaha World-Herald's Super Six pose for a portrait at the boxing arena located at Camp Ashland in Ashland, Nebraska.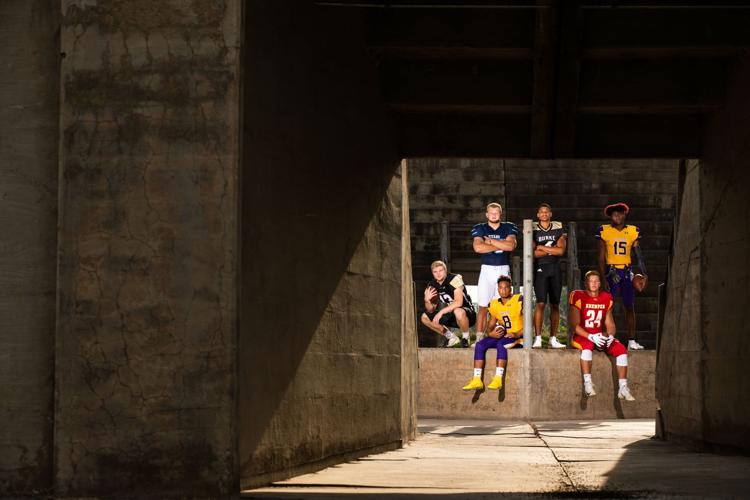 Bellevue West teammates, from left, CJ Lilienkamp and Devin Mills make snow angels as they celebrate their Class A state title win over Westside.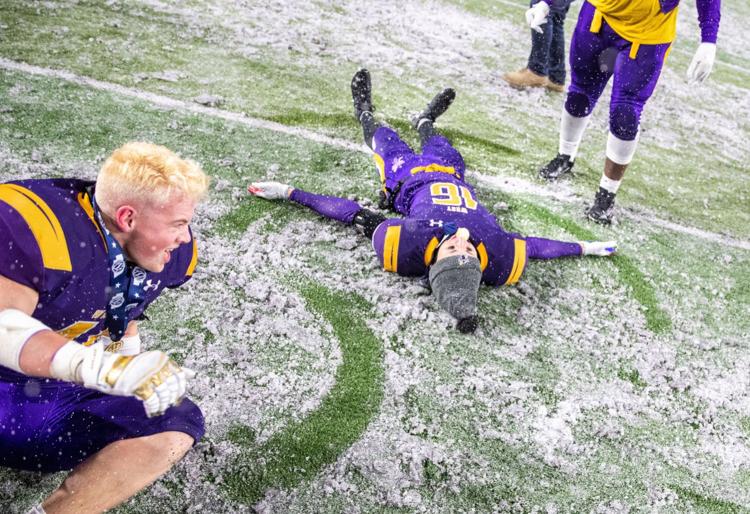 Craig Bachmann throws a training dummy for his dog, Bedlam, a Chesapeake Bay retriever, to retrieve at Standing Bear Lake in Omaha, Nebraska. Bachmann said he was doing some obedience work with Bedlam as well as some lining drills.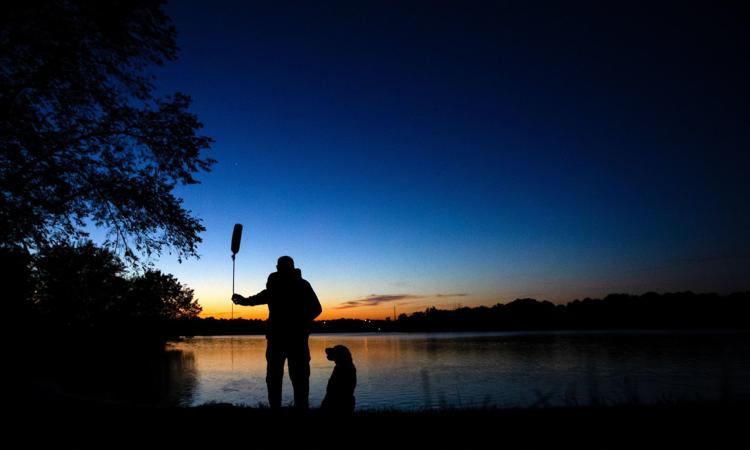 Seventh-grade students from Nathan Hale Middle School are reflected in a The New Negro Escapist Social and Athletic Club a portrait by Rashid Johnson while touring 30 Americans, an exhibition from the Rubell Family Collection at the Joslyn Art Museum.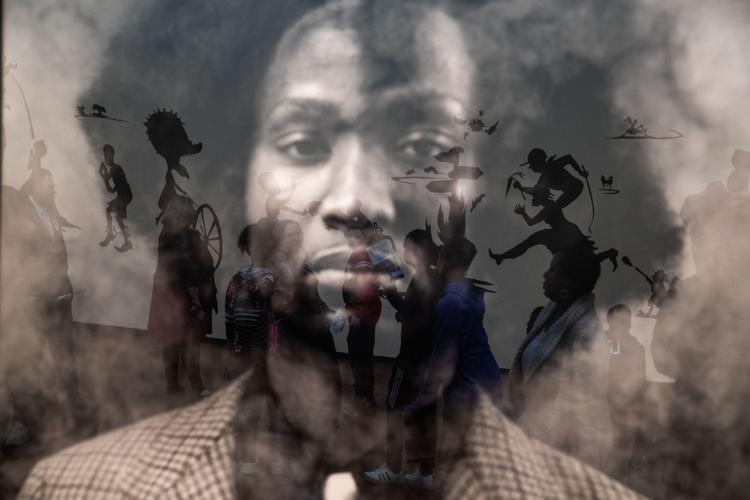 Water covers a road near Valley, Nebraska, on Friday, March 15.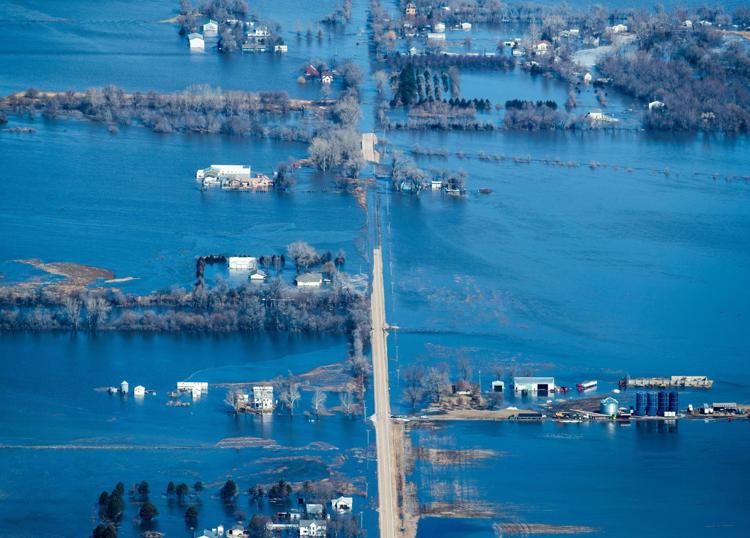 Joe Zavadil, 14, of Omaha, leaps to a lower level of berm seating during the Class B girls state soccer championship game.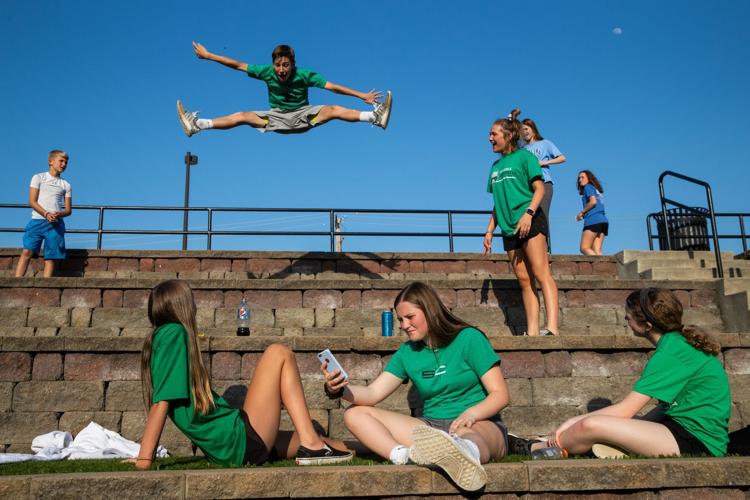 Detroit Tigers' Miguel Cabrera signed autographs for fans prior to a Major League Baseball game against the Kansas City Royals at TD Ameritrade Park.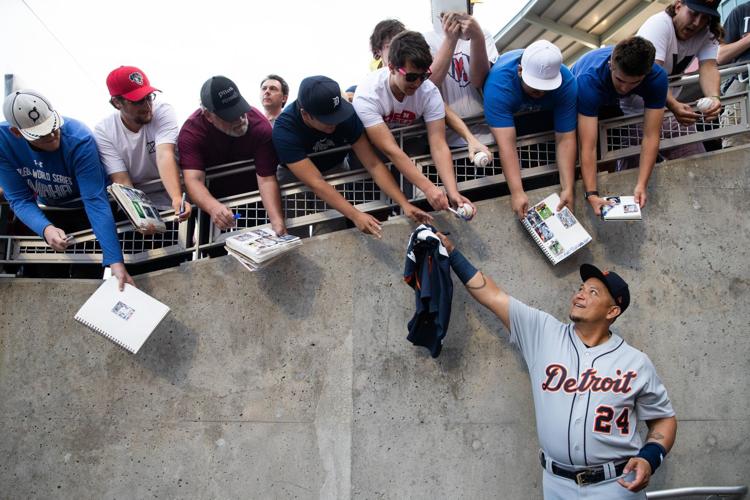 Jim Linafelter of Sergeant Bluff, Iowa, and other Husker fans celebrate a third-down stop for Nebraska's defense against Northern Illinois.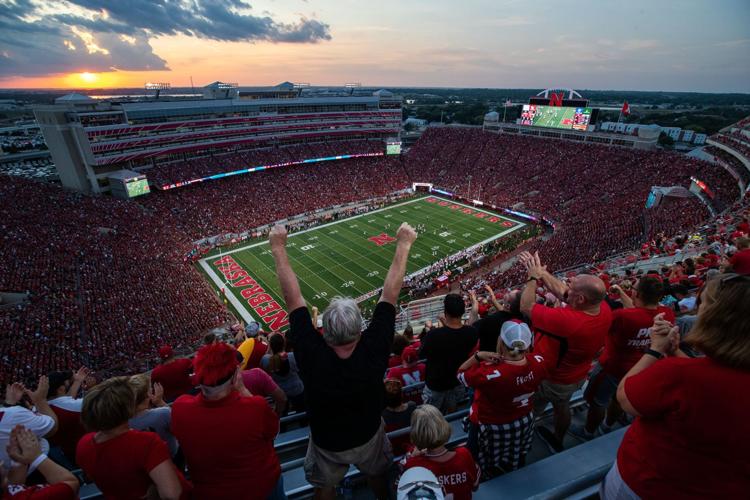 The Westside Warriors take the field through fog and a banner before a high school football game against Creighton Prep.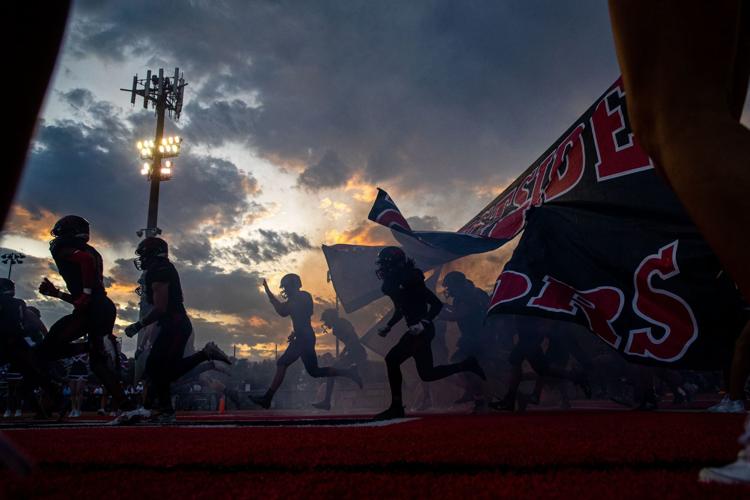 Tow truck drivers work on trying to get a semi truck out of a ditch after it turned over on Highway 20 in north central Nebraska during a blizzard.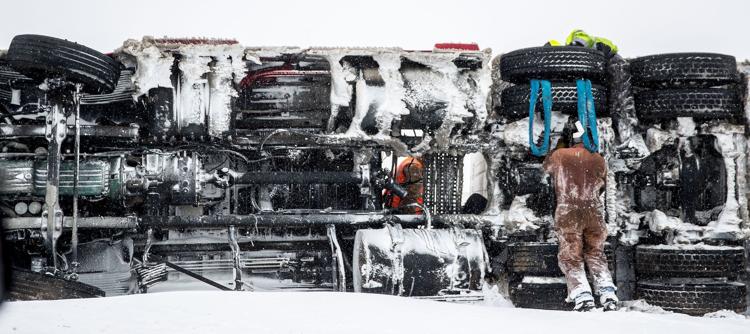 Arizona State's Jack Judson checks University of Nebraska at Omaha's Chayse Primeau into the boards at Baxter Arena.
A bike is revealed in the mud below the 13th Street bridge in the Gene Leahy Mall after the water was pumped out of it during renovation work.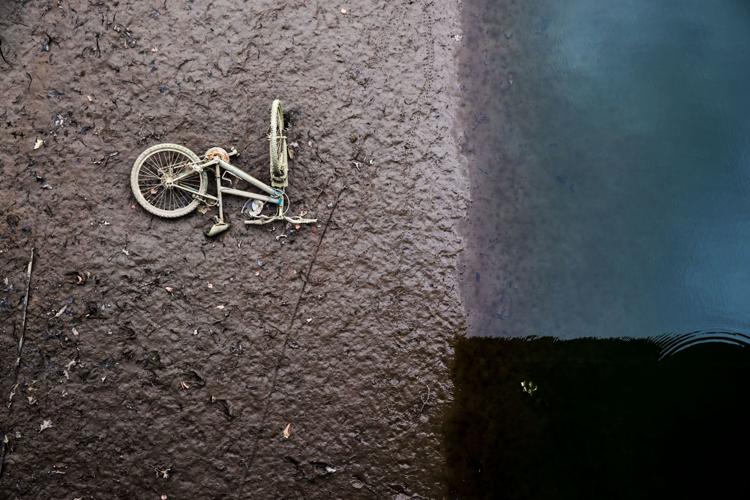 Omaha South's Ukash Weliyo, right, gets a hug from his mother Halima Mohamed after the Packers defeated Omaha Creighton Prep during the Class A boys state soccer final game at Morrison Stadium.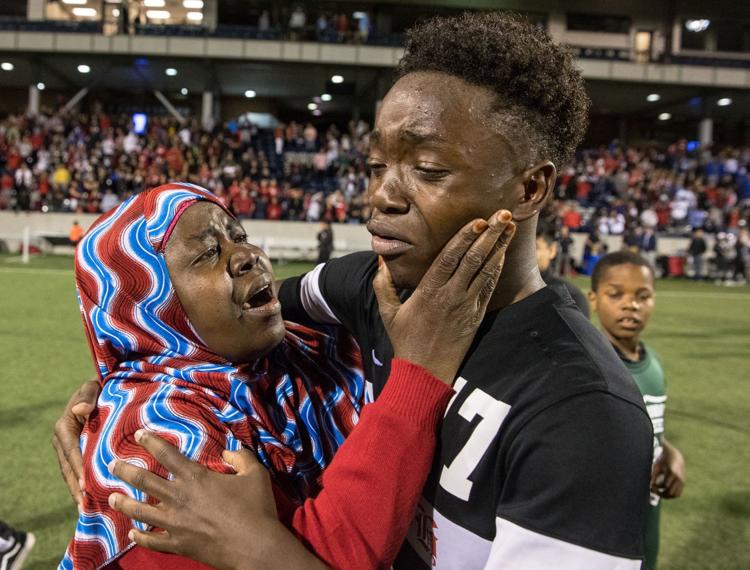 Louisville's Nick Bennett writes in the dirt before a game against Mississippi State in the College World Series.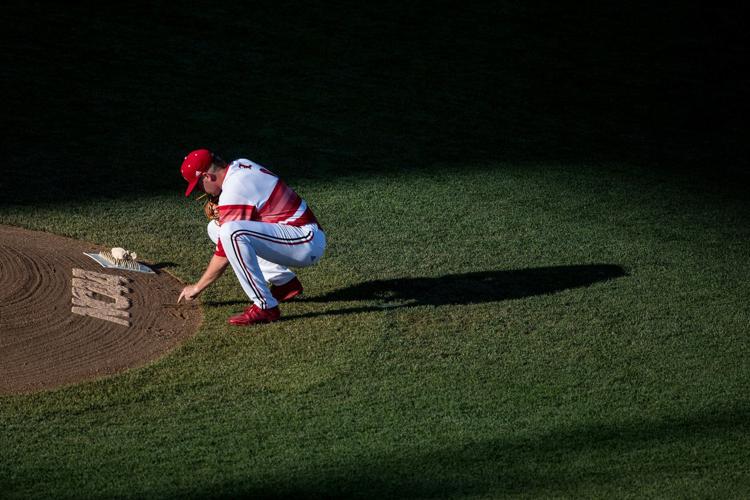 Mississippi State's Jake Mangum reacts after losing to Louisville in a walk-off during game 10 of the College World Series.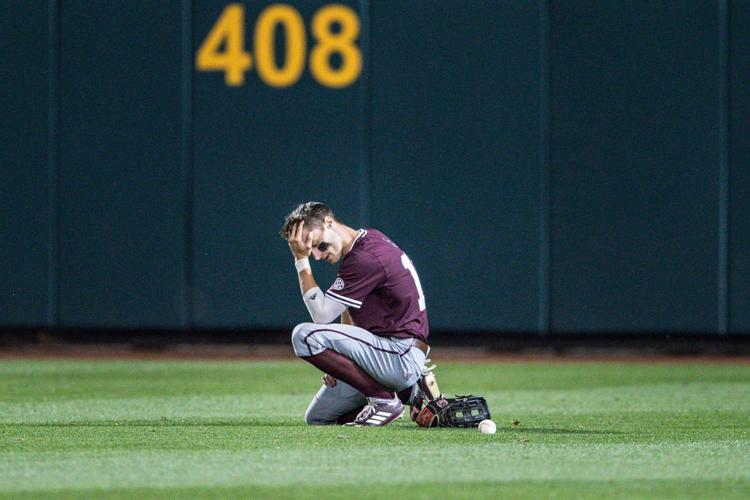 Juno, a dog belonging to professional dog trainer and hunting guide Aleah German, has a collar adorned with shotgun shell caps.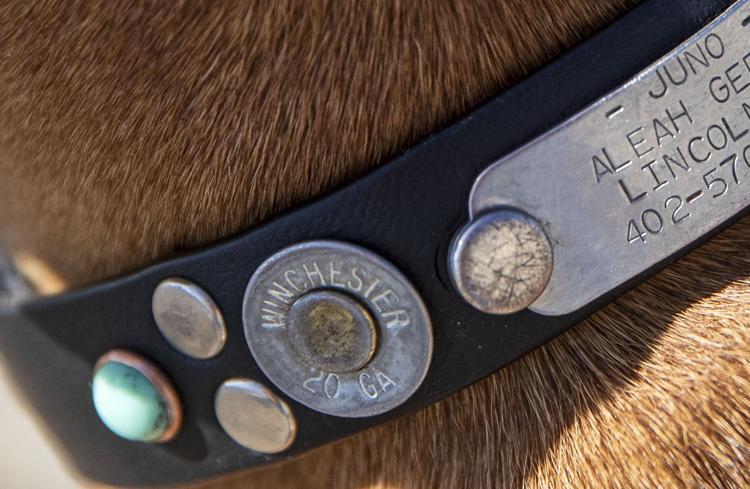 The moon rises over the Bob Kerrey Pedestrian Bridge in the early morning hours.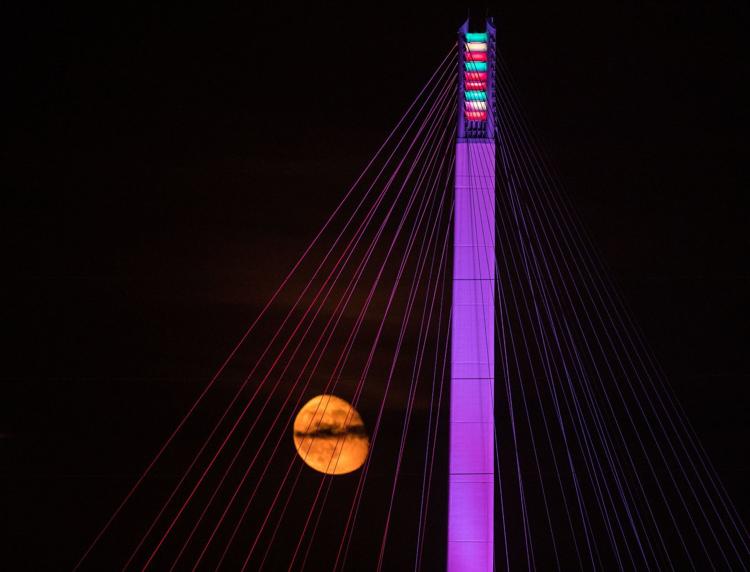 A cat looks up at Jill Tafoya after she revived it in the back of an ambulance after the cat was rescued from a fire.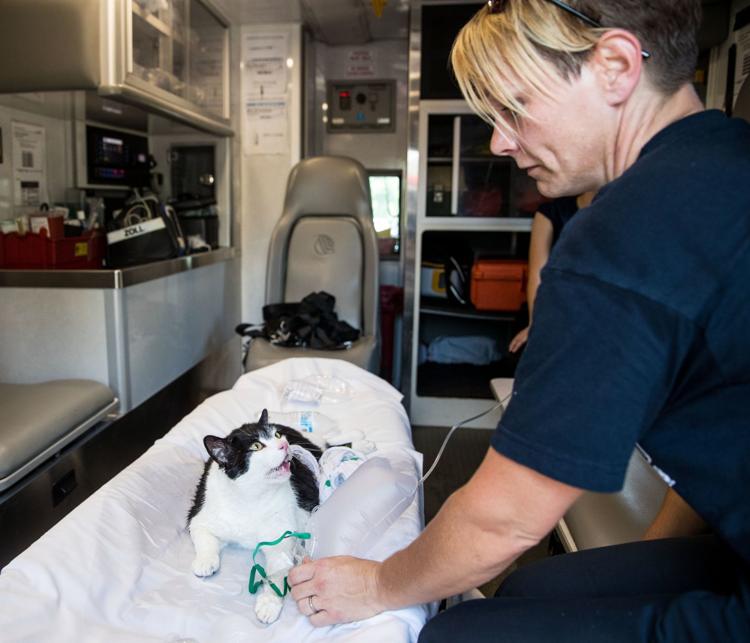 An allosaurus appears to be eyeing a tasty, 19-month-old morsel named Austin Haseltine as he is lifted from the shoulders of his grandpa, Greg Fasano, by his mother, Amy Haseltine, with his father, Jim Haseltine looking on.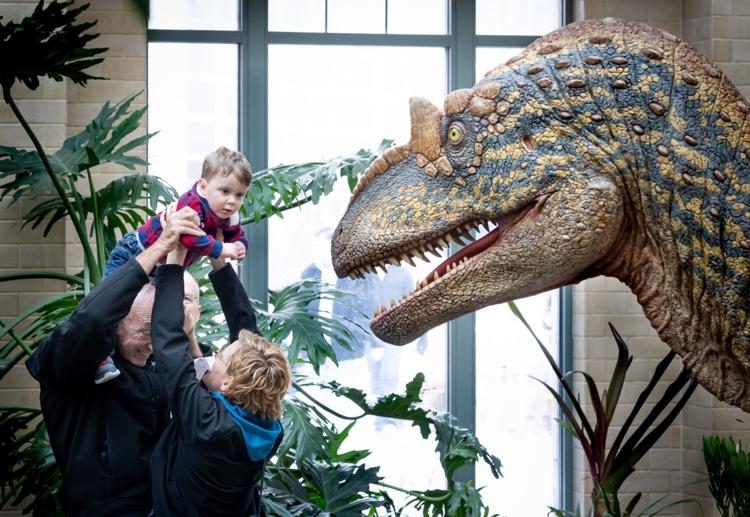 Horses belonging to Faye Etherington of Fremont that were being boarded in Inglewood, Nebraska, are brought into Fremont through floodwater on Highway 77.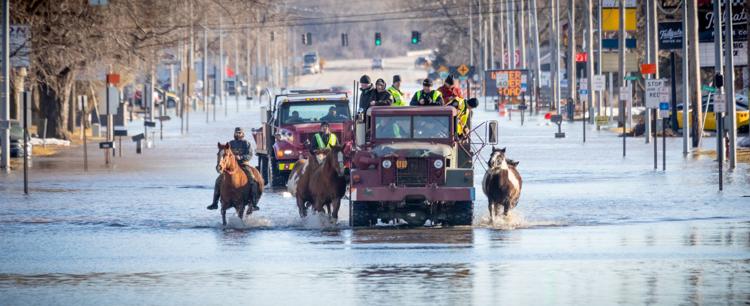 Millard West's Corbin Hawkins waits out a rain delay in the dugout.
Looking back at the floodwater below the Broad Street viaduct are from left, Calvin Schmidt, 6, Paul Schmidt, their dad and Avery Schmidt, 7, in Fremont, Nebraska.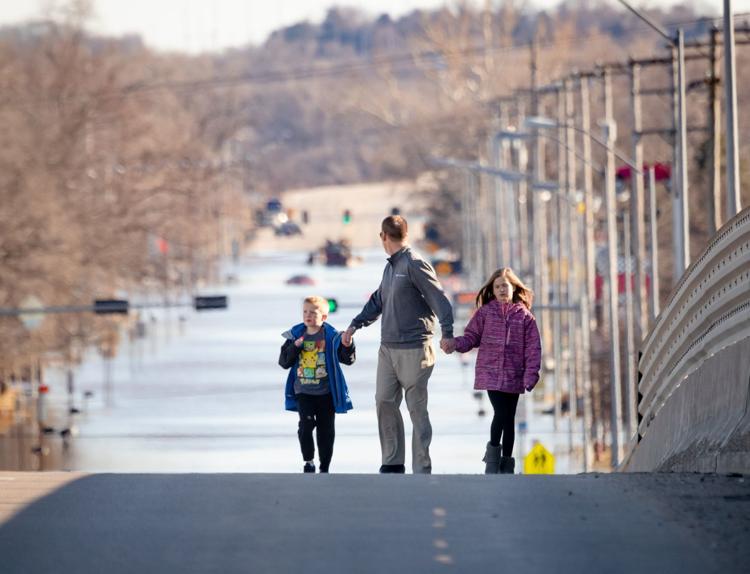 Auburn's Rankin Woley slid into the fence while catching a foul ball for an out during a College World Series game.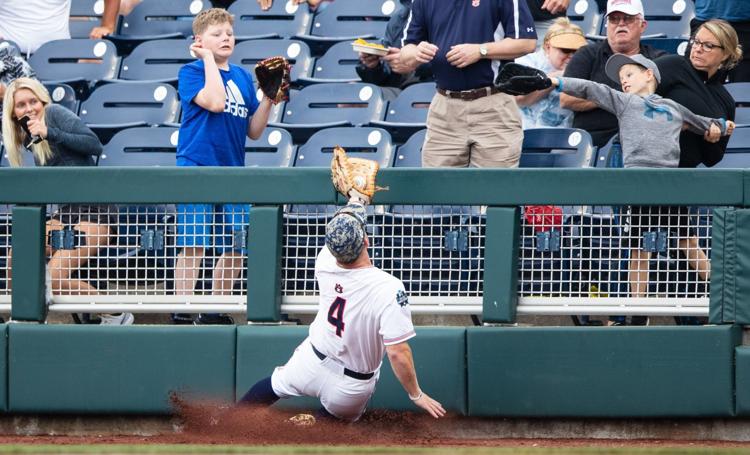 An angel statuary sits in a flooded yard in the Hanson Lakes area in Bellevue.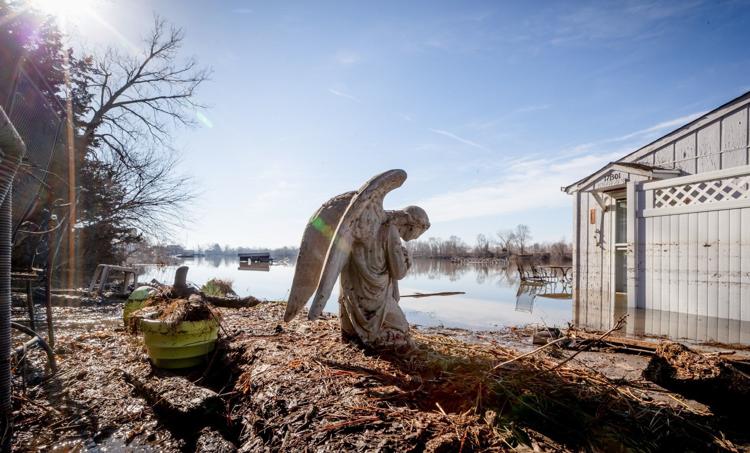 A farmer drives his combine to unload soybeans for transport near Ceresco, Nebraska.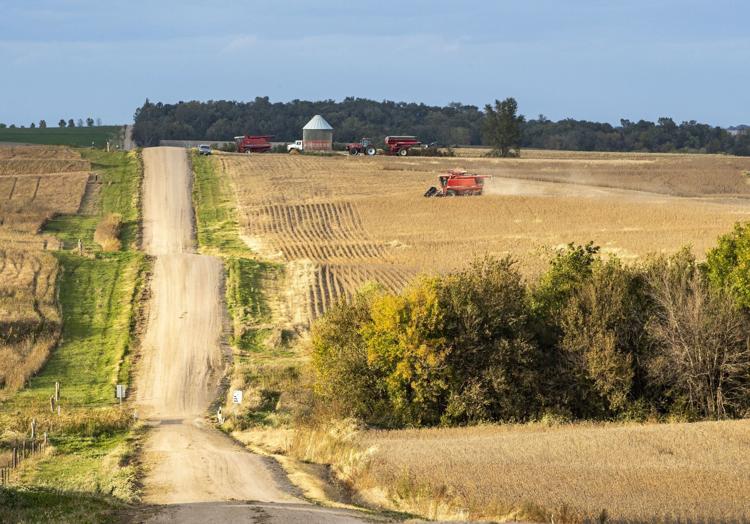 The Millard South Majorettes practice their halftime routine.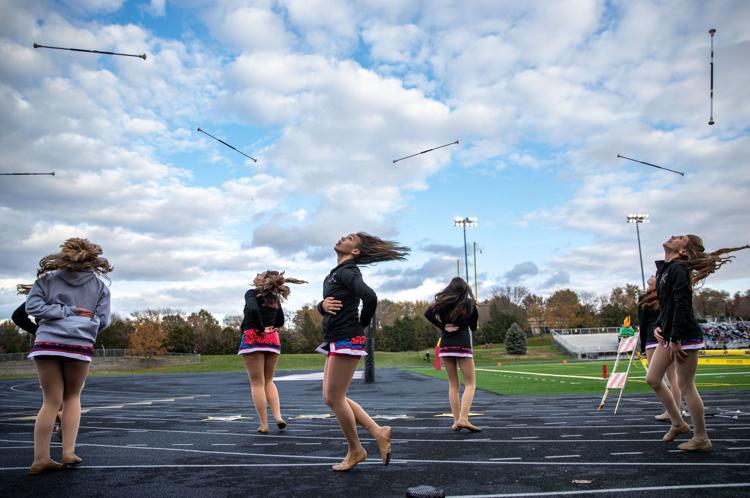 Xiang Fang, right, and his son Ethan, 10, walk along the shoreline at Chalco Hills Recreation Area in Omaha, Nebraska.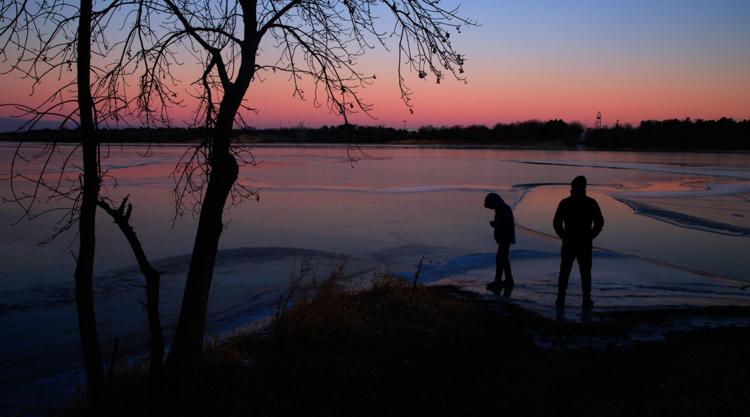 Businesses on the southwest side of Hamburg, Iowa, were flooded from the waters of the Missouri River.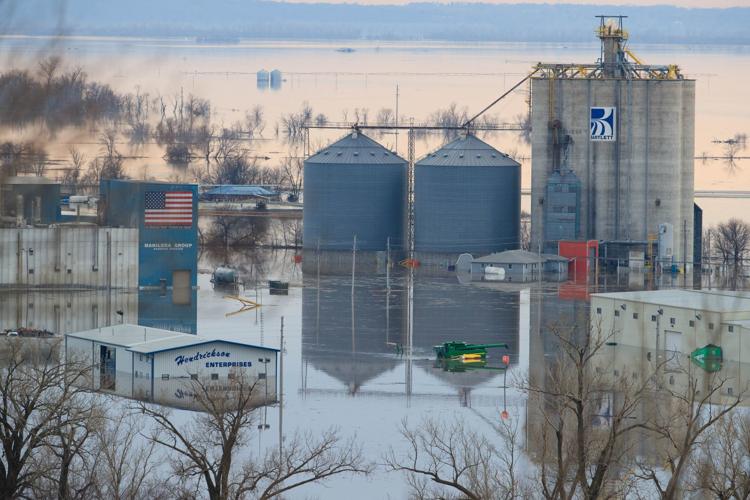 Kayla Thege, left, and Mark Batt hang out with their dog, Maia, during a Storm Chasers baseball game.