Latching on to fierce talons, the Air Force veteran firmly held down an injured bald eagle, which lay flat on its back.
"You're OK, you're OK," Jeremiah Jones calmly cooed to the slightly struggling bird, a living symbol of the nation he served in tours of Iraq and Afghanistan.
Medically retired with post-traumatic stress disorder, the former tech sergeant, 31, knows how it feels to be laid flat, at least figuratively — in his case, with mental health issues.
For a long time, he said, he fought the very idea that he needed help with depression. He is a self-described "high-speed" leader who gets things done.
But after participating in 200-plus combat-intelligence missions and experiencing comrades' injuries and deaths — including those of close friends — the stress grew.
He finally got help and, after a medical evaluation, was separated from the military with VA disability compensation. His career ended at Offutt Air Force Base last June after 11 years in uniform.
He has continued with treatment and support groups. And since September, he has volunteered with injured raptors, drawing parallels with wounded warriors.
"These birds are nature's air force," he said. "They weren't born with their wounds, but in a lot of cases can be helped back to be functional."
In the military and in civilian life, not all wounds are physical. But people, like birds, often need help to heal.
* * *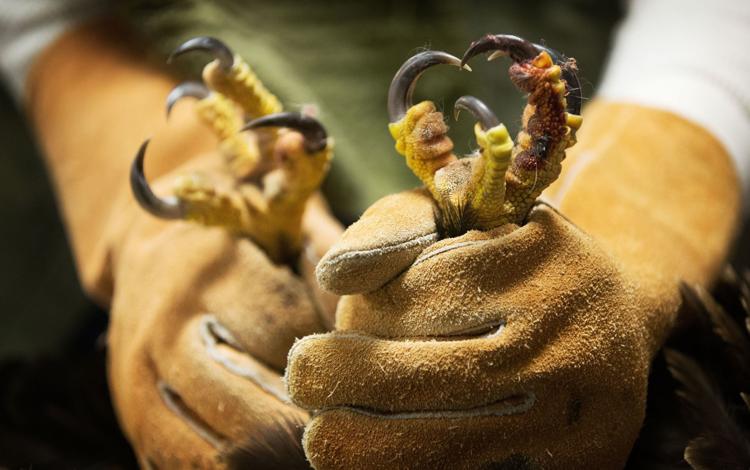 At the Raptor Recovery center in Elmwood, Nebraska, 45 minutes southwest of Omaha, Jones held down the female eagle as it was treated for lead poisoning.
Brooke Manes, the center's assistant director, injected medication.
"She likes to bite," Manes warned. "With eagles, it's always best to have extra hands."
Jeremiah was glad to lend his. And now that he himself is healing, he will extend a helping hand to other veterans.
Starting next month, he'll be a peer-support apprentice for mental health at the VA Medical Center in Omaha. In a blog  he wrote that he hopes to "show fellow vets how to climb this dangerous mountain of mental struggles."
The former airman grew up in Toldeo, a southern Illinois town of 1,200, and ran hurdles at a state track meet. He didn't want to work in a factory like his parents, he said, and joined the Air Force at 19 in 2006.
Three years later he went to Iraq, followed by a later stint in Afghanistan.
Back stateside, he served as a deployment manager, scheduling and tracking logistics for fellow airmen. Though he himself had been deployed in war, it bothered him that, "I had to put them in harm's way while I stayed in the safety of the U.S."
Meanwhile, the Air Force declared him DNIF (duties not to include flying) because of "unexplained tachycardia." His resting heart rate was a high 120 beats per minute, so he cut coffee, quit smoking and took meds to force the rate down.
But he had nightmares and episodes of hypervigilance, a condition common among those with PTSD that, in Jeremiah, meant noises and movement set him on edge. He's always been a problem solver, though, and he figured, "I've got this."
He liked to think of himself as a brick wall. Then came what he calls "the sledgehammer."
* * *
In 2013, a close friend with whom he had shared basic training and service in Iraq was on board when an aircraft crashed in bad weather in Afghanistan. All died.
"I just broke down," Jeremiah recalled. "Of all things, to have weather be the cause. I was angry."
He himself had flown that mission many times and felt as though he should have been on that flight. He sank into depression, though he didn't realize it.
He threw himself into his work, even earning a "senior technician of the year" award in his intelligence squadron.
In effect, he said, he wore a mask, trying to hide what was going on inside him, though at times he was short-tempered.
A friend urged Jeremiah to seek mental health counseling, saying in colorful military language that he'd drag Jeremiah's sorry backside there.
Jeremiah went. And his first words to the therapist were a denial: "I'm not effing broken!"
They met weekly for a year.
"I finally opened up," he said, "and let myself begin to be vulnerable — begin to let others with experience and knowledge help me."
After he left the military, his VA sessions included a support group with Vietnam combat vets. Because he didn't experience what they did on the ground, Jeremiah said he felt like he didn't belong.
"This Vietnam vet looked at me and said, 'That's bull----. You have every right to be here, just like the rest of us. I'm glad you're here.' "
* * *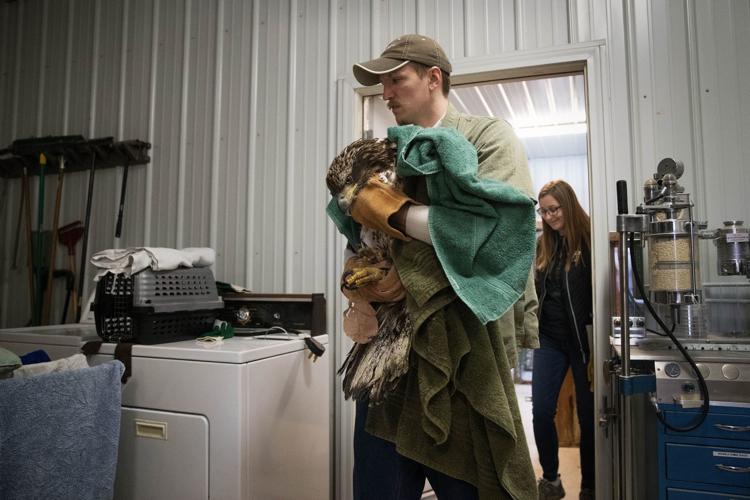 Jeremiah and his wife, Kimberly, have two daughters, 8 and 2, and he said his family has been wonderfully supportive.
Six months ago he went for a walk in Fontenelle Forest. That's when he first saw another special lady — Charlotte.
A peregrine falcon with bluish-gray feathers, Charlotte previously lived atop the 28-story Woodmen Tower in downtown Omaha. Various injuries and near-blindness brought her to the forest's Raptor Woodland Refuge.
Because of Charlotte, Jeremiah volunteered with raptors.
"She's such a sweet bird," he said. "One time I went in to feed her and she was on the ground. I was worried she had eating issues, and I said, 'Good morning, Miss Charlotte.' Like a little dog, she came hopping over to me for food."
The Raptor Woodland Refuge at the forest in Bellevue is affiliated with Raptor Recovery in Elmwood. The difference is that birds at the recovery center, some of which were struck by vehicles, are returned to the wild when they heal.
Those at the forest's refuge center are too damaged to live on their own. As Jeremiah was deemed in the Air Force, they are now DNIF — duties not to include flying. Rather, they stay on exhibit to help educate visitors.
Because of an addition being built at the refuge, the raptors normally there were temporarily moved recently to the recovery center in Elmwood.
Last week I rode there with Jeremiah and other volunteers in a van they kiddingly call "the prison bus."
Volunteers sweep and clean, even scrubbing feces from kennels where raptors are kept. Said the former airman: "I never thought I'd enjoy scraping up bird poop so much."
With staff supervision, he carried two towel-covered bald eagles to a table for treatment.
"Those talons are serious," Jeremiah said. "I'm not afraid of the birds, but I respect them. They are birds of prey."
We saw a Eurasian eagle owl, a red-tailed hawk, a kestrel, a turkey vulture and more from nature's air force. And then the falcon named Charlotte, awaiting her move back to the forest refuge.
"Charlotte and all the birds have helped me understand and accept my own issues," Jeremiah said. "And to blame myself less."