With quiet confidence, Jack Mallett sends a bright yellow rocket sailing across the net with an overhand serve.
Surrounded by the loud smack of rackets at the Hanscom tennis courts in Omaha, the 92-year-old adjusts his grip without a word.
Mallet serves another ball toward Scott Downing, 77, who is standing on the other end of the court. Downing asks for the score. Mallett says he doesn't know.
"That's the thing about old people, they forget the score," Mallet said.
A lofty shot by Downing lands in, but Downing doesn't see it.
"Out!" Mallett calls. "That's another thing we do: cheat," he said with a wink.
But in the end, it's not about winning or losing for Mallett. The Council Bluffs native just loves the game.
Mallett overcame alcohol addiction with the help of tennis 42 years ago, and it has been a part of his life since. He said it has made him more social and kept his body moving, and those who know him are inspired by his commitment to the sport.
"I'm inspired by his dedication. He is unbelievably dedicated to the sport, and his work ethic is just incredible," said Rich Prochaska, tennis pro at Miracle Hill's tennis center in Omaha.
The pair have been hitting together once every other week for more than 20 years.
Mallett said once he finds a habit he enjoys or that he's good at, he keeps working at it until he excels or decides to pick up something different.
A young Mallett, who was working at a local drugstore as a soda jerk, started recreationally taking a prescription drug that he said kept him awake — that allowed him to practice trumpet at all hours of the day. Despite wanting to perfect his playing, Mallett grew tired of the paranoia the drug produced in him as a side effect.
In search of something new, Mallett said he decided to drink instead and then did so every night for 15 years.
"I drank till I couldn't drink no more," Mallett said.
That moment came, he said, when he ended up in the emergency room after collapsing at work. The company doctor gave him an ultimatum: get sober or get fired.
On March 31, 1976, Mallett put down the bottle for good and shortly after entered a recovery program.
He knew his brain would be in search of a new addiction, Mallett said, so he picked tennis. He had played it once as a teen and remembered liking it.
Mallett walked into a Sears and bought a $20 racket and a pair of tennis shoes. He then started hitting balls against the outside wall of an abandoned grocery store in town.
Mallett said the neighborhood kids would climb the drainpipes to retrieve balls he had hit onto the roof.
"I did tennis just like I did the drinking," he said. "I played every day."
Mallett's love for tennis grew, and before long he was traveling to compete in age group tournaments around the United States. He didn't win often, he said, but he kept playing because he loved it.
In the early 2000s, Mallett and a group of clay court advocates formed the Omaha Clay Courts Association and advocated for the construction of three clay courts on top of three of the existing hard courts at Omaha's Dewey Park.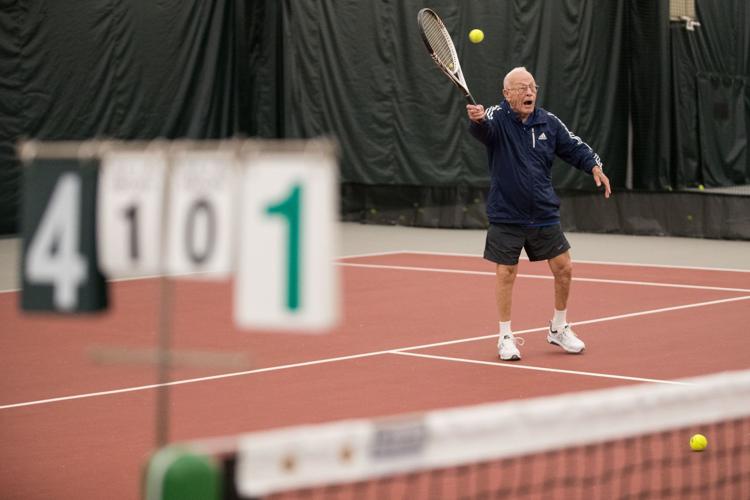 The courts were named after Mallett following their completion. He calls forming the Clay Courts Association his greatest tennis achievement.
Now Mallett plays recreational tennis three times a week. He said picking up tennis has given him the opportunity to meet genuine people, make friends and "stay going."
Dr. Jamie Armbruster, with the CHI Health Clinic on West Broadway in Council Bluffs, said Mallett is in better shape than most 92-year-olds by far.
"It's very important to stay active at an advanced age," Armbruster said. "It keeps your joints mobile and keeps you healthier overall."
Prochaska, his tennis coach, said, "He's in incredible shape. He can still move and has great hand-eye coordination."
Sometimes Mallett doesn't want to play, but he goes and hits anyway. He said he knows once he gets going out on the court he'll feel better. He said he "isn't a fitness nut" and doesn't lift weights, he just loves to play.
"What you see is what you've got right here," Mallett said. "I'm into tennis. That's what I do."