The infamous inflatable turkey war between neighbors in west Omaha has created a boon for less fortunate families.
Jennie-O Turkey Store President Steve Lykken, who read an article about the competition, decided to donate 1,300 pounds of whole turkeys to a food bank in the area.
"I really got a kick out of how passionate these two families are about their turkey war, and we wanted to honor their efforts,'' Lykken said.
Sign up for The World-Herald's afternoon updates
Receive a summary of the day's popular and trending stories from Omaha.com.
Dan Vacha and the Friskopp family, who live near 156th and Harrison Streets, began the friendly competition four years ago, when the Friskopps put an inflatable turkey they had been given on display. After they added a second, Vacha, who lives across the street, put up a turkey. But the next year, thanks to some clearance sales, he suddenly had four. And the race was on.
At first, Jennie-O, a subsidiary of Hormel Foods, was going to match the number of turkeys that Vacha and the Friskopps put in their yards this fall. The competition ended Thanksgiving week in a tie, with 28 inflatable turkeys apiece.
Instead, the company is donating enough turkeys to provide almost 1,100 meals. The feuding families chose Food Bank for the Heartland and pantry partner Heartland Hope Mission. The turkeys will be distributed before Christmas.
The Friskopps and Vacha were on hand Thursday to celebrate the pallet of frozen turkeys that Jennie-O delivered to the mission at 2021 U St.
Amanda Friskopp said she's glad that something good came of putting all those inflatable turkeys in her front yard. Vacha agreed.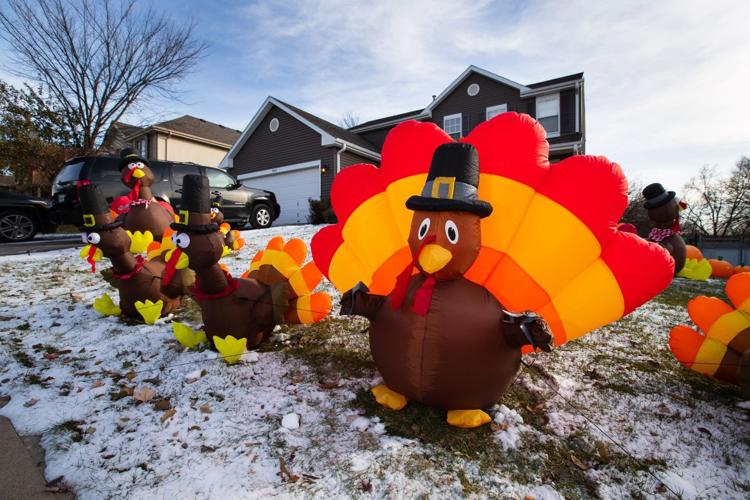 "It's just a fantastic idea,'' he said. "Everybody wins.''
Lykken said that his company, which has been in business for almost 80 years, is passionate about addressing food insecurity and that its mission has been to give back to the community.
The company is also planning a block party for the families' neighborhood in the Birchfield II subdivision next summer. A celebrity chef will cook up something special for both families.
It's been a unique opportunity for the company.
"I am pretty sure it's the first inflatable turkey war we've ever sort of honored,'' Lykken said.
---
Photos: West Omaha neighbors stuff yards with 40 inflatable turkeys during 4-year 'war'