Pete Crozier's summer routine is golf, drive, sleep.
In the span of 50 days, the father of four plans to play 50 rounds of golf in each of the 50 states.
So far, Crozier has tackled 30 golf courses, including a round played Tuesday at the Omaha Country Club.
The "Fifty for Father" tour is a way for Crozier to honor his father, who died from complications related to Type 2 diabetes about 20 years ago. A fundraising portion is a way to recognize Crozier's 15-year-old son Gavin, who was diagnosed with Type 1 diabetes 11 years ago.
Crozier has raised about $33,000 of his $50,000 goal for JDRF, previously known as the Juvenile Diabetes Research Foundation.
Crozier, who lives in Ohio, joined Omaha Country Club member Ed May at the course near 72nd and State Streets.
May, whose father also had diabetes, donated the round of golf to the cause after seeing a story about Crozier.
"I thought it was heartwarming and admirable," May said. "His commitment to doing this is extremely impressive."
The foursome also included Mike Robino, a former board president of the JDRF Omaha-Council Bluffs chapter, and one of Crozier's golf buddies, Dave Meinzenbach.
The group warmed up on the driving range and loaded clubs onto carts. Crozier showed off his golf ball for the day. He wrote "DAY 30" and "NE" on the ball.
The quest was born out of a family tradition. Every year, Crozier and his brother gather a group of friends and family for a weekend-long golf trip to honor their father, George. They spend three or four days golfing at courses in the Midwest.
For more than a decade, Crozier has talked about turning the memorial weekend into a 50-day golf outing. After last summer's tourney, Crozier, who recently turned 50, decided to take his shot.
He secured donations, funding and contacts at golf courses across the country.
Titleist donated 200 golf balls for the cause. Crozier's lost a few along the way but thinks the remaining golf balls should suffice.
Ecco and Nike donated shoes, shirts and other gear. Other donors have offered up gas, groceries and transportation. All rounds of golf have been donated.
Crozier learned to golf when he was about 12 years old. His father was by his side on the course.
"We played together. We learned together. We laughed together," Crozier said. "Now I'm playing for him."
Crozier played golf in high school, but fell away from it in college and as he became a parent. He rediscovered his love for the sport last summer, when he hit the links more than 20 times.
Crozier, who works for Junior Achievement, will wrap up his 50-day golf excursion at Green Hill Golf Course in Worcester, Massachusetts, where his father learned to play.
"It's really a circle of life kind of feeling," Crozier said.
Each day, Crozier and an ever-changing group of supporters — which has included his children, brother and golf friends — hop in a van and drive to the next state.
At times, it's been overwhelming to stick to the schedule. That's given him a glimpse of what life can be like for a diabetic.
"It's a metaphor for what people with diabetes face," Crozier said. "It's not a golf vacation. I'm going to face exhaustion, stress and constantly have to adjust. I'm going to get a flat tire, run out of gas. People with diabetes constantly have to manage it. If I have one hour, one day where I feel what my son feels, then I'll be a better dad at the end of this."
Crozier's son Gavin was diagnosed when he was 4 years old. Now 15, Gavin has learned to manage the disease. He wears an insulin pump and has to constantly adjust. Things like stress, diet and weather can play a factor, too.
For the first 10 days, Gavin golfed with his dad.
Crozier's schedule seemed particularly daunting on day 15. The 95-degree heat on the Utah golf course didn't help.
Weather has been a mixed bag. Crozier played through 100-degree temps in Las Vegas and through snow in Montana. North Dakota met him with stiff winds, and rain delayed him in Iowa.
Some days he's scheduled to play twice.
So far, he's felt fine physically. In the past, he's felt sore after a few days of golf. But each day on the trip, he's woken up energized and ready to tackle a new course, inspired by his family.
"It took my dad too soon and now it endangers my son's life," Crozier said. "They (JDRF) get all the money. I get the Advil. ... It feels great to give this all away. I get to do something I love with people I love for people I love, to try to make the world a better place. How lucky am I?"
Crozier has walked as many of the courses as he could. He's racking up about 15,000 steps a day. He hopes to hit half a million steps by the final course. In Omaha, members of his foursome rode in a carts, but Crozier walked alongside them.
"It allows me to slow down and really appreciate what I'm doing," Crozier said. "I can recollect a lot about my dad."
After his long tour, Crozier plans on taking a short hiatus from golf. But then he'll be back at it.
He will continue to raise awareness about diabetes.
"This isn't over at day 50 for me. This is the first thing I can do," Crozier said. "I won't stop until there's a cure."
---
1. Coeur d'Alene Resort in Idaho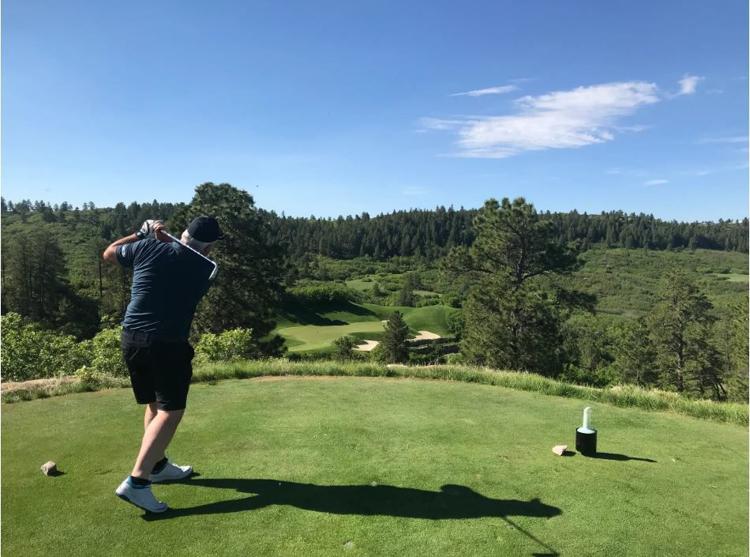 3. The Links at Land's End in Texas
5. Moose Run Golf Course (Creek Course) in Alaska
6. Northriver Yacht Club in Alabama