Ken Vice thought he knew why he was showing up at his friend's house on Sunday night.
It was a party in honor of his upcoming 70th birthday.
The hosts sent Vice straight downstairs to grab a drink.
The surprise was standing behind the bar. Vice was greeted by the woman he's twice donated bone marrow to. Chrissy Gordon, along with her husband, traveled from Melbourne, Australia, to celebrate him.
"I was just dumbfounded," Vice said. "I had absolutely no idea they were coming."
Vice and Gordon brought their reunion full circle by visiting the Nebraska Medical Center the next day. Vice, who lives in Lincoln, had both bone marrow collections at the Omaha hospital. They were joined Monday by family and friends and met with hospital staff in the lobby of the Fred & Pamela Buffett Cancer Center.
Visiting the Nebraska Medical Center meant a lot to Gordon. She had been eager to meet some of the team members behind the transplant process. And she was glad to be accompanied by Vice on her visit.
"I didn't know if we'd ever meet or be in touch," Gordon said. "Sometimes I struggle with the words because I look at this person, and he saved my life."
Sign up for the Live Well Nebraska newsletter
Get the latest health headlines and inspiring stories straight to your inbox.
Gordon, now 48, was diagnosed with leukemia in 1999. Gordon, who's always been fit, noticed that she was struggling on her regular 6-mile runs. Doctors initially told her she was stressed, but test results later showed cancer.
The diagnosis came as an "absolute shock," said Gordon, who was 28 and newly married at the time. Doctors initially said she'd be able to manage the disease for five years, but about a month in, the disease escalated.
She needed a bone marrow transplant.
Doctors would typically look for family matches, said Dr. Philip Bierman, an oncologist at the med center. The chances of a sibling being a match is 1 in 4, he said. Gordon's two brothers weren't a match for her.
Officials opened up the search to all of Australia. When no matches turned up, they extended the search internationally.
After three months on the wait list, she got a call. She knew the donor was about 50 years old and was international.
Vice had signed up to be a bone marrow donor in the early '90s. He carried a donor card in his wallet but didn't think much of it until he got a call saying he was a possible match for a 28-year-old Australian woman.
Vice said he didn't second-guess undergoing the donation process. Gordon was about the same age as his daughters.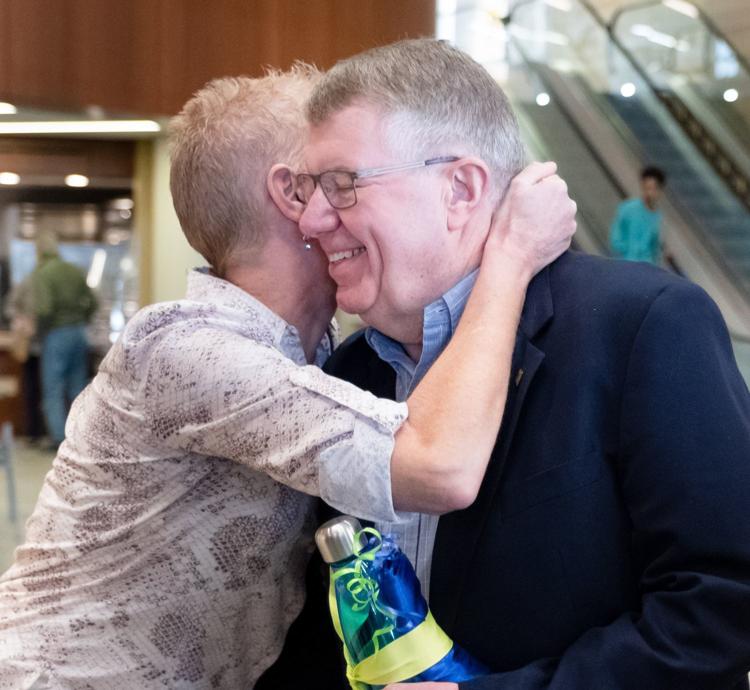 "I thought it was somewhat of an adventure," Gordon said.
About two years after the donation, Vice reached out to Gordon. He knew she'd survived the transplant, and he wanted to know more about her.
They exchanged details about their lives via email, and Gordon expressed her gratitude.
Vice wasn't done giving. In 2003, Gordon relapsed and needed another bone marrow transplant. Vice obliged again.
Three years after the second donation, they met in person while skiing in Canada, with their spouses. Gordon brought gifts, but nothing felt like enough.
"Ken has said what's enough is that I lived," Gordon said.
A roundup of inspirational stories from Midlanders with heart
There's the woman with MS who runs despite her diagnosis. The 7-year-old born without his left hand who plays baseball just like the other kids his age. The refugee who turned to Zumba to help her recover from cancer treatments. Check out their inspiring stories and others below.