At Millard North's graduation ceremony Saturday, the speakers talked about resilience and perseverance.
And then senior Jace January showed them what it looks like.
Jace, 18, has a rare birth defect rendering his arms and legs nearly useless.
But when it was his turn to receive his diploma, he got out of his wheelchair and walked across the stage.
It was no miracle. He used a special walker more complex than what elderly people use.
But that didn't lessen the emotional impact inside the Baxter Arena.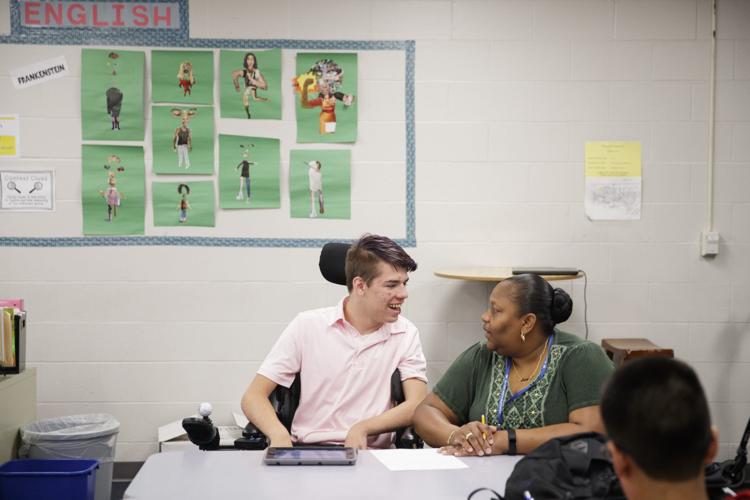 He had hatched this plan last fall, hoping to "wow" his classmates. It worked.
It took a few seconds for the senior class to realize what was going on. Then the clapping started. It grew in force. The whole crowd of about 3,500 joined in as he worked his way across.
"I just thought it was really cool that he did it," said classmate Anna Singer.
Jace has schizencephaly, a birth defect affecting about one in 65,000 children in the United States. He was born with clefts in his brain. He can't speak. His movements can appear jerky and clumsy. He communicates by typing with one finger on an Apple iPad. He gets around in a motorized wheelchair.
The wheelchair has fenders with the #BeKind slogan. Purple dice, like those on a muscle car rear-view window, hang from it. The chair can really move when Jace pushes the joystick, which is topped with a golf ball handle.
His mother, Shawnda DiGiacomo, said Jace was diagnosed at about 9 months old after he failed to hit normal development milestones.
An MRI scan revealed the telltale slits in the brain, one on each side, in the front.
Parts of his brain never formed.
Sign up for The World-Herald's afternoon updates
Receive a summary of the day's popular and trending stories from Omaha.com.
She went looking for answers to why, but doctors couldn't say. They just don't know what causes it.
"I feel like I was just wasting my life trying to figure out how it happened, when nobody has answers," she said. "So I just let it go. It is what it is."
Knowing why, she said, wasn't going to change anything for Jace.
She and Jace have a close relationship. Mom can read his expressions — she practically reads his mind.
Jace said his mom "treats me like a normal person and taught me not to feel sorry for myself."
Apart from his physical limitations, and the intensive care he requires, Jace is largely a normal teenager.
Mom, whose husband is Thomas DiGiacomo, says Jace listens to loud hip-hop and rap music. He texts girls on his phone. He watches YouTube and music videos. He likes cars and trucks. He "fights" with mom over cleaning his room and chair, she said.
He likes to play jokes on people, especially his 10-year-old sister, Jade.
When asked in an interview what it's like to be him, Jace tapped out the words: "Easy and hard at the same time."
"Dealing with the hate, but I don't care," he said.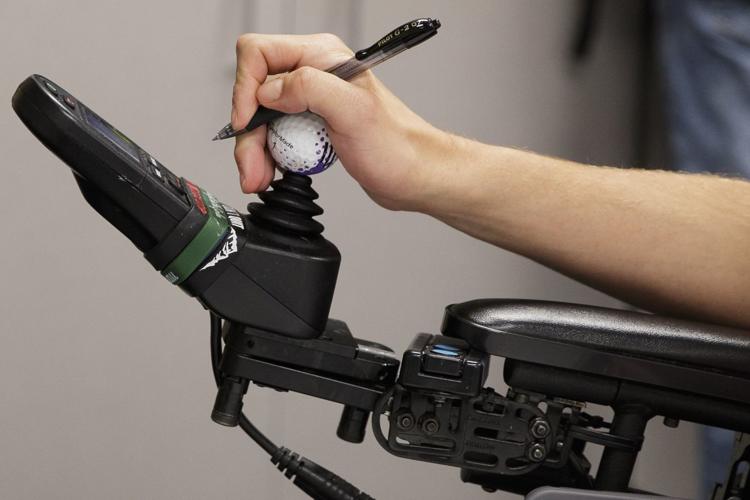 Most classmates have been friendly, he said. "They treat me like everybody else," he said.
Senior Dana Johnson, 17, has known Jace since middle school.
"Jace is an awesome friend when you're down," she said.
"He has your back when things get rough."
He's the perfect person to hang out with for lunch, she said.
Senior Jacob Himelick stopped in the hallway last week to sign Jace's yearbook.
Jace is "one of the funniest people I have ever met," Himelick said.
"Sure he's in a wheelchair," he said. "For the most part, he's got the same sense of humor as me and Alex over here. He's got the same everything."
"He definitely tries — everything he does — to the max."
Alex Kruse, another senior, said: "He's super supportive, and I'm supportive of him. He's a good friend."
"He doesn't let his disability get in the way of his goals."
There were bullies in middle school, DiGiacomo said.
Kids threw balls at him. He got locked in a classroom. He was stabbed with a pencil, she said.
Because of his physical limits, people often underestimate his mental abilities.
"They think I don't understand at all," Jace said.
That creates problems, but "I just don't talk to them," he said.
His sister, Jade, is protective of him, his mom says.
On prom night, while Jace was eating with his friends, Jade insisted that she and her mom stay in the car outside, because she didn't want to leave him. She's always afraid someone will be mean to him, DiGiacomo said.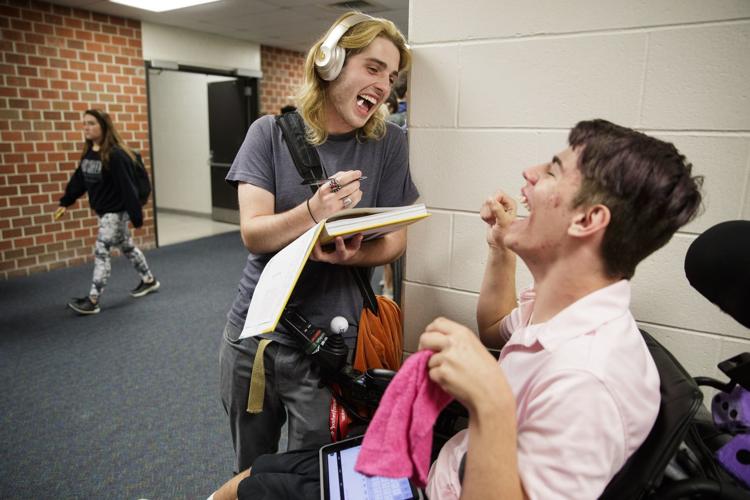 Jade worried her brother would fall crossing the stage.
His trunk muscles are not very strong. His legs are stiff and hard to bend. He had surgery on the them, but it didn't help, Mom said.
His left hand doesn't work. The fingers don't move. His right hand has limited use. He types with one finger because it's faster.
After graduation, he will enter a program that places young people in job settings and teaches life skills.
Mom hopes he finds a job that will make him happy.
She wasn't surprised when last fall Jace hatched the idea to walk across the stage. He practiced walking, a little bit each day. He kept it secret from most everyone.
On Saturday, it came off without a hitch.
He wasn't the only student to cross the stage in a walker or wheelchair. For the graduates and their friends and families, those students were a reminder that, despite the optimism of the day, there are some things from which one can't graduate.
Asked why he wanted to do it, Jace answered: "Hope people smile and remember me."
A roundup of inspirational stories from Midlanders with heart
There's the woman with MS who runs despite her diagnosis. The 7-year-old born without his left hand who plays baseball just like the other kids his age. The refugee who turned to Zumba to help her recover from cancer treatments. Check out their inspiring stories and others below.