Nebraska native Ashley Graham is known for being candid when it comes to her personal life and views on body image.
The 29-year-old supermodel and body positivity activist kept every bit of that candor while writing her book, "A New Model: What Confidence, Beauty, & Power Really Look Like."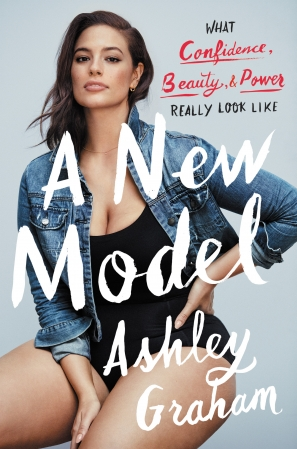 Growing up in Lincoln, Graham was told to look up to Marilyn Monroe and Jennifer Lopez because they were two "curvy women in society." But the two celebrities "didn't have cellulite," she said, or look like her. The model said her size fluctuates: Her hips fall between 46 and 48 inches, and her waist between 29 and 32 inches. The only constant is her bra size: 36DDD.
"I want to be that role model for young girls who are looking at their bodies and saying 'I don't love myself.' I want to put them on my journey," Graham told The World-Herald.
Graham will make a stop in Lincoln on Tuesday for a book signing. The signing will take place at 7 p.m. at Barnes & Noble, 2910 Pine Lake Road.
Graham said she didn't let anything "slip between the cracks" while writing. We caught up with Graham to talk about her faith, battling insecurity and changing the modeling industry.
Q: In the book you talk about your eating habits and how you like to indulge on occasion. Did you worry that would open you up to criticism?
A: No. I don't even care about criticism anymore. I've heard it all. I was writing this for the girl going through the same situation I did. I'm just here to give my exact, true life story. I'm a girl
who was told "No. You're not going to be on covers of magazines." Then, poof, I had it, because I worked hard at it. I opened up because of that.
Q: Landing on the Sports Illustrated cover was a huge moment. But how would you respond to people who say it objectifies women?
A: I actually did the issue because I felt like it was a celebration of all shapes and sizes. I think that Sports Illustrated also celebrates women. That's exactly what the issue's about: celebrating women, celebrating diversity. A lot of women work on staff at Sports Illustrated, which is fantastic, and it's really uplifting.
Q: One line that really struck me was how you said that even you "battle insecurity, frustration, judgment and feeling ugly." Can you describe your best day and worst day in terms of how you feel about your appearance?
A: I'm just like any other girl. I wake up and haven't gone to the gym in a week and had one too many slices of pizza the night before, and I don't feel my best. I have to give myself affirmations. I also have great days where I just feel so confident. Being a woman, I'm not here to tell you to be confident every day or tell you you are going to be confident every day. I'm here to give my story and a few guidelines on how to feel confident if you're having a hard morning or a hard day.
Q: Your Christian faith and religion pop up pretty regularly in the book. Fashion isn't an industry you think of as being faith-based. How do you marry those two aspects of your life?
A: It doesn't really coincide with each other necessarily. I think that faith is definitely something that got me through the hard times in fashion. It got me through the hard times with body confidence, and the terrible decisions that I had made. My faith is something that brought me back to finding truth and value in who I am.
Q: In a previous interview with The World-Herald you said you don't like the term "plus-size." I read that phrase a lot in the book, and it seems to be the word used in the industry. How do you change that?
A: Exactly what I'm doing. I'm talking about how it's a divisive word. Why would we describe women by the number inside their pants? We don't do it with men. My question I always ask back: Would you want to be categorized because of how big your hips are?
Q: How important is it for women to work together and not see each other as competition, particularly in the modeling industry?
A: Well, I think it's hard not to. Managers and photographers and clients, they all pick apart and manipulate your body in a way that makes you feel you're not good enough. If another girl gets a job, they were better, for whatever reason. That also stems from insecurity. The more you uplift the women around you, no matter what industry, it's only going to make you more successful.
Q: It seems like you encountered a lot of roadblocks that could have discouraged you from modeling. How did you overcome those?
A: My mother was a really big part in encouraging me to stick with it and to stay true to who I was, no matter my size. She told me my body was going to change someone's life. She didn't want me to give up. To this day she is a huge support system. Now I have my husband who is so loving and kind and pushes me every day to be better and really have the career and life that I want.