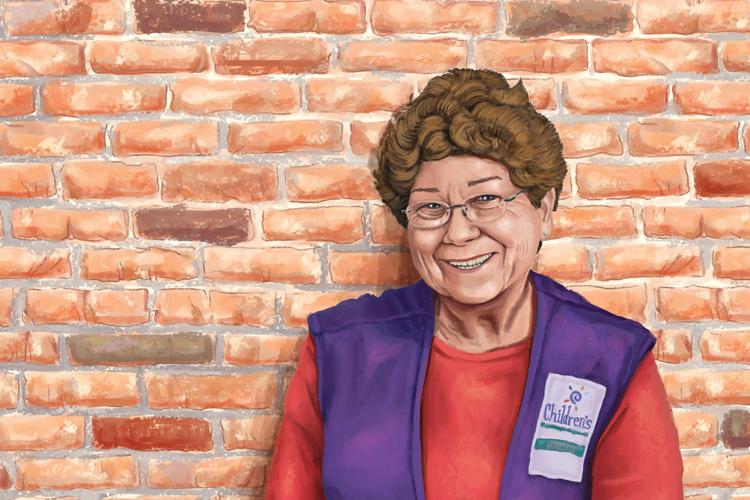 Every Monday for at least four hours, Nora Chesire turns off her cellphone.
She puts a purple vest over her shirt and drops a name badge around her neck. She washes her hands, while singing the "Happy Birthday" song twice to herself. Then she roams the halls of the neonatal intensive care unit at Children's Hospital & Medical Center, looking for babies who need a few extra snuggles.
Chesire, 68, has been a volunteer cuddler at the Omaha hospital for 17 years. She goes from room to room, holding sick and premature babies. The Millard woman reads books to the babies, shares stories about her young grandson and sometimes sings.
"I would not do anything else on Mondays but be at Children's Hospital cuddling babies. That's my life's work right now. That's what I'm supposed to do," Chesire said.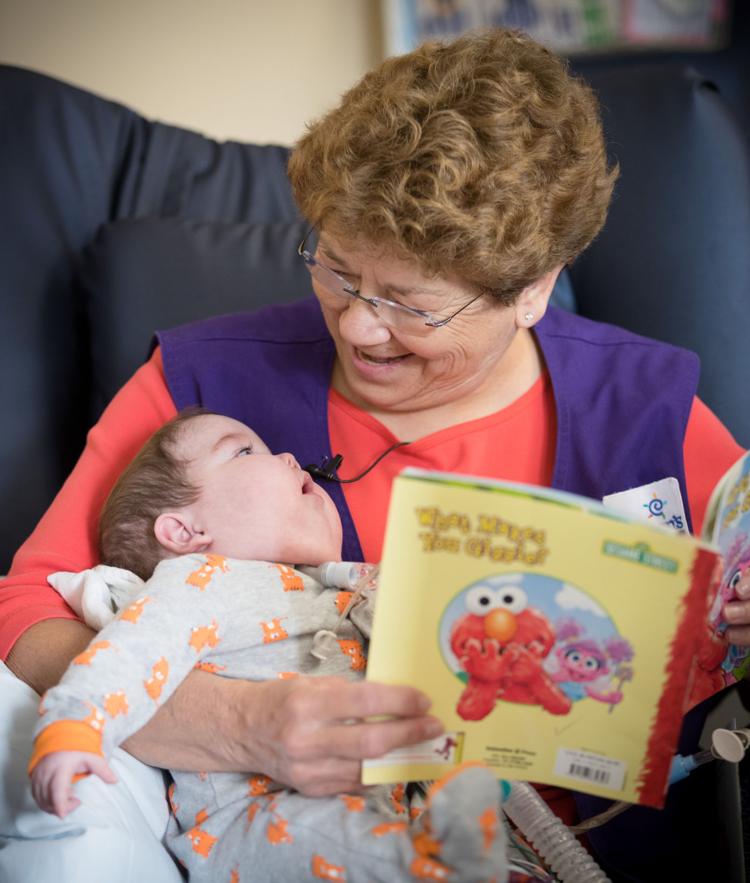 Chesire was one of five cuddlers who helped start the program. They learned how to hold the babies, each one with its own set of do's and don'ts. Cuddlers learned to navigate tubes, cords and ventilators, being sure not to tug or pinch them. When nurses hand the babies to the cuddlers, they offer tips on how the babies prefer to be held: upright or flat, in the arms or propped on a shoulder.
Cuddlers also are aware of the beeping machines. They've learned what the different alarms mean, particularly those for oxygen, heart rate and respiration. If one goes off, they know what to do when nurses rush in.
"You let them take the baby out of your arms," Chesire said. "You don't get up. You sit in the chair. You don't move."
About 10 years ago, a baby Chesire was holding stopped breathing. Nurses solved the problem, and once the baby was breathing again, they handed her back to Chesire. Remembering to breathe can be a common issue for premature babies, who have to learn that skill before leaving the hospital.
Cuddlers provide developmental support for babies, said Heather Young, developmental care specialist at the hospital. Studies show that babies that are cuddled often sleep better, manage stress and can maintain their heart rates. As babies are being held they learn how to move their bodies and how to communicate, Young said.
"It provides a balance to that medical touch. … (Nora) knows and understands babies. She just does it naturally," Young said.
Cuddling, whether with a volunteer or parent, helps with bonding and trust, too. When babies know their needs are being met, they feel safe and secure, Young said.
So it's not uncommon for hospitals to have such programs. Methodist Women's Hospital, Creighton University Medical Center-Bergan Mercy and the Nebraska Medical Center also have volunteer cuddling programs.
Chesire, a former stay-at-home mom whose two children are now grown, landed the gig while she was volunteering in the Children's Hospital gift shop. Staff asked her to take a library cart to the different floors. She went from lending books to parents to reading books to babies. Reading turned into holding babies when their families couldn't be at the hospital.
"It's such a privilege," Chesire said.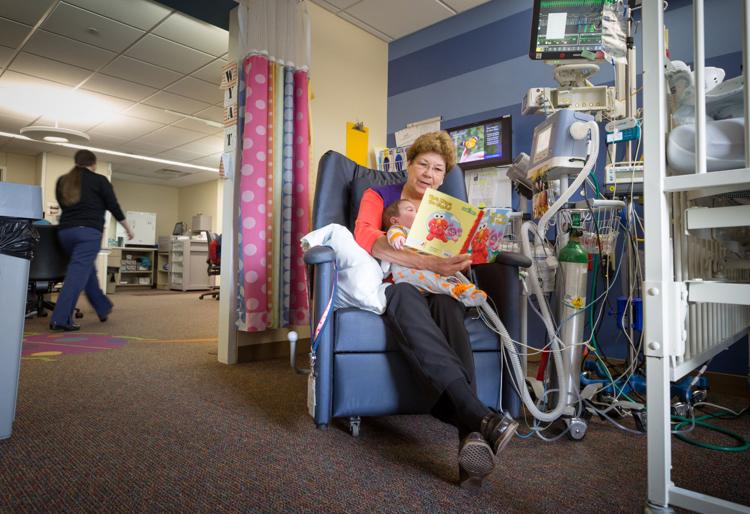 Chesire fell in love with the service and doesn't anticipate giving it up anytime soon.
"They're going to have to carry me out on a stretcher. I'll do it until I can't," she said.
On a recent Monday, Chesire greeted everyone who crossed her path at Children's with a hug. A couple of nurses landed high-fives before Chesire headed into Wyatt Garcia's room.
She and Wyatt, 9 months, are old pals.
Wyatt Garcia and his twin brother, Ryder, were born two months early. Wyatt was in the NICU at Children's for about six months for problems with his lungs.
Chesire greeted the baby as she approached his crib, decorated with lights and colorful baby toys.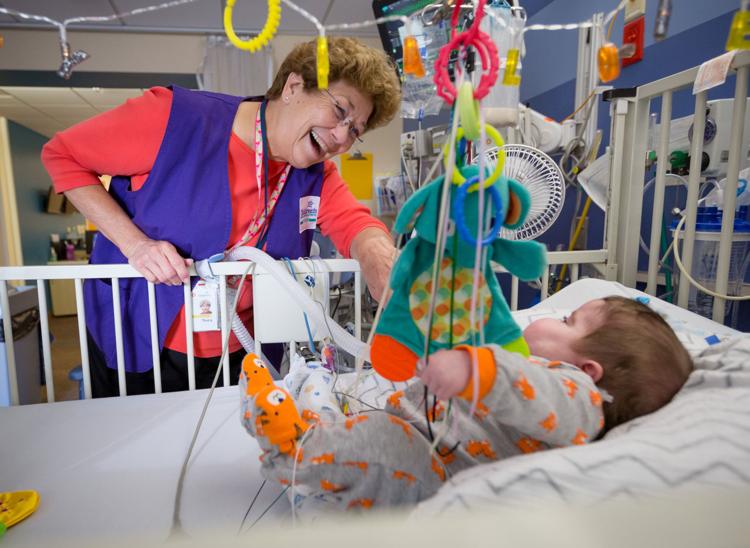 "Are you going to give me the stare-down?" Chesire asked him. In a gray onesie patterned with orange tigers, he gave Chesire a solemn look while kicking his legs.
As she picked out the "Sesame Street" book "What Makes You Giggle?" from a basket, he fussed. Chesire settled into a blue recliner and propped a pillow under her right arm. Her name badge was draped over the side of the chair. A nurse placed Wyatt in her arms, carefully arranging his tubes and wires.
In a soft voice, Chesire started reading to Wyatt. The baby was wide-eyed as she flipped the sturdy pages.
After about 20 minutes, Wyatt was ready for his nap.
"You did really good. I'm so proud of you," Nora told the baby. "I think you are such a big boy."
Wyatt smiled at his cuddler as nurses took him from Chesire's arms.
Chesire hugged Wyatt's nurse as she left his room.
"Thank you. We're so glad we have you," the nurse told Chesire.
Wyatt's mother, Nicole Kendrick, is a stay-at-home mom. But with three boys in addition to the twins, she and Wyatt's father, Joshua Garcia, couldn't be with the baby all the time.
"It's extremely hard," she said. "There's times where you just want to break down. … It just breaks your heart because you can't be there."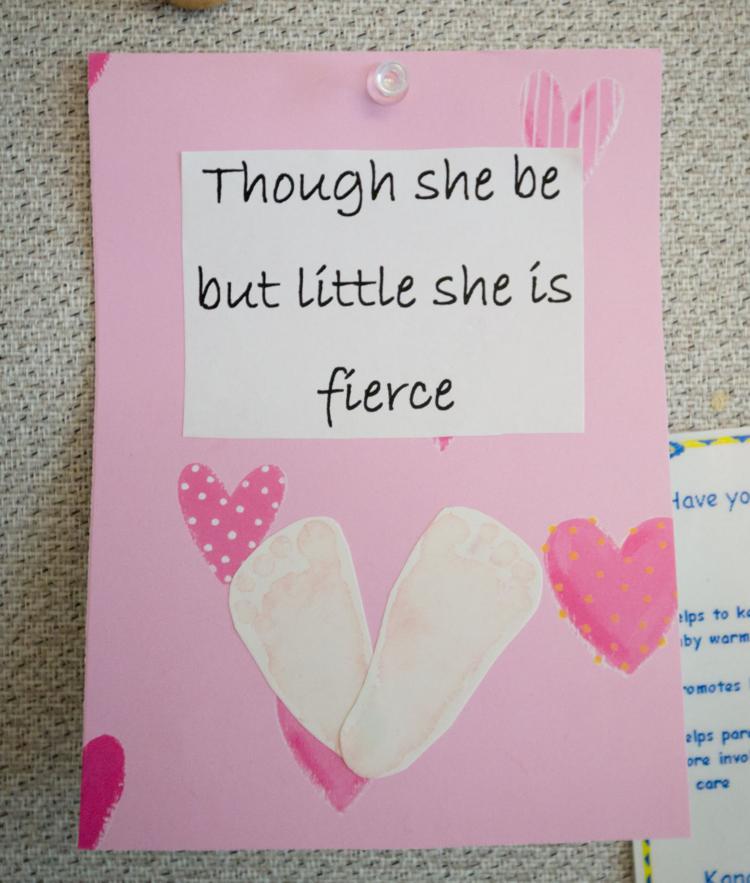 Knowing cuddlers like Nora are around made Kendrick feel better when she was away. She found comment cards from Chesire in the baby's room with messages about what he liked and how sweet he was to cuddle.
"It definitely brings me joy knowing he's getting loved on and read to instead of just lying in his crib," Kendrick said. "It's going to make any parent smile."
Chesire moved next door to Ariana Gonzalez-Guerrero's room. Her parents, Maria Gonzalez-Guerrero and Carlos Maya, are from South Sioux City, Nebraska.
Chesire rocked the sleeping 7-month-old baby. Ariana's dark hair was spiked wildly, and one of her tiny hands rested gingerly on Chesire's ring finger.
Chesire spoke so softly to the sleeping baby that her voice was a faint murmur.
"Now this is heaven," she said. "This is just a piece of heaven."
Chesire is a natural. She has three grandchildren — they call her "Nona" — and a fourth is due next year.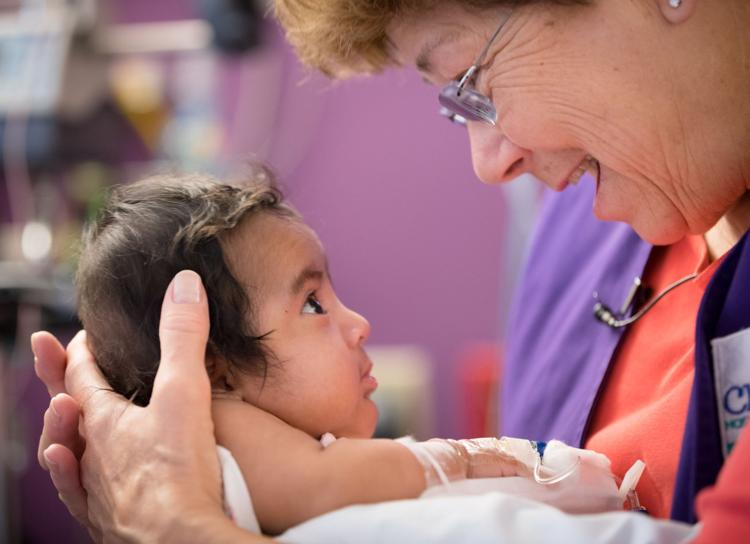 Chesire estimates she holds four babies each day she volunteers. By that math, she's cuddled more than 3,500 babies at Children's. But Chesire knocked the number down to at least 2,500 to account for babies she's held more than once and holidays when she doesn't cuddle.
"They won't know me. They won't remember me. I'm not their family," Chesire said. "But in a way, I will always remember them."
kelsey.stewart@owh.com, 402-444-3100, twitter.com/kels2
---
---
---
---
---