Students at the University of Nebraska-Lincoln are trying to remove the stigma of mental health struggles, one green bandana at a time.
UNL's student government body, the Association of Students of the University of Nebraska, and the school's Student Athlete Advisory Committee collaborated to start the Bandana Project to destigmatize mental health challenges and promote available resources on campus.
The Green Bandana Project officially launched during the Husker men's basketball game against Michigan on Jan. 28, at which green bandanas and resource cards were distributed. Bandanas and resource cards also were handed out at various locations on campus the next day.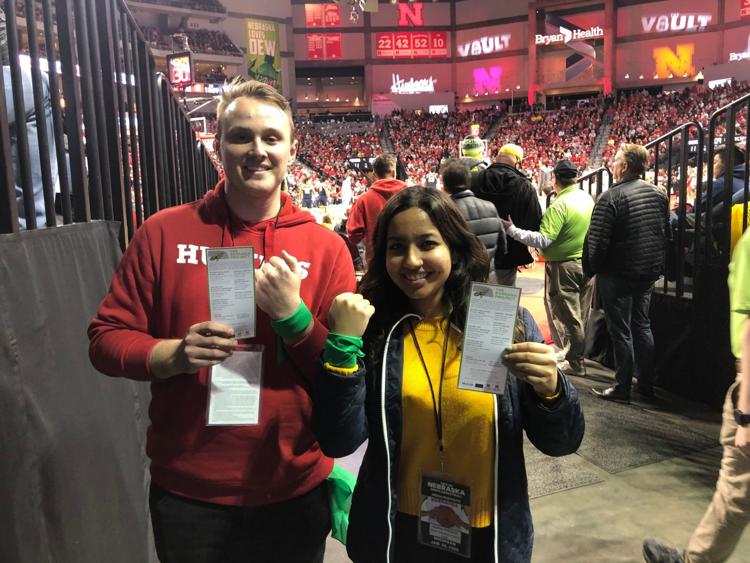 Jared Long, internal vice president of ASUN, said the bandanas are meant to be displayed on such things as student backpacks.
"A student can approach a person with a green bandana and know that it's a safe person to ask to get connected to a resource," Long said.
Long said the project has been a success and that the response from students and staff has been positive.
"It is exciting to see the whole community rally around a cause that's clearly important to the students," Long said. "It's been reassuring seeing the support across campus."
Sierra Hassel, vice president of the advisory committee, said the project already has been initiating conversations about mental health among students, faculty and staff.
"In the last few years, there's been a really good push toward accepting that mental health is thing and that everyone struggles with mental health, but now we're getting onto that next step of asking for help and figuring out what you need," said Hassel, who is a UNL student-athlete.
For more information or to pick up a bandana, contact asun1@unl.edu.