It was coincidence that Lauren Celesky wore a shirt with "Dog Mom" emblazoned across the front.
But there she was Wednesday, surrounded by dogs as she sat in the lobby of Creighton University Medical Center-Bergan Mercy.
Nearly a dozen dogs milled about the Omaha hospital's lobby with their handlers for a "wag therapy" event, held in conjunction with Midlands Pet Therapy. Patients, staff members and visitors petted the dogs.
Midlands Pet Therapy is a group with nearly 100 members who visit such places as hospitals, senior living facilities and college campuses in Omaha and surrounding communities. Most of the dogs in the lobby were from the group, but other dogs are regular visitors to Bergan.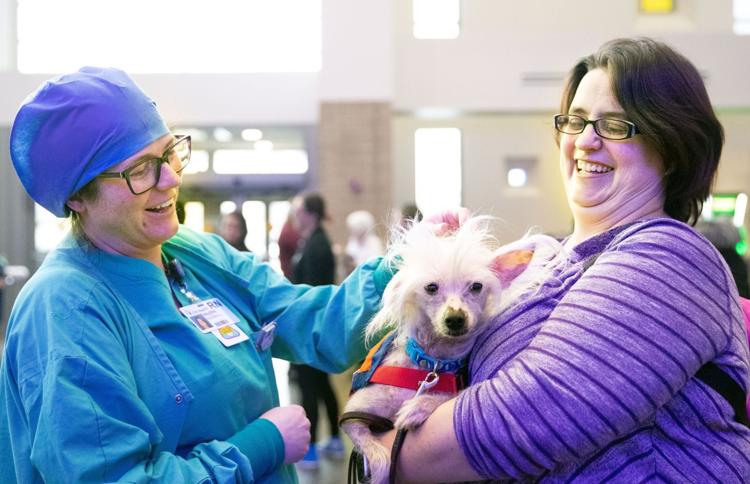 Celesky, of Crete, Nebraska, said she was looking forward to the dog visit. She has been hospitalized for nearly two weeks while undergoing treatment for cervical cancer.
Her two dogs are at home, and she makes sure to get regular updates on them.
The 26-year-old reached over the arm of her wheelchair to pet Gilligan, a goldendoodle. The visit, she said, came after a rough few days for her.
"It was a complete 180," Celesky said. Interacting with the dogs "turns it around, just like my dogs do."
Gilligan loves his job as a therapy dog, said his handler, Bunny Ogden, who noted that he can't seem to get enough attention.
Dogs roamed, occasionally letting out barks that echoed in the lobby. They ranged in size from Scarlett, a Great Dane, down to Gracie, a 6-pound Havanese. A few pooches sported badges, complete with their photos. Others wore vests or bandannas labeling them as therapy dogs.
Patients wheeled around, reaching over to pet dogs. Staff members in hospital scrubs and badges also flocked to the visiting area. One man let out a hearty chuckle when Scarlett slowly chased two small Maltese dogs around in a circle.
"Our job is to brighten a part of people's day and bring a smile to their face," said Midlands Pet Therapy volunteer Jill Bertsch. "The dogs love having a job and all the wonderful attention they receive."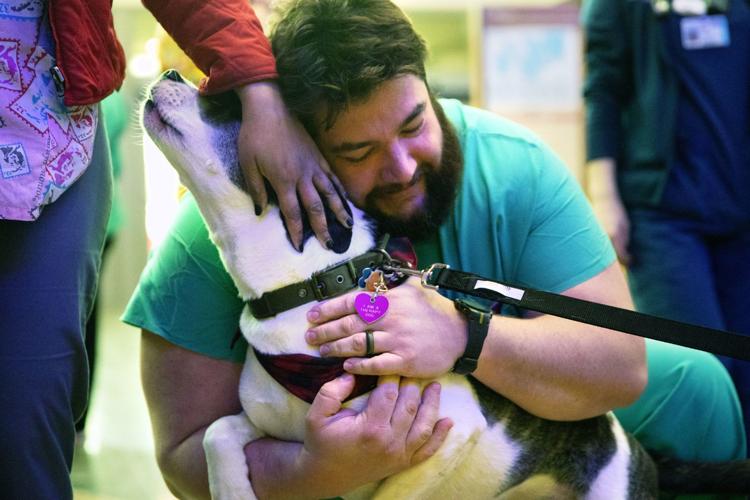 Therapy dogs are no strangers to local hospitals. Other hospitals in the CHI Health system, plus Methodist, the Nebraska Medical Center and Children's Hospital & Medical Center, all get regular visits from therapy pups.
Bergan has about a dozen volunteer therapy dogs. The dogs — and their humans — are assigned to visit different areas of the hospital. Other times, the dogs make special visits to patient rooms.
"Our patients love them. Our visitors love them. Our employees love them," said Michaela Kanoski, manager of volunteer and guest services.
Cindy Perkins, a senior librarian at Creighton University, regularly brings her dachshund Max to work at Bergan. Max, 4, also visits patients.
At home, Max can be a bit of a wild child. But in the hospital setting, he shifts into work mode. He has comforted terminally ill patients, patients going through cancer treatment and children.
"This is why we do it," Perkins said. "To make you feel better."