Meredith Willard knew before her daughter was born that the infant would need lifesaving surgery to repair her heart.
After Rose arrived, Willard consulted with several hospitals in their home state of California. But all denied the surgery, she said. So the family turned to Children's Hospital & Medical Center in Omaha.
Only a small minority of babies with Rose's rare chromosomal disorder — trisomy 18 — are carried to term and born alive. Of those, a fraction survive their first year. Because the condition long has been considered fatal, many doctors and hospitals historically have declined medical care for such babies, including feeding tubes and heart surgery.
But that's changing, as new data has emerged indicating that some children with trisomy 18 and its cousin, trisomy 13, can survive longer than once thought, particularly when they get needed care.
As a result, some doctors and hospitals now are opting to provide that care. Parents are finding their way to so-called "trisomy-friendly" institutions through social media and a support group called SOFT, or Support Organization for Trisomy 18, 13 and Related Disorders. SOFT recently held its 32nd annual national conference in Omaha. The event was aimed at providing information for both parents and health care providers. About 300 attended, traveling from as far as Australia, Canada and Aruba.
Through the support group, Willard connected with Children's in Omaha and Dr. James Hammel, chief of its pediatric cardiothoracic surgery division.
She and her daughter traveled to Omaha in late March, when Rose was 6 weeks old. Hammel repaired Rose's heart, and she's now back home and breathing on her own without supplemental oxygen. She recently had a successful procedure in California to place a feeding tube. Children with the conditions often have facial and organ abnormalities, breathing problems and developmental delays, both physical and mental. Rose, now about 6 months old, does have seizures, which are controlled by medication, and some developmental delays, her mom said. She is too young for her family to know all of the challenges she might face.
In the past six months, Children's also has treated trisomy patients from Virginia, Tennessee, Indiana and Iowa.
"What's changed is the understanding (that) if you treat the issues they typically have," such as heart defects and airway problems, Hammel said, "they can live a long time. They can learn and grow and participate in life."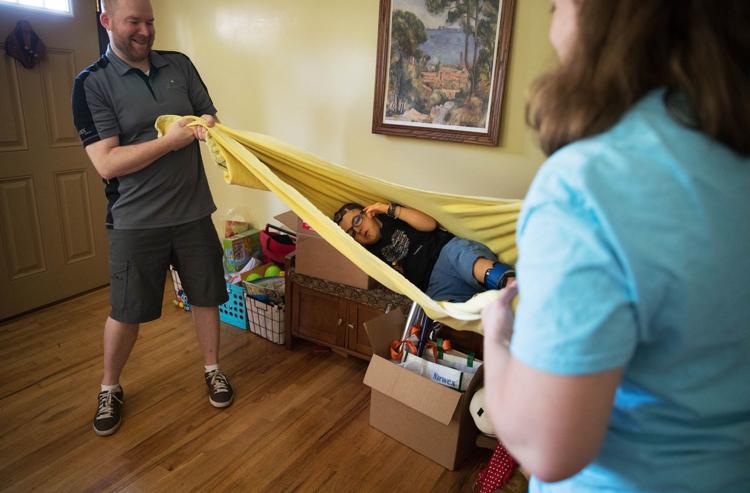 Based on that new understanding, Children's has established a multidisciplinary team of specialists and other medical professionals who review each case comprehensively.
Hammel said there are other hospitals across the country that provide care for trisomy patients, including heart surgery. But he's not aware of any others with a team like Children's. So far, the team has not encountered a child the hospital couldn't help.
"We present options to the family," he said. "We lead them through a very careful process of shared decision-making. It's a process that respects the values and wishes of individual families. We don't make it for them."
Hammel said similar discussions took place 30 to 40 years ago regarding care for children with Down syndrome. Those views, too, have changed over time.
"Now you sit down and give people options," he said. "That will become the case with trisomy 18 and 13, for sure."
People with trisomy 18 and 13 have three copies of chromosomes 18 and 13, respectively, in each cell, instead of the usual two copies. Similarly, people with Down syndrome, also known as trisomy 21, have three copies of all or part of chromosome 21 in their cells.
All three conditions bring developmental and physical delays. But the challenges generally are greater in patients with trisomy 18 and 13. Studies in recent years indicate that more children with the conditions are surviving. Exact numbers and life expectancies are difficult to pinpoint, given the evolving nature of care for such kids and the variation in the conditions' effects. Perhaps one of the best-known children with trisomy 18 is the youngest daughter of former Sen. Rick Santorum, who is now 10. Among those attending the Omaha conference was a California man in his 30s who has mosaic trisomy 18. In the mosaic form, not every cell is affected.
Dr. Meaghann Weaver, division chief of palliative care at Children's, said she began focusing on caring for families as a whole after seeing that they did not define their child's quality of life by their functional status.
"They found such meaning and value in their child being part of the family," she said.
Weaver contacts families before they travel to assess their needs and acquaint them with the support available locally. Many families, she said, arrive traumatized. One had been asked 17 times over two weeks at a different hospital whether they wanted their child resuscitated.
Terra Spiehs-Garst of Omaha, Nebraska's state chairwoman for SOFT, said the new data and evolving views make it particularly important to educate parents and doctors about the conditions.
"This is a rare condition," Spiehs-Garst said. "A lot of physicians haven't seen older kids (with trisomy 18 and 13). They don't know what they can do."
Spiehs-Garst's son, Emerson, is now 7. She and her husband, Tyson Garst, found out he had trisomy 18 when she was 17 weeks pregnant. They were advised to terminate the pregnancy. That recommendation is not uncommon.
Instead, they opted to let Emerson take the lead. At three months, he'd outlived the timeline his pediatrician had learned in medical school. His heart problems were controlled with blood pressure medications, which he's since outgrown. He had surgery on his jaw to help with his breathing. At 15 months, he underwent treatment for a type of kidney cancer often associated with trisomy 18 and has been tumor-free since. While he has difficulty speaking, he can use a communication device and knows his numbers, colors and shapes. He loves dancing and getting hugs from his three brothers.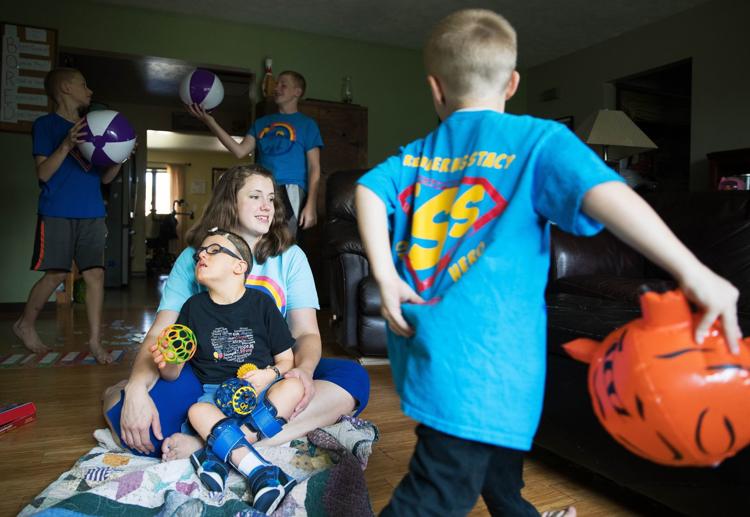 Spiehs-Garst, who serves as SOFT's initial contact for parents with a new diagnosis, said the family isn't naive. They recognize that Emerson has disabilities. But he's also taught the family about patience, love for others and not taking life for granted.
"There are physicians who are starting to realize we need to be looking at the full picture," Spiehs-Garst said. "Just because these kids have a diagnosis does not mean they don't have worth and value."
Dr. John Lantos, director of the Center for Pediatric Bioethics at Children's Mercy Kansas City, wrote in a 2016 editorial that treatment decisions probably won't become clear-cut for trisomy 13 and 18.
The children's conditions vary, as will families' decisions about life-sustaining treatments.
"We see it as a situation in which doctors and parents should sit down together and go over likely outcomes about treatment ... and make decisions together," he said.
Melinda Soerjawitaka of Lincoln, who co-chaired the Omaha conference, said this year's conference agenda itself was a sign of how care has evolved for trisomy kids.
In addition to medical sessions, there were presentations on developing education plans with schools and setting up trusts to care for children long term. Her son, Zalyn, 4, has a mosaic form of trisomy 18. While he is developmentally delayed, he walks and talks well and is learning colors and numbers.
"It's a good problem to need to discuss," Soerjawitaka said. "It means things are changing."