A while back, a large group of Omaha-area doctors, nurses, pharmacists, lab techs and myriad other health care workers received an unusual letter.
It inquired about their hobbies, particularly making music. It wondered how many people with a connection to the University of Nebraska Medical Center either performed tunes with a group or played for their own enjoyment, whether on flute, flugelhorn, fiddle or some other apparatus.
The answer: Quite a few. About 150 people expressed interest in setting aside medical instruments for musical instruments at least once a week.
And the Nebraska Medical Orchestra was born.
Under the direction of Matthew Brooks, director of orchestras at the University of Nebraska at Omaha, the musicians practice for a couple of hours each Wednesday and have presented several concerts.
For an orchestra that formed just last year — and mostly featuring hobby musicians — it's pretty good.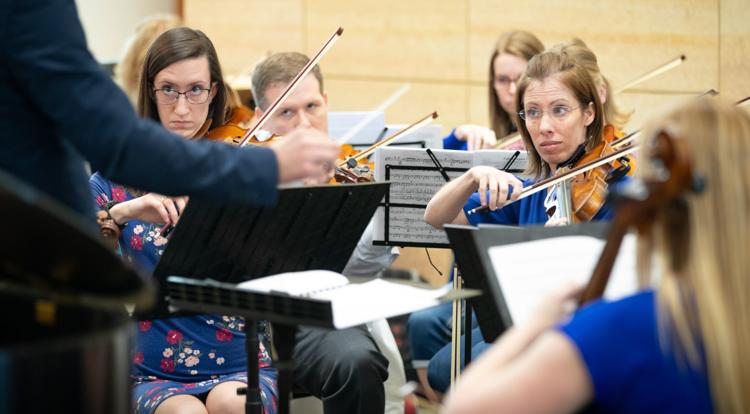 "They've come a long way with a challenging repertoire," said Brooks, who has conducted several orchestras over his career. "Folks in health professions are high achievers."
The orchestra's lineup includes works by Wolfgang Amadeus Mozart, Gabriel Fauré and Johann Sebastian Bach, three heavy-hitters of the classical world, among other composers.
Music and camaraderie are only one reason behind the orchestra's creation. It also has health benefits.
Medical professionals are experiencing increasing levels of burnout because of changes such as the Affordable Care Act, which brought in more patients, and electronic record-keeping, which requires more of physicians and nurses than previous charting methods, said Dr. Steven Wengel, a med center psychiatrist. Some spend two to three hours each night catching up on paperwork.
"Doctors and nurses are feeling the pinch. It's very, very fulfilling, but also very challenging," said Wengel, who became the assistant vice chancellor of campus wellness for UNO and UNMC last year.
He read a study, published in the Journal of General Internal Medicine in 2017, showing that medical students who are exposed to the humanities have much lower burnout rates and score higher on measures of empathy and wisdom, as well as tolerance for ambiguity, which helps when doctors are trying to diagnose patients.
Wengel started to think about antidotes for beleaguered health care workers (besides ongoing work to improve computerized charting).
"What can we do to refresh their souls, recharge their batteries?" he asked.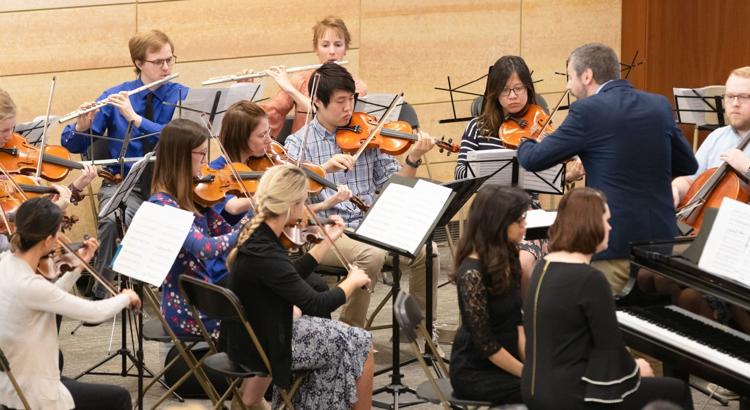 Shortly after Wengel's appointment in 2018, a colleague came to him with an idea. Dr. Matt Rizzo, chairman of the department of neurological services at the med center, had been in a medical orchestra while he was a faculty member at the University of Iowa.
"He urged me to get an orchestra going here," Wengel said.
Washington Garcia had nurtured a similar notion since his student days in the Peabody School of Music at Johns Hopkins University in Baltimore, also noted for its world-class hospital and medical school.
That hospital had an orchestra made up of doctors, and it was of particular interest to Garcia because his father was a neurological surgeon in Ecuador who never operated without listening to classical music in the surgical suites. That fascinated the younger Garcia, who is a concert pianist as well as director of the UNO School of Music.
He attended a concert by the Johns Hopkins Orchestra.
"I thought, 'Wow, that is incredible,' " Garcia said. "It was really, really good. One of the reasons doctors participated was it brought them a way to manage stress. I thought, 'I want to do that someday.' "
Garcia worked with Rizzo and Wengel to make the vision a reality, and engaged UNO's Brooks as conductor.
"I literally had just moved into town when I had a meeting (with Garcia and Wengel)," Brooks said. "The medical orchestra thing really sounded interesting. It was starting from scratch, ground zero. That's always a unique opportunity."
Sign up for the Live Well Nebraska newsletter
Get the latest health headlines and inspiring stories straight to your inbox.
Brooks and the others were gratified — and somewhat surprised — that interest in the group was so high.
"I thought we'd get 14 people and see how it goes," Brooks said.
They whittled the large pool of musicians down to 55 members, mostly to make sure the orchestra had the proper balance.
Orchestra participants have a variety of musical experience. Some haven't played since high school (which may not be all that long ago for a few). And some, Brooks said, are quite accomplished.
"That was my biggest curiosity: How do we get (these people) into one group and sound good?" he said.
He admitted that the orchestra isn't up to professional standards, but a recent concert at the Fred & Pamela Buffett Cancer Center illustrated that it's a more-than-reasonable facsimile.
The group, pared down a little to fit the center's lobby, performed an energetic and stirring version of Mozart's Piano Concerto No. 4 with soloist Kristin Jónína Taylor, an assistant professor of piano at UNO.
It also played the haunting "Pavane, Op. 50" by Fauré and Brandenburg Concerto No. 4 in G Major by Bach, with a trio consisting of flutists Dr. Sarah Holstein, a UNMC cancer researcher, and Dr. Melinda Chen, a pediatric endocrinologist from Children's Hospital, and violinist Mary Perkinson, an assistant professor and coordinator of string studios at UNO who played with the orchestra.
Holstein said she gets a lot out of the orchestra.
"I love playing music. It uses a different part of my brain than the part that's constantly worrying about work-related things or patients," she said. "That goes away, and I can focus on the music and the joy of playing with others."
She also has met people she normally wouldn't have run into at work, such as Chen, who spends much of her work time across town. They've started playing flute together for fun during off hours, and now will perform for a university event in June.
The medical orchestra also has caused others at UNMC to pursue new friendships and musical opportunities. Wengel said medical student Laura Newton put together a singing group that has performed at several events, including a holiday concert.
"They call themselves Doc'Appella," he said. "Get it?"
Holstein has been playing the flute for more than 30 years, since the fifth grade. She considered majoring in music, but ultimately chose medicine because she found it challenging and intellectually stimulating.
She's had long stretches when she's been too busy to play, but she'll never totally forsake it.
"It's always something I go back to because it's a really good stress reliever," she said.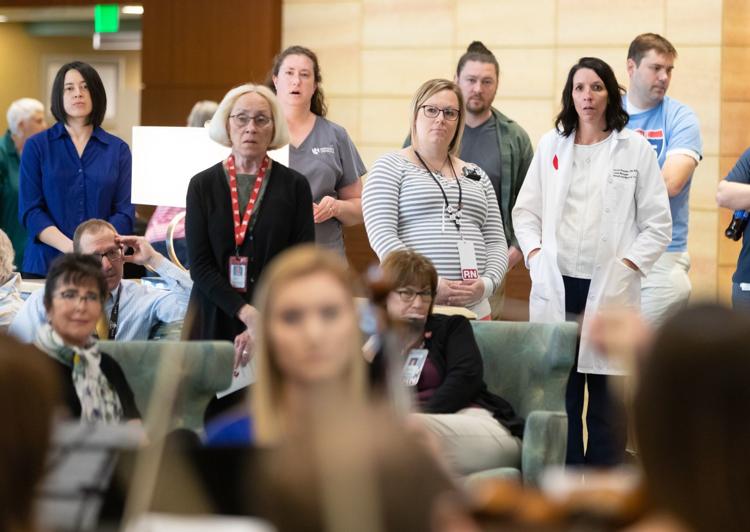 From all appearances, the concerts are great stress relievers for the audience, too. The recent orchestra program attracted a large and diverse crowd to the Buffett Center lobby — health care workers, clerical staff, food-service workers, volunteers and a number of patients. One man, wearing a surgical mask to ward off germs, stood gripping his IV pole for more than half the nearly hourlong concert, wearing a peaceful expression as he absorbed Mozart and Bach.
Wengel plans to conduct a survey on the impact of the orchestra on the stress level of its members, and he thinks a similar study of patients also would be useful.
He already knows it's making a difference, notably in the relationships between health care workers and the people they treat.
"I've heard people say (at concerts), 'Hey, that's my doc,' and they're surprised and shocked and happy about that," he said. "It humanizes doctors."
It has the same effect on the musically inclined medical professionals.
"It mixes up people who don't have time during the day to sit together and talk: doctor and nurse, doctor and med student," Wengel said. "It doesn't matter what your job is during the day. It puts people on the same level."