With less than a week to spare, Sarpy County officials are backing out of deal to build a mental health crisis center along a busy Bellevue intersection.
The county had approved a $1 million purchase agreement for a six-acre plot of land near 25th Street and Highway 370 in Bellevue. But the county announced Thursday that because of ongoing conversations with potential partners, service organizations and donors, they've decided against purchasing the Bellevue plot.
Calling it a "No. 1 priority," Sarpy County Board Chairman Don Kelly said the county still plans to establish a crisis center. They are in talks with a local health system about the project, Kelly said in an interview with The World-Herald, and are working to finalize a partnership.
The proposed facility would be a place where law enforcement officers could bring people who are experiencing a mental health crisis but don't belong in jail. County leaders have said the jail and area emergency rooms have been burdened by the absence of a dedicated mental health facility.
"Mental illness is medical; it's not criminal," Kelly said. "When people are in crisis, they've got to be able to be addressed by people who have the knowledge, skill and ability to do that. That's not in a jail, and that's not in a standalone facility."
Kelly said they have looked at other potential sites suggested by Bellevue city officials and have visited mental health facilities elsewhere in the nation. Through that process, Kelly said, county officials realized that they wanted the facility to be "co-located" with a medical facility.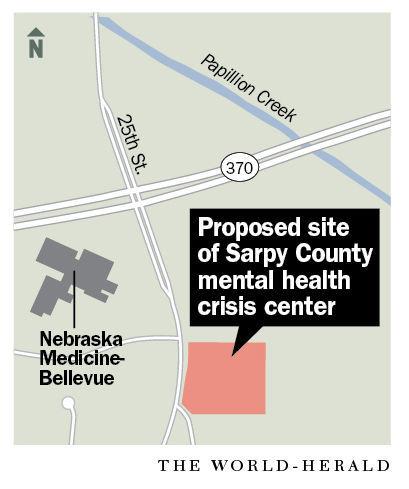 The purchase agreement for the land near 25th Street and Highway 370 was approved in February. The agreement included a 120-day period allowing the county to withdraw from the purchase without any financial penalties.
Kelly said that since announcing the facility, the county has received calls, emails and messages of support, as well as firsthand accounts from people and families affected by mental illness.
Bellevue officials, including Mayor Rusty Hike, also spoke in support of such a facility but against the 25th Street site.
They argued that the land could instead attract private development, which would bring tax revenue to the city. The crisis center, on the other hand, would be tax-exempt, meaning that the city in which it's located would not collect property taxes.
Sign up for The World-Herald's afternoon updates
Receive a summary of the day's popular and trending stories from Omaha.com.
"Everybody knows that mental health is an issue today, and we're certainly not opposed to coming up with the best solution to that," Hike told The World-Herald on Thursday. "We're all for it. It was simply the location."
At a meeting in April, the Bellevue City Council passed a symbolic resolution saying the project should be taken elsewhere.
Hike said he was happy to hear about the change in plans. The city will work on finding a business for the space once the property goes back on the market, Hike said. Several years ago, a group of doctors looked to build a clinic on the land — vacant since at least 2008 — and officials would like to find something along those lines again.
The crisis center is expected to be available for use by all Sarpy County law enforcement agencies, as well as Cass, Dodge, Douglas and Washington Counties.
Photos: Our best shots of 2019 (so far)
Take a spin through the best of our staff photos from 2019. The gallery will be updated throughout our journey through the next year.