Health alerts continue at a handful of eastern Nebraska lakes because of harmful algal blooms, known as toxic blue-green algae.
An alert was issued for Rockford Lake in Gage County. Alerts are still in place at Wagon Train Lake in Lancaster County and at Willow Creek Reservoir in Pierce County.
Papillion city officials have not been able to verify reports of a dog death linked to a lake at Walnut Creek Recreation Area. A city spokesman said the water will be tested next week out of caution.
The algae that was confirmed in the other Nebraska lakes is the same kind that was found last month at a lake in Wilmington, North Carolina, that killed three dogs.
Alerts will be in place for at least two more weeks, according to a joint press release from the Nebraska Department of Health and Human Services, Nebraska Department of Environment and Energy, and Nebraska Game and Parks Commission. Lakes that are on a health alert must have two consecutive weeks of readings below the threshold before the alert can be discontinued.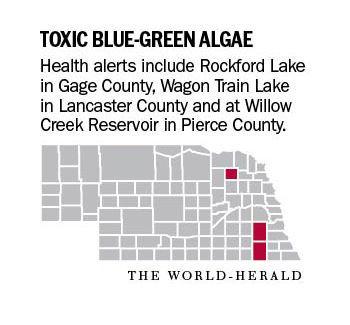 Some social media reports have indicated that there may be toxic blue-green algae at Walnut Creek in Papillion. A Facebook post citing an unnamed emergency vet clinic claimed that a dog came into the facility after possible exposure to the algae at the dog park. The post went on to say the dog later died.
"We haven't had any blue-green algae, but water conditions can change at a moment's notice," said city spokesman Trenton Albers.
Albers said the water will be tested next week. An informational sign is posted at the lake to let people know what to look for when it comes to the harmful algal blooms.
For dog owners who are concerned, the recreation area has an enclosed dog park that doesn't have water access, Albers said. An adjacent area at the dog park does connect to a lake.
Officials with the Department of Environment and Energy said they don't test the water at Walnut Creek. Instead, they focus on lakes with public beaches and no motorized boat restrictions, said Dave Schumacher, surface water unit supervisor.
The algal blooms usually have heavy pea-green-colored clumps with a thickness similar to motor oil. It often looks like thick paint in the water and accumulates near the shoreline.
Sign up for The World-Herald's afternoon updates
Receive a summary of the day's popular and trending stories from Omaha.com.
The Washington Post reported that toxic algae can affect the nervous system, liver and kidneys in humans and animals.
According to the American Kennel Club, symptoms in dogs — which can show up 15 minutes to several days after exposure — include diarrhea, vomiting, drooling, weakness, disorientation, unconsciousness, seizures and difficulty breathing.
During alerts, recreational boating and fishing are allowed. Public areas can still be used for camping, picnics and outdoor activities. But people should avoid exposure to the water, especially any activities that could lead to swallowing water. Don't let pets get in the water or drink from an affected lake.