The first Deborah Lowndes knew anything was amiss, she was sitting across from an Omaha police detective.
An officer had called her in December 2016, saying he wanted to talk to her about her orthopedic surgeon. Lowndes had gladly gone in, expecting to vouch for Mark Dietrich, perhaps against another patient's claim of malpractice.
But Omaha Police Detective Chad Kavars slapped a recorder on the table and began relaying allegations that were unusual even to a sex-crimes investigator: During routine hip surgery, in a room full of nurses and hospital personnel, Dietrich had touched Lowndes' breast and her vagina while she was under anesthesia, Kavars alleged.
Further, Kavars told Lowndes, nurses and surgical staff had been concerned about Dietrich's behavior in the month leading up to her surgery. The detective told Lowndes that nurses and hospital personnel had watched Dietrich, a hip and knee surgeon, slip a gloveless hand under blankets near the private parts of three unconscious females, ages 13 to adult.
For Lowndes' Dec. 7, 2016, surgery, OrthoNebraska included in the operating room a staff member whose only job was to watch Dietrich, the detective told Lowndes and her husband.
Sign up for World-Herald news alerts
Be the first to know when news happens. Get the latest breaking headlines sent straight to your inbox.
Wait, what? Lowndes thought, in the ultimate wait-what moment.
As Lowndes' mind swirled, the detective had a question: Would she be willing to be listed as a "victim" in police reports?
In that circumstance, as she processed what she had just been told, a million other descriptors could have summed up her state: Mystified. Distressed. Disturbed. Enraged. Violated.
The word "victim" didn't feel like an exact fit. But in the terms that the detective was talking — categories on police reports, listings in public records — she gave the green light.
"Go ahead," she told the detective. "I wanna make sure this doesn't happen to anyone else."
Nebraska Medicine officials said in a statement Tuesday that they are aware of allegations involving one of their former physicians. "Because of pending litigation," they said in the statement, "we cannot talk further about the circumstances."
One year later, a lawsuit alleges, it did. A Florida woman in her 20s, who is identified only by her initials, filed a federal lawsuit last month against Dietrich and Nebraska Medicine, alleging that Dietrich touched her vagina during knee surgery.
That alleged abuse — reported by a Nebraska Medicine observer — came a year after an OrthoNebraska observer said she saw Dietrich touch Lowndes twice. It occurred six months after Omaha City Prosecutor Matt Kuhse declined to file charges against Dietrich over what the OrthoNebraska observer saw. And it occurred six months after Lowndes filed a public lawsuit against the doctor.
"It made me so sad," Lowndes told The World-Herald in a recent interview. "My first thought was, 'My God, this poor woman.' It could have been stopped after me. It could have been stopped before me."
Dietrich's attorney, Robert Mooney, said his client "vehemently denies" any inappropriate touching. In a phone call, Mooney described the case as "not exactly breaking news" and said he and Dietrich would not comment further.
Dietrich has not been charged with a crime — and his medical license has not been affected. In a July court filing, he was listed as being unemployed. He recently applied for a state license to become a pharmacy technician.
Mooney argued in court documents that the only touching of Lowndes' genital areas that could have occurred would have been while Lowndes' pelvis was positioned against a post that keeps the body from sliding off the table.
"Dr. Dietrich adamantly denies that any improper touching of plaintiff took place and denies that at any time during any procedure that he improperly touched Ms. Lowndes outside the bounds of good and proper surgical procedure," Mooney wrote. "All acts he took during Deborah Lowndes' surgery were directly related to the procedure he was performing."
The two hospitals where touching is alleged to have occurred issued general statements about their handling of Dietrich.
Neither OrthoNebraska (site of the December 2016 procedure on Lowndes) nor the Nebraska Medical Center (site of the December 2017 procedure on the Florida woman) would say whether OrthoNebraska informed Nebraska Medical Center officials about concerns about Dietrich.
OrthoNebraska officials said they reported Dietrich to law enforcement immediately after the Lowndes episode. Spokeswoman Katie Benak said Dietrich was "never an OrthoNebraska physician; rather, he had privileges at ... several facilities in the metro area."
"The hospital fully complied with the mandatory reporting requirement set in place by Nebraska law by reporting to the authorities," Benak said.
In response to a list of questions from The World-Herald, Nebraska Medicine issued a general statement: "We are aware of allegations involving one of our former physicians. Because of pending litigation, we cannot talk further about the circumstances. Nebraska Medicine holds its physicians and staff to the highest professional standards and the safety of our patients is our top priority."
Maren Chaloupka, a Scottsbluff attorney representing the Florida woman, blasted that assertion.
In a court filing, she said Nebraska Medicine was so concerned about Dietrich's behavior that it put an observer in the operating room to watch him. Despite a lawsuit filed in 2017, and despite their own observer's account of Dietrich touching the Florida woman in late 2017, Dietrich maintained privileges to practice at Nebraska Medicine until October 2018, Chaloupka said.
"There are no two ways around the fact that NMC knew it had, at least, a potential predator privileged to perform surgery," Chaloupka wrote in the lawsuit. "Yet (Nebraska Medicine) maintained his access to anesthetized patients.
"A.W. will always know that NMC assessed her to be not valuable enough to protect her from Dietrich."
Omaha police refused to release any reports on the case. Despite Lowndes' willingness to be listed publicly, the department classified its police reports on the doctor as "informational" only — rendering them inaccessible to the press or public, Deputy Chief Ken Kanger said.
The following account is based on interviews with Lowndes and her husband, Tim; attorneys; court documents; and an audiotape of one of Detective Kavars' interviews with Lowndes.
* * *
Lowndes, 51, knows her way around the medical field.
She was a nurse before she launched a career in pharmaceutical sales.
The Omaha woman had been experiencing pain in her hip — an injury she partially attributed to a fall from a horse. In 2014, she asked for referrals from her connections in Omaha's medical community. A friend, a medical device salesman, recommended Dietrich.
She found Dietrich to be personable, engaging and lacking the arrogance of some surgeons she had encountered in her career. He diagnosed problems with cartilage around her hip and determined that the ball of her hip was bone-on-bone against the hip socket.
He would perform arthroscopic surgery, a minimally invasive procedure.
The first surgery seemed to go well. Lowndes said she had little discomfort for about 14 months after surgery. Then the pain recurred.
Lowndes returned to Dietrich. The doctor examined her and found that she had substantial scar tissue near her hip. Lowndes' skin and tissue tends to form keloids — a condition where incisions and underlying tissue swell and harden.
By mid-November 2016, Dietrich determined that he should do a second arthroscopic surgery on Lowndes to try to clean up the hip.
Looking back now, Lowndes said, Dietrich's demeanor had changed a bit. He seemed preoccupied, distracted, she said.
Here's what she didn't know: Hospital staff were noticing things as well.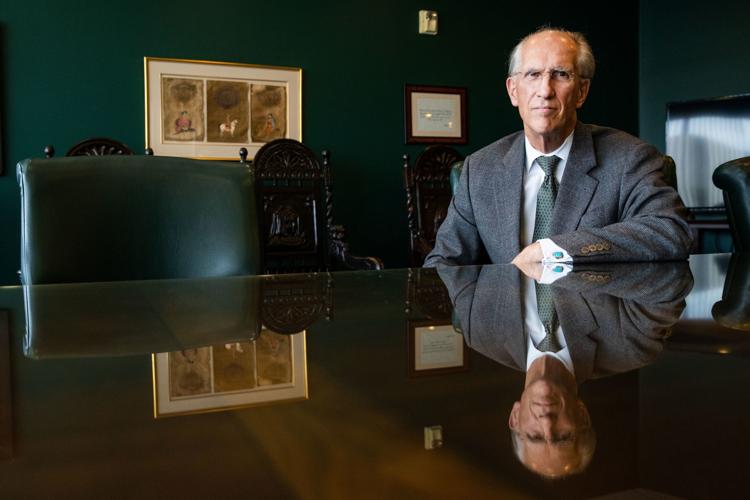 Kavars, the Omaha police detective, would later tell Lowndes and her husband that OrthoNebraska staff became concerned that Dietrich's gloveless hands were under surgical blankets near unconscious female patients' private parts during procedures on Nov. 9, 16 and 30, 2016.
One of the cases involved a 13-year-old girl, according to the detective's account to Lowndes. In another case, the detective told Lowndes and her husband, a nurse confronted Dietrich about what he was doing with his hands under a surgical blanket near a patient's genitals. Dietrich told the nurse that he was checking the patient's dressing, according to the account the detective gave Deb and Tim Lowndes.
By the time of Lowndes' Dec. 7, 2016, surgery, OrthoNebraska had developed a plan, according to the Lowndes' attorney, David Domina, and the account Kavar provided to the couple. A nurse would be placed in the operating room as an observer — eyes focused solely on Dietrich.
The problem, according to Lowndes and her lawyer: No one from OrthoNebraska told Lowndes — before or after the surgery — of the plan.
No one mentioned that their concerns about Dietrich's behavior had mounted with each passing week. No one had informed law enforcement that they had suspicions of possible criminal touching.
No one told her that her anesthetized body was being used as a "test dummy" or "bait" in the hospital's attempts at what Domina called an "internal, vigilante investigation."
* * *

Shortly after Lowndes entered the operating room at OrthoNebraska at 3:14 p.m., an anesthesiologist slipped a mask over her. Once unconscious, her body was transitioned to an operating table that is outfitted with a perineal post to prevent a patient from sliding off. Personnel, including Dietrich, maneuvered Lowndes' body so that her pelvis was pressed against the post.
The doctor then worked through a small incision — basically a quarter-sized hole — on the outside of the hip.
Before Dietrich performed the surgery, the observer saw him touch her vagina with his gloveless hand. The touch lasted 2 to 3 seconds, Detective Kavars told Tim and Deb Lowndes.
There was no medical reason for such contact, Domina alleges. The attorney says it didn't occur during the placement of Lowndes' body against the post.
The OrthoNebraska observer left the room, presumably to report what was seen.
The surgery ended at 4:15 p.m. The observer returned to the operating room.
During the course of transferring Lowndes' body from the surgical table back to a gurney, the observer saw Dietrich touching Lowndes' breast, Kavars told the couple. Dietrich also denies that accusation.
Lowndes eventually awoke and went home, with instructions to return in two weeks.
No one from the hospital told Lowndes anything about what the observer had witnessed. She wouldn't find out until Omaha police called.
* * *
Thirty-three months later, Lowndes and her attorney still have no clue what is contained in the hospital's official account of Dietrich's behavior.
The reason: OrthoNebraska won't provide those reports.
Brien Welch, an attorney representing OrthoNebraska, said the hospital can't provide those reports because of Nebraska's Health-Care Quality Improvement Act, which allows hospitals to confidentially conduct peer review of staff.
Welch says the hospital placed the observer in the room as part of a "peer review" of Dietrich, not as part of a criminal investigation.
Nebraska law "specifically provides that peer review shall be held in confidence and shall not be held to discovery in any civil (lawsuit)," Welch said.
Welch said the hospital complied with all applicable Nebraska laws. Benak, the hospital spokeswoman, went a step further, suggesting that the hospital acted with courage.
"We strongly believe that because of our culture of staff empowerment, and an intense focus on patient safety, our team had the incredible courage to speak up," the spokeswoman said.
Deb Lowndes cringes at the notion that hospital officials were courageous.
As a former nurse, she applauds the nurses for voicing concerns about Dietrich. But she asks this: How much courage did it take to not inform her beforehand that her anesthetized body would be used to monitor a doctor? And this: Where was the hospital's courage in not informing her afterward?
Further, she wonders, why did OrthoNebraska allow Dietrich to continue with her surgery after the observer reported she saw touching? Why did OrthoNebraska allow her to see him in a follow-up appointment?
Lowndes said that visit was surreal. She went to OrthoNebraska on Dec. 21, 2016, to get her stitches out. No one was in the waiting room or in a back room. She was led to a patient room. Dietrich and a radiology technician entered. Dietrich had the tech take out her stitches.
"There's usually this hustle and bustle — nurses and staff going everywhere," Lowndes said. "There was hardly anyone there. I absolutely thought that this is really strange."
Unbeknownst to her, OrthoNebraska was in the process of parting ways with Dietrich.
Further questions remain about what happened, or didn't happen, to Dietrich after he left OrthoNebraska. The latest lawsuit contends that he continued to work at Nebraska Medicine for nearly two years after the Lowndes incident.
Within a year of Lowndes' surgery, Nebraska Medicine, like OrthoNebraska before it, placed an observer in the operating room to watch Dietrich before, during and after the operation on the Florida woman.
During that Dec. 1, 2017, arthroscopic knee surgery, the observer watched as Dietrich "removed a glove and fondled her vagina," according to the lawsuit filed by Chaloupka.
Nebraska Medicine allowed Dietrich to perform follow-up visits with the Florida woman on Dec. 11, 2017, and Feb. 2, 2018, the lawsuit says.
The Florida woman was unaware of any concerns. The first she knew anything was amiss: In October 2018, 10 months after her surgery, Nebraska Medicine officials called to inform her "that someone present in the operating room ... had reported that Dietrich had touched (her) vagina with his ungloved hand," the lawsuit says.
The lawsuit says that Nebraska Medicine offered to pay for three mental health counseling sessions for the woman.
Neither Nebraska Medicine nor OrthoNebraska would answer World-Herald questions about how many patients they suspect were touched. Nor would they answer whether the hospitals have contacted those patients.
The federal lawsuit against Dietrich and Nebraska Medicine is in its beginning stages. Lowndes' lawsuit against Dietrich is tentatively set for trial this fall, though it could be delayed.
Domina said his pursuit of answers in Lowndes' case has been frustrated by OrthoNebraska's argument that the observer was part of a confidential peer review. The state's health care improvement law states that peer review is designed to "evaluate the quality and efficiency of health care providers."
Placing an observer in Dietrich's operating room wasn't about quality or efficiency; it was about potential criminal activity, Domina said.
"We are demanding that a health care organization be forthcoming about what happens to its patients," Domina said. "Planning a circumstance in which you put a patient in jeopardy cannot be kept secret from that jeopardized patient."
* * *
Lowndes didn't know what the hospitals would do with Dietrich.
But she understood from Kavars, the Omaha police detective, that a complaint had been filed with the Nebraska Medical Licensing Board.
Complaints against doctors are handled in secret until the board decides whether to pursue formal charges, sometimes after years of investigation. Typically, those complaints aren't made public until the board has decided the discipline, be it a reprimand, suspension or revocation.
Dietrich's medical license remains intact. The Nebraska Department of Health and Human Services says it cannot comment.
Whether an administrative board acted or not, Deb and Tim Lowndes said they thought a criminal investigation would resolve the matter.
Nebraska law makes it a crime to touch anyone sexually when that person does not give consent or is unable to give consent. Typically, the latter part of that law applies when people are rendered unconscious due to drugs or alcohol that they either willingly or unwillingly ingested.
Touching a person's genitals is a misdemeanor. Penetration, however slight, is a felony.
Those in the operating room were unable to tell whether Lowndes was penetrated, according to Kavar's account to the couple.
Douglas County Attorney Don Kleine said that his office, which handles felonies, deferred a decision on charges in 2017 because police could establish only that the contact involved touching, a misdemeanor.
That meant that Omaha police's investigation into Lowndes' case fell to Kuhse, the Omaha city prosecutor.
Deb and Tim Lowndes said they were pleased with the persistence of Detective Kavars. He conducted several interviews and kept them updated on what he had found.
Then came the spring of 2017. About four months after he had first called, Kavars asked if he could visit with Deb Lowndes again. At that meeting, Kavars broke the news to Lowndes. Dietrich would not be charged.
The reason Kavars gave: Kuhse, the city prosecutor, wasn't sure he could prove that any alleged touching of Lowndes' private parts was "for sexual gratification" — a requirement under the law.
"I mean, why else do you touch someone there?" Lowndes said.
Kuhse said he could not comment on why he didn't bring charges. "All I can ethically say is it was reviewed and there wasn't enough evidence to move forward with a criminal case," he said Aug. 30.
In a May 2017 letter to Lowndes, Kuhse wrote that he had "thoroughly reviewed all the evidence provided to me by the Omaha Police Department."
"I did not make this decision lightly given the allegations involved," Kuhse wrote. "Applying the relevant criminal statutes and municipal ordinances, I determined that there was insufficient evidence to prosecute Dr. Dietrich. Prosecutors may not file a criminal case where the evidence does not support the possibility of guilt beyond a reasonable doubt."
Domina said he's hopeful that Kleine or Kuhse will take another look at the case. The problem with that request: Unless anyone can prove a felony, the 18-month statute of limitations on misdemeanors has expired.
Domina said he was at a loss as to why Kuhse didn't charge Dietrich at least in connection with allegations he touched Lowndes' breast. Both Domina and Chaloupka noted that it is rare for authorities to have independent witnesses to sexual contact.
"It makes no sense," Domina said.
* * *
One thing keeps rolling through Deb Lowndes' mind, her last memory before the anesthesia set in.
Rolling in on the gurney, she wasn't nervous about her hip or the procedure or her doctor. Her foremost fear was being naked in front of strangers.
"You have this flimsy gown on," she said. "I remember saying to the nurses, 'Hey, I'm all naked under here. Can you make sure to keep me covered up?' And the nurse said, 'Don't worry, we'll take care of you.' "
Three years later, she has far more things to be worried about.
Her husband says she's still outgoing, but is less social than she once was. She has a therapist and a part-therapy/part-guard dog, a German shepherd named Jakoby. She received her permit to carry a gun.
She freaks out — her words — if someone rushes up behind her. She sometimes sleeps fitfully and has a recurring nightmare of shoes clicking against an antiseptic marble floor.
Loved ones say she's authentic and genuine and strong. Lowndes says that comes from her supportive family, including her husband, three children and four grandchildren.
"I wear my heart smack dab in the middle of my forehead," she says. "They know what I'm thinking and how I'm feeling."
Her feelings now: confusion. At times, exasperation. Other times, determination.
Hers is a strange stew. She didn't experience the alleged assault in real time, didn't know anything about the allegations until weeks later. So, years later, she struggles to absorb it. She has heard of women who have been attacked by strangers, overcome by an intimate partner or drugged at a party. Her ordeal began in a hospital, a place she went to heal.
"It makes me really angry that they didn't protect me," she said, "that, after all this time, nothing has come of this."
Lowndes thinks back to that conversation three years ago with Kavars, when she gave the police officer permission to list her as a victim.
Now, she would rather see other words associated with her case. Words like survivor. Words like justice.
"My (25-year-old) daughter just keeps telling me how proud of me she is," Lowndes said, holding back tears. "It's one of the reasons I speak out.
"I want her and everyone else to know, 'You can't have something like this happen to you and be quiet.' "
Notable crime news of 2019
Read about some of the biggest and strangest crime stories in Nebraska and western Iowa.