Jake Schmitz may have landed himself a job.
"I get the pleasure of hiring future firefighters and I think you'd be a great fit for the Omaha Fire Department," Omaha Fire Chief Dan Olsen told Jake.
Omaha Police Chief Todd Schmaderer joked to Jake's mom that in a few years, Jake would set his sights on being a police officer.
"No, I think he'll stay on the firetruck," Olsen quipped back.
The chiefs weren't actually on the fifth and sixth floors of Children's Hospital & Medical Center for recruiting purposes. Instead, they and a handful of other department members were visiting patients at the Omaha hospital.
Sign up for The World-Herald's afternoon updates
Receive a summary of the day's popular and trending stories from Omaha.com.
The visit Thursday was an extension of the Omaha Police Department's Kids and Cops program, started in 2016, which connects officers with children who have medical issues. This was the first time both departments came together for a trip to the Omaha hospital.
The visit was a good way to show kids that police officers and firefighters are more than just a uniform, Schmaderer said.
"We are humans. We have kids, and we have hearts," he said. "I personally look forward to this. It's my opportunity to see a smiling face and represent the Police Department."
Their first stop was in Jake's room. The Grand Island boy, hospitalized with a bone infection, was disappointed when he missed a visit from firefighters at preschool.
Thursday's meeting helped make up for it. During their chat, Jake was shy and reserved.
Once the chiefs and a crowd of television cameras left the room, Jake tried on his new red plastic firefighter helmet and rolled the squishy fire hydrant toy around his bed.
Down the hall, Schmaderer and Olsen dropped off goodies for 9-year-old Devin Ray Jr. The Omaha boy sat examining his new swag, including a coloring book, ice pack and fire helmet.
Devin has been in the hospital for two weeks recovering from a burst appendix and a host of other medical issues. His mom, Brandy Carter, said she was grateful for the visit.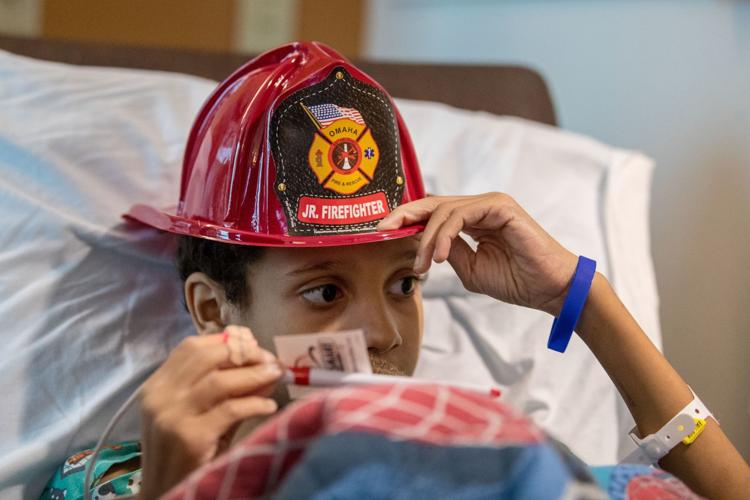 "I think it's confirmation to the kids that they're important to more than just family and friends. They're important to the wider community," she said.
As for Devin, he wants to one day join the Fire Department. He hopes he made a good impression on the chief.
"I'm happy that they appreciate me," he said.
Olsen, the fire chief, said it's important for department members to get out and meet the young patients. It's a simple gesture, he added, to show kids they can trust the first responders.
"The least we can do is visit and brighten their days," Olsen said. "We work daily to bring the departments together."
Sadie Thompson doesn't have her sights set on a career in public safety, but she still enjoyed the visit.
The 10-year-old La Vista girl gave Schmaderer and Olsen a tour of her stuffed animal collection. She hoisted her newest animal, a rainbow-colored critter, out for the chiefs to feel.
"This one's super soft," she said.
Thompson bonded with the chiefs over her love for dogs. She oohed and ahhed at each gift they gave her, including stickers and PopSockets.
Visits from special guests help to normalize the hospital experience for kids, said Terry Patterson, director of family resources at the hospital.
Emry Huse, 5, was excited to add new fire helmets — one red and one with a Dalmatian pattern — to her collection. Emry, who was diagnosed with leukemia this summer, dressed as a firefighter for Halloween.
A roundup of inspirational stories from Midlanders with heart
There's the woman with MS who runs despite her diagnosis. The 7-year-old born without his left hand who plays baseball just like the other kids his age. The refugee who turned to Zumba to help her recover from cancer treatments. Check out their inspiring stories and others below.