With health experts' eyes trained on China and the outbreak of a new strain there, Americans have been hearing a lot about coronavirus.
But it's important to know that not all coronaviruses are created equal.
Coronaviruses are common, and there are a lot of them, most causing only mild illness, including the common cold, said Dr. Angela Hewlett, an infectious diseases physician with Nebraska Medicine. Symptoms may include runny noses and sore throats.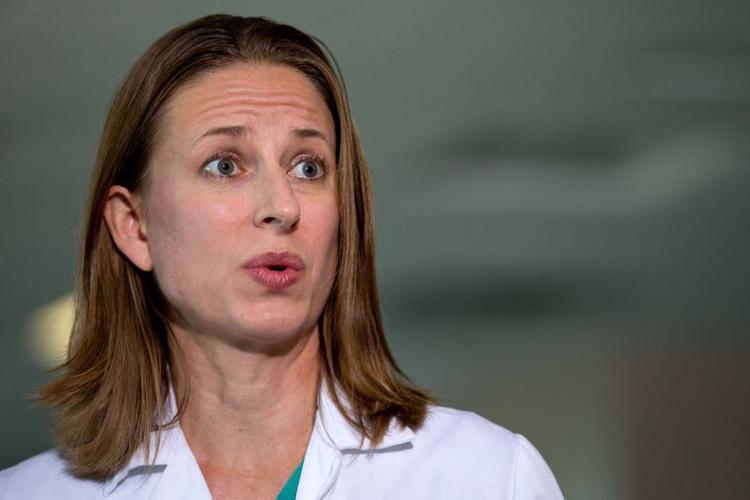 The new one that's been identified in China, however, is different, said Hewlett, the medical director of the Nebraska Biocontainment Unit. It can cause more severe illness, including pneumonia. It's more similar to the coronaviruses that cause Middle East respiratory syndrome, or MERS, and severe acute respiratory syndrome, or SARS, than to the coronaviruses circulating in the community.
The U.S. on Tuesday reported its first case of the coronavirus that is circulating in China, saying a Washington state resident who returned last week from the outbreak's epicenter was hospitalized in good condition near Seattle, the Associated Press reported.
As a precaution, international airports in San Francisco, Los Angeles and New York that receive passengers traveling from Wuhan in China, where the outbreak of the new coronavirus is believed to have started, last week began screening to detect travelers who may have been sickened by it. The Centers for Disease Control and Prevention said the agency would add screenings at two more airports — Chicago and Atlanta — this week.
Nebraska Medicine also has added Wuhan to the travel locations patients are screened for when they visit clinics or the emergency room.
During such visits, health care providers start by asking patients whether they have a fever, cough or rash, Hewlett said. Those who do are asked to wear a mask. That's an important way to control the spread of respiratory illnesses, including influenza.
After that, patients are asked whether they have traveled outside the United States within the past month and, if so, where they have traveled. The answers could suggest MERS, if patients have traveled to the Arabian Peninsula, or Ebola, if they have visited the Democratic Republic of the Congo. But the travel question also can pick up on other potential concerns, such as malaria, in travelers who have been to parts of Africa or South America.
But Hewlett said Nebraska and Iowa residents face a more immediate concern than the new coronavirus.
"I would be much more worried about influenza than this novel coronavirus in China," she said.
The CDC estimates that influenza has caused between 12,000 and 60,000 deaths a year in the United States alone since 2010.
The good news, said Dr. James Lawler, also a Nebraska Medicine infectious diseases specialist, is that health authorities have become much better at detecting such outbreaks since SARS emerged in China in 2003.
It took months before SARS was identified and appropriate travel screenings were put in place. The response to the new outbreak has been much quicker and more transparent.
"We're well ahead of where we have been in detecting these emerging outbreaks," said Lawler, co-director of the Global Center for Health Security at the University of Nebraska Medical Center.
As for the flu, it's not too late to get the shot. Those who are sick should stay home. People should cover their coughs and wash their hands. Both go a long way toward preventing the spread of all kinds of viruses.
17 rare and unusual health stories out of Omaha
One rare disease left an Omaha doctor eating a shakelike formula to supplement her diet. A friend said it tasted like cat food. An Omaha man woke up after his family took him off life support. And a Lincoln teen is allergic to almost everything.
Check out the stories on their unusual ailments and sometimes equally unusual treatment plans.