Madonna Rehabilitation Hospitals plan to break ground next spring on a $57 million construction and renovation project at their Lincoln campus, officials announced Wednesday.
The project includes the addition of a nearly 112,500-square-foot, three-story patient wing that will house 59 replacement patient rooms, a site revamp that will include a new entry and the renovation of 50,000 square feet of the hospital's existing space.
"We're excited to embark on the next chapter of Madonna's long history of rebuilding the lives of our friends and neighbors here in Nebraska and across the country," Paul Dongilli, Madonna's president and CEO, said in a statement. "Lincoln has been our home base for more than 60 years. Our commitment to this community is stronger than ever."
It's that long history that's helping to drive the project.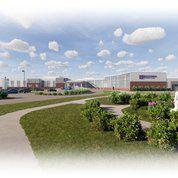 The Lincoln hospital started in 1958 with a couple of buildings, said Daniel Griess, vice president of facility systems and ancillary services. The hospital since has combined some and added others.
The hospital, officials said, has done its best over the years to keep pace and make rooms comfortable. But that strategy has run its course. The project will allow the hospital to improve the patient experience, integrate new technology and better reflect its programs and patient outcomes.
Madonna specializes in care and rehabilitation for patients who've suffered spine and brain injuries as well as those with strokes and other conditions. More than 2,300 patients were treated across the system in the past fiscal year, with 1,100 of those admitted to the Lincoln campus.
Now it's taking that experience, enhancing it and applying it to the Lincoln campus.
The 59 new rooms won't add to the hospital's licensed beds — that count will stay at 120 — but instead will replace rooms designed and built in the 1970s, which are small and not designed for today's technology and equipment. The new rooms will be built to accommodate both and offer more room for family members and loved ones to stay and participate in a patient's care.
"This is really going to transform the way we're going to be able to deliver care for these patients," Griess said.
The new front entrance not only will update the hospital's image but also will help patients, family members and visitors better navigate the campus. Existing buildings have multiple entrances.
The majority — about 80% — of the financing for the project, slated for completion in early 2023, will come from hospital reserves, fed by operational revenue, Griess said. A portion will be covered by philanthropy.
Buildings, Griess said, are great tools to help staff better care for their patients and to provide a better experience for patients and families.
"That's what we're here to do, is put together a better tool than we have today," he said.
17 rare and unusual health stories out of Omaha
One rare disease left an Omaha doctor eating a shakelike formula to supplement her diet. A friend said it tasted like cat food. An Omaha man woke up after his family took him off life support. And a Lincoln teen is allergic to almost everything.
Check out the stories on their unusual ailments and sometimes equally unusual treatment plans.