Becoming a doctor is a long haul — four years of medical school for an M.D. degree, typically followed by another four of internship and residency.
Jeremy Wright of Omaha is excited about the future, just like the fellow freshmen he has met this week at University of Nebraska Medical Center orientation.
The difference is that he's starting out at age 46.
"I earned a bachelor's degree in my 20s," Wright said, "and a master's in my 30s. Now I'm starting medical school in my 40s, and I'll graduate three weeks before I turn 50."
He's ready for the adventure, and his wife and two teenage children are supportive. It's a big investment in time and resources.
"We'll have to tighten our belts," he said. "We may have to lower our expectations for summer vacations."
The New England Journal of Medicine says the mean age for freshman medical students nationally is 24, with 10 percent 27 or older.
Last year's entering class of 132 at UNMC included just two in their 30s. This year's class of 126 includes three over 30. The vast majority (87 percent) are between 20 and 25.
Over the years, a spokesman said, "a handful" have entered in their 40s.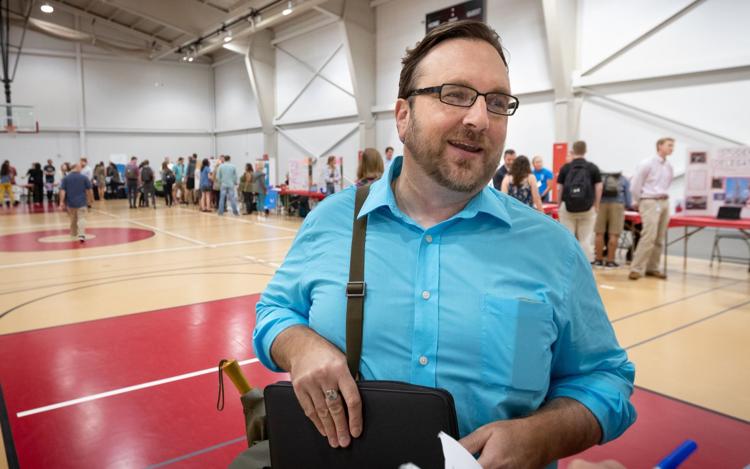 UNMC is a state-supported school, mainly educating students from Nebraska. The private Creighton University School of Medicine is welcoming 167 freshmen from 30 states and two foreign countries, and the oldest is 31.
The Creighton School of Law this spring graduated Barb Vargo of Rapid City, South Dakota, who entered at 50.
By law, professional schools don't consider an applicant's age. But UNMC claims a strong history of accepting students who switched from established careers to pursue medicine.
That's the case with Wright, a mental health therapist. He plans to become a neurologist.
He and his wife, Annette van de Kamp-Wright, served for seven years as family teachers at Boys Town, living in a campus home with four or eight students. Since then, he has counseled patients in private practice and taught college classes.
Dr. Jeff Harrison, UNMC associate admissions director, said students coming from other careers tend to do well. And they provide perspective that's helpful to classmates.
"Generally," he said, "the older students who have had some life experience roll with the punches. And their life insights are helpful."
A native of Sidney, Nebraska, who grew up in Kearney, Wright was attending the University of Nebraska at Kearney when he took part in a foreign exchange student program. At Utrecht University in the Netherlands, he met Annette (pronounced Annetta).
They married in 1996, and started at Boys Town in 1999. In 2007, he earned a master's in mental health from Bellevue University. Since 2010, Annette has served as editor and columnist for the weekly Jewish Press newspaper.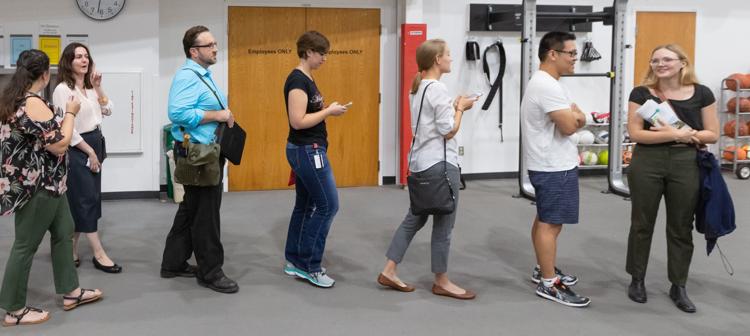 Jeremy considered seeking a doctorate in psychology. But in 2013, Dr. Paul Fine, an Omaha child psychiatrist, asked, "Have you ever thought about medical school?"
Wright embraced the thought but needed to take a few prerequisite science courses. He did so at Bellevue and at Metro Community College.
Because he taught as an adjunct professor at both, he was in the unusual position of teaching classes and taking classes at those institutions at the same time.
People might not immediately think of Metro as a place to prepare for medical school, but Wright said he is glad he did. "I adored Metro, and I learned so much there."
He eventually aced the MCAT, the medical-school entrance exam, and was accepted.
This summer he and Annette took Isabella, 17 next week, and Mendel, 13, to visit relatives for two weeks in Holland. Jeremy then spent a week in Israel at a spiritual event for "Jewish husbands."
Medical school is tough, but UNMC's Harrison said the academic concepts aren't more complex than in upper-level college courses. It's just that the information comes fast and furious — the proverbial drinking water out of a fire hose.
"There's just so much coming at once," he said, "that you've got to be organized and focused."
UNMC pays attention to students' overall wellness, he said, and urges them to schedule "decompression" time, including exercise.
It's expensive, too. Even at a state school, he said, students typically graduate with $150,000 to $200,000 in debt.
At a lunchtime student fair on campus Wednesday, Jeremy Wright stood in a long, single-file line for food, quipping that "it should be like Thanksgiving," oldest first.
Ha. He actually waited patiently, and expected no deference to his age — either at lunch or in the years ahead.
Friday marks an important ritual, the annual "white coat ceremony," where students don their lab coats. Eager to get going, Jeremy says he's not deterred by his middling age or by the years of study.
Much older than the other freshmen, he's nonetheless ready for a fresh start.