LOOMIS, Neb. — Some people still may be bragging about the iPad, Apple Watch or diamond earrings they received for Christmas.
But a Loomis, Nebraska, mom received a gift that wins all bragging rights: a kidney from a living donor.
"It was the best Christmas present I could have ever asked for," said transplant recipient Becky Harris. "Nobody will ever be able to top that gift."
That gift gave Harris a chance at a longer and healthier life, which seemed like a dim possibility after she was recently diagnosed with lupus and was told that she would need dialysis or a kidney transplant.
Luckily for Harris, she has a friend, Becky Crandall, who shares more than a first name.
Although the two grew up hundreds of miles apart — Harris in Lexington, Nebraska, and Crandall in Wyoming — both ended up living in rural Loomis.
They are both 42. They are both driven and persistent.
They met about six years ago when they served together on the Phelps County Ag Society Board.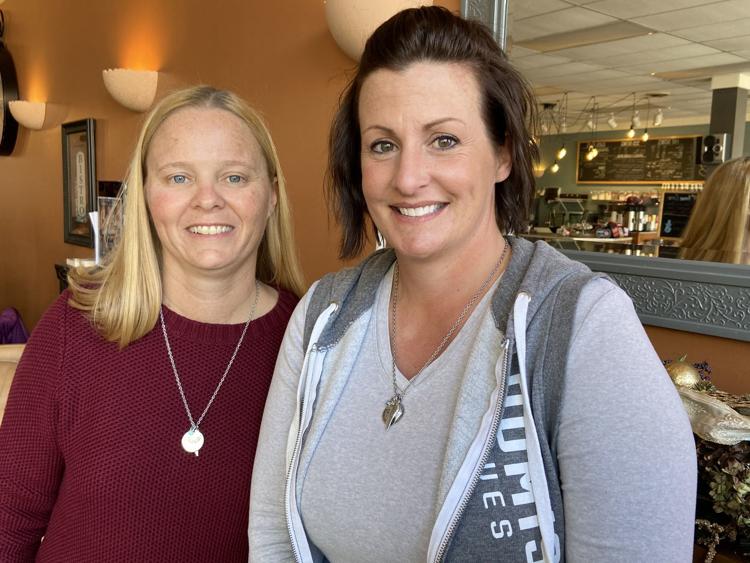 Crandall and her husband, Brent, and their children, Thomas, 18, and Georgia, 15, have been involved in the Loomis Livestock 4-H Club, as are Harris and her husband, Ed, and their daughters, Sydney, 12, and Natalie, 9. Their bond grew through their involvement in 4-H.
As fair season approached in summer 2019, Harris called Crandall to ask for help with Sydney's first-time 4-H sheep project. Crandall's daughter, Georgia, is experienced at showing sheep and
A week later, Harris texted Crandall asking if Georgia could help again. This time, Harris said she would be able to help Sydney for only about 20 minutes before getting too tired.
Crandall texted back and said, "I hope everything's OK with you, and we'd be glad to help any way we can."
Harris replied, revealing that she was in stage 4 kidney failure.
Crandall texted back, "When you need a kidney, let me know, and I'll be the first one to sign up."
That text surprised Harris, but what she didn't know is that Crandall had a relative who received a kidney transplant and already was aware of the amazing gift that a kidney transplant can be.
"I always thought if I could ever donate a kidney, I'm doing it," Crandall said. "But I don't feel like I was selfless enough to just send it anywhere. I wanted to know who I was giving it to."
Just before the Phelps County Fair, Harris completed paperwork to submit a request to be considered for a transplant.
By fair time in late July, her kidneys were failing even more. But she didn't want to miss her daughters show their animals or skip out on her fair board duties. She put on a smile and pushed through the pain and fatigue.
In early September, Harris pulled Crandall aside at a Loomis volleyball game and said, "If you are serious about this, it's time."
Crandall went home that night and initiated her side of the process on the Nebraska Medical Center's website. Two days later, medical staff called her and then forwarded her the paperwork to begin the process, which involved medical tests and evaluations to determine her health and the health of her kidneys.
Crandall learned that if she wasn't a match for Harris that the med center could perform a kidney paired donation. In that scenario, Harris would have received a kidney from another matching donor at the same time as Crandall would be giving her kidney to another recipient.
"I never once had a thought that I wouldn't make it through all the testing," Crandall said. "I was going to give my kidney to either Becky or someone."
Harris learned right before Thanksgiving that she was approved for a transplant and that Crandall was an excellent match. Turns out they have the same blood type.
The week of Dec. 4, Crandall underwent a laparoscopic surgery to remove her left kidney. Harris underwent a four-hour surgery to transplant Crandall's kidney over the top of her right kidney.
A week before Christmas, Harris was home with her new kidney and a brighter future.
A roundup of inspirational stories from Midlanders with heart
There's the woman with MS who runs despite her diagnosis. The 7-year-old born without his left hand who plays baseball just like the other kids his age. The refugee who turned to Zumba to help her recover from cancer treatments. Check out their inspiring stories and others below.