Maria Soria was able to get her first mammogram from Methodist at no cost inside what looked like a pink camper.
Stocked with medical equipment, Methodist's new mobile 3D mammography unit debuted Wednesday at OneWorld Community Health Centers' South Omaha location. It offers breast cancer screenings primarily to the uninsured and underinsured, as well as the business community.
The mobile unit should help women overcome obstacles to health care like transportation, finances and convenience, said Sharlon Rodgers, service executive for imaging services at Methodist Health System.
"We are pretty much chipping away one by one at anything we think is getting in the way of women being able to address their breast health," Rodgers said.
Of the 16 patients with appointments on the vehicle's first day, 12 were having mammograms for the first time.
Most health organizations recommend that women start mammograms at age 40; doctors at Methodist follow that guidance.
Soria, 47, said she was done in about five minutes. She was comfortable in the mobile unit, which is bright pink and about 39 feet long. And as for the procedure, it went smoothly — there was nothing complicated and nothing painful.
"It's prevention," Soria said through a translator. "For Hispanic women, it's very important."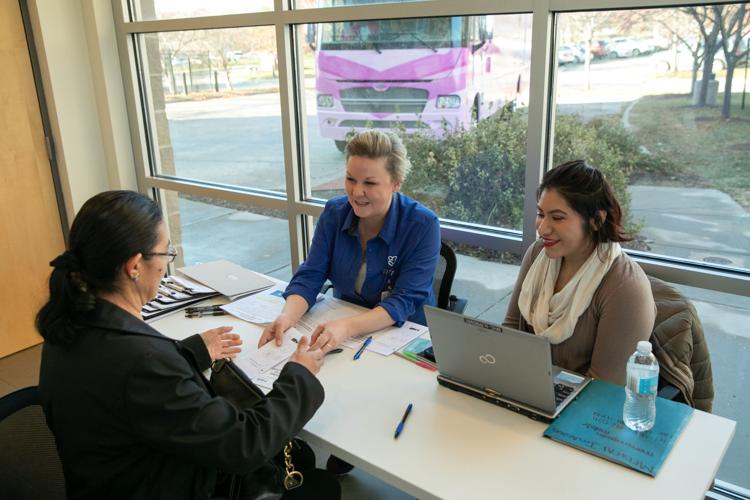 The vehicle will visit patients Friday at Charles Drew Health Center.
The first two days of screenings are funded by a $10,000 donation that First National Bank made to a Susan G. Komen Great Plains program earmarked for mammograms.
Moving forward, funding will come from an additional $50,000 donation made by Susan G. Komen Great Plains. That should cover the cost of more than 200 mammograms, said CEO Karen Daneu.
"On a routine mammogram, you can detect the disease earlier, when it's easier to treat," Daneu said. "By providing that service here, we can afford the opportunity to a demographic that maybe wouldn't have taken advantage of it."
Komen will continue to raise money toward the program.
"I'm working on refilling that pot every day," Daneu said. "As the word gets out and as we get more generous donors to help us, more and more women can get screened."
The custom vehicle was paid for with donations from community partners, Methodist employees and patients, hospital officials said. About $674,000 was raised.
Methodist expects the mobile unit to be out in the community about three days a week through the end of the year. Each day, it should provide screenings for 16 women.
At its home base at Methodist Women's Hospital, images will be downloaded and read by a team of radiologists. Reports will then be sent to patients' primary care physicians.
OneWorld doesn't offer mammograms at its locations. The health center has previously used other mammography vans operated locally. The Methodist mobile unit helps fill that gap, OneWorld CEO Andrea Skolkin said.
Should an uninsured or underinsured patient need additional or specialty care, OneWorld has partnerships with area hospitals and doctors to provide treatment, Skolkin said.
She praised the Methodist program.
"Hospitals are intimidating, and plunking down the money is as well," Skolkin said. "We know that women need to take care of themselves because they take care of their families. If she's healthy, the family's healthy. This is a really, really important program."