Too many times in the past several years, Children's Hospital & Medical Center has had to divert critically ill children to another hospital in the region because the Omaha facility had a full house.
To meet growing demand for such care, the hospital on Wednesday will open a second pediatric intensive care unit, bringing its total intensive care capacity to 27 beds.
"No child that we normally have the capability of caring for should ever be sent away," said Dr. Richard Azizkhan, Children's president and chief executive officer.
The hospital already has begun construction of a new 10-story clinical tower on its grounds. But the Hubbard Center for Children, which will include a larger pediatric intensive care unit with the capacity to expand to 32 beds, won't open until 2021. The hospital, Azizkhan said, needs additional intensive care beds now.
The second pediatric ICU, to be known as PICU South, is in leased space in the north tower of Methodist Hospital. The two hospitals are connected by a skywalk.
In 2015, Azizkhan said, the hospital diverted to other hospitals 90 children from its pediatric and neonatal intensive care and medical-surgical units. The number increased to 130 in 2016 and 170 in 2017. For the first two months of 2018, nearly 80 children were sent on, with about 60 percent going to the Nebraska Medical Center. The hospitals have an ongoing partnership.
Others, however, had to go to children's hospitals in surrounding states, including those in Kansas City, Denver or Des Moines. But there are days, Azizkhan said, when there are no ICU beds available at sister pediatric hospitals in the six surrounding states.
"We not only have an Omaha, Nebraska, problem, we have a regional problem," he said.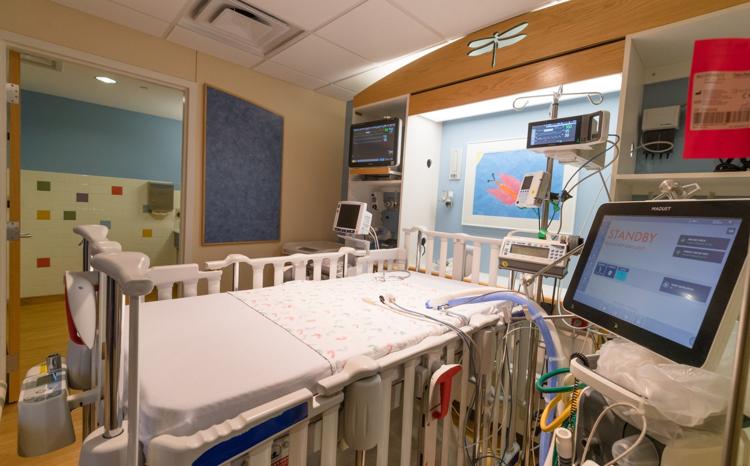 For Stephanie Broderick, being able to get treatment for her infant daughter in Omaha means she can see her husband and three other children, ages 4, 9 and 11, on weekends.
The family lives in the Des Moines area. Four-month-old Everleigh, who was born with a congenital heart condition, had open-heart surgery at Children's when she was 5 days old. She and her mom have been in Omaha since. Their other option for treatment was in Milwaukee, mom said. Being closer — a 2½-hour drive to Omaha versus an eight-hour trip to Milwaukee — makes a world of difference, Broderick said.
Broderick and her husband found out about their daughter's heart condition when she was about 20 weeks pregnant. "We definitely prayed that they'd have room here," she said.
Everleigh has had some rocky patches but now is doing well. Still, doctors are taking her care week by week. "Home" is not a word they've used yet.
"I'm definitely ready to go home," Broderick said, "but I can't think of a better place where I could be."
Dr. Andrew Macfadyen, medical director of the pediatric intensive care unit, said having to send young patients to another hospital also is difficult for staff members. Some children with chronic conditions have been coming to the hospital for years. And parents trust Children's.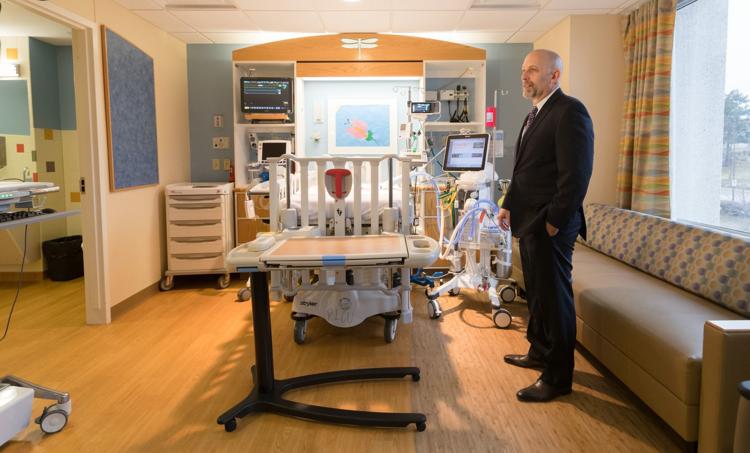 Azizkhan said the space crunch has multiple causes, among them growth in the area's population, an increase in the number of babies who survive very early births and require complex care and the increasingly regional nature of complex care for children.
The new pediatric ICU rooms are outfitted with the latest equipment, including cardiac monitors outside each room. Unlike the rooms in the existing unit, they have restrooms, a boon for families and for teen patients.
Azizkhan said that adding the second pediatric ICU also will allow the hospital to increase its pediatric intensive care staff in stages rather than doing it all at once when the hospital addition opens in three years.