Ethan stands at the edge of his prom. He shuffles his feet to the pop music. He peers into the mass of humanity jumping and twirling at the center of the dance floor.
He seems to have that universal prom feeling, the nagging self-doubt that is as much a prom tradition as the black Men's Wearhouse tuxedo he's wearing or the white boutonnière pinned to the lapel of his jacket.
Am I doing this right? Is this how I'm supposed to feel? And how, exactly, do I get someone to dance with me?
Ethan Costello has been talking about his big night for days. He called his mom Mary from school to make sure: I still get to go to prom, right? He has consulted with his caregiver, Jessica, about the proper way to hold out his hand and ask someone to dance.
And on this Friday, for the first time in his life, the 15-year-old with Down syndrome took a shower alone and then shaved himself at his family's west Omaha home.
Why? Because I'm a man now, he told his parents. I'm a man going to prom.
"That might not seem like a big deal," Mary Costello says of that shower. "It's a big, big deal to us."
Night to Shine, a series of proms held Friday night for special-needs teenagers around the globe, is built to deliver big moments.
King of Kings, the 3,000-member Lutheran church that hosted the Omaha Night to Shine, has set up a red carpet near the entrance. Each of the 200 promgoers who walks in is announced over a loudspeaker, and then struts or runs or rolls down the red carpet, waving as hundreds of parents and volunteers cheer wildly.
When it's Ethan's turn, he vogues hard down the runway, striking poses and drawing whoops from the crowd. At this moment, there is more happiness in this one church hallway than you will find at 100 high school proms.
"The joy on these kids' faces ..." says Josiah Wood, the church's communications director and one of the directors of the event. He beams. "It's just contagious, isn't it?"
After Ethan finishes on the red carpet, he grabs dinner, a plate of spaghetti he adorns with exactly 12 meatballs. Then, a potential disaster: Out of the watchful eyes of his parents — who are relaxing in a special Prom Night parents' room — Ethan, who is celiac, has grabbed the regular pasta. He makes a quick detour to the first-aid room, but emerges smiling and makes a beeline for the dance floor. A little gluten isn't going to ruin this dance.
And Ethan is born to dance. Once, while running the 100-meter dash in the Nebraska Special Olympics, he stopped midway on the track to bust a few dance moves in front of thousands of spectators. Ethan did not win the race, but he did win over the crowd, which rose and gave him a standing ovation.
But even for the born dancer, this prom stuff is a little bit intimidating. He does a few hand claps. He tries the robot. He briefly enters the center of the dance floor, then just as quickly loses steam and walks away.
But it's fine — there is so much else to do here at Night to Shine, an event sponsored by the Tim Tebow Foundation, the nonprofit founded by the former quarterback-turned-baseball player.
At Night to Shine, Ethan can pet a therapy dog, take a limo ride, sing karaoke or strike a pose at the photo booth. And Ethan briefly tries to do all these things, but the noise and the crowds — there are maybe 800 people here — start to wear on him.
He begins to ask for his mom, who takes him into the quiet activity room to color quietly and regroup.
I wander back into the dance, and lean against the wall to watch, which I later realize is exactly what I did at my own prom. What I see is enough to warm the iciest heart.
There are hundreds of people on the dance floor now. Teenagers with special needs dance with able-bodied kids their own age and moms and dads and younger siblings, too. There are swayers here, and straight-up boogiers and jumpers and kids in wheelchairs waving their hands to the music.
They dance in pairs, in clusters, in packs and solo. One promgoer, Marshal Rabe, breaks out some serious breakdancing moves and draws a crowd of female admirers.
It is pandemonium in here. It is sweaty and free. There is only one thing missing. Ethan.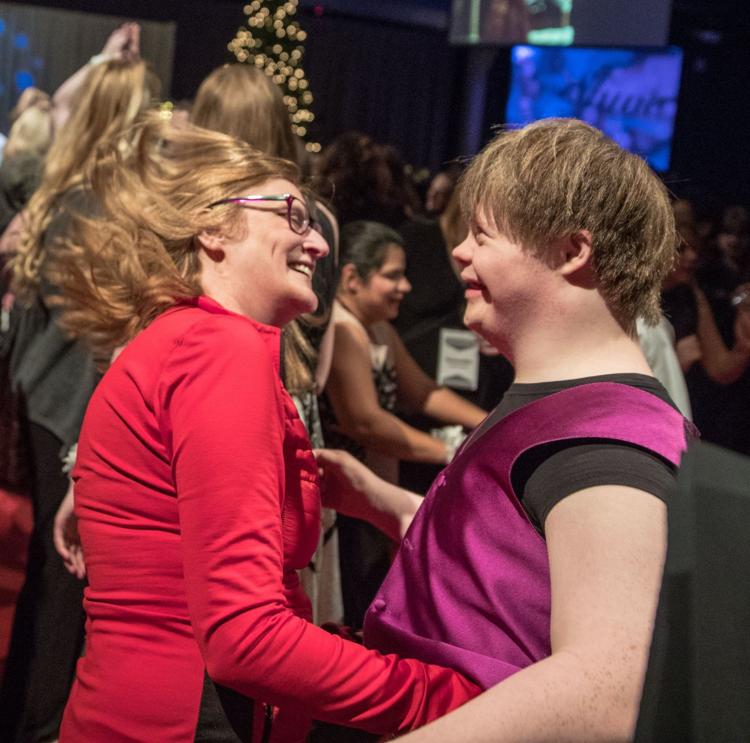 That's about when he reappears. He has taken off his jacket, his black dress shirt, his purple tie and his black shoes. He is wearing only his pants, his dress socks and his purple vest.
And as the first strains of "YMCA" begin to blare over the loudspeakers, he does what a gentleman should. He extends his hand, and asks his mom to be his partner.
They YMCA, and then they swing dance, and then Mary watches as Ethan rushes over to greet a couple of other special-needs teenagers he knows. "I got ditched!" she yells to me over the music.
Then Ethan dances with his brother Will. He gives his dad, John, a hug. Now he is breathless and red-faced and his pants are falling down.
And it is not the picture-perfect prom night. It is realer than that. It is up and down. It's human.
"Are you having a good time, Ethan?" I ask him a little earlier in the evening. He turns to address the man carrying the notepad, but doesn't say a word.
Instead, Ethan Costello smiles.