A grandma, a mom and a daughter walked into an Omaha tattoo parlor.
Patty Corn, 79, her gray hair piled atop her head, revealing a hearing aid in each ear, wore an expression that was both resolute and que sera sera. This wasn't her idea, but she grabbed the consent form and signed away. Patty would just roll with it, as life had taught her.
So what if her husband, who had no earthly idea about this adventure, disapproves?
"(He) said if I ever got a tattoo, he'll divorce me," Patty said.
She was doing this because her granddaughter asked, because her daughter was doing better and frankly, because she'd earned it. But duty also called.
"I've got to show her I'm brave," she said, referring to daughter Renee.
Renee Nadrchal, 58, walked into this Old Market tattoo joint named, ironically for her situation, Big Brain. Renee's brain is the reason they had all come. For her entire adult life, she'd suffered from an insidious mental illness, schizo-affective disorder. It marries the psychosis of schizophrenia with the mania and depression of bipolar disorder.
Renee had been in and out of institutions, been on this med and that, and the nature of her illness upended her life and the lives of those around her. She'd lost a baby to SIDS. She had married three times, including once to a man who killed himself.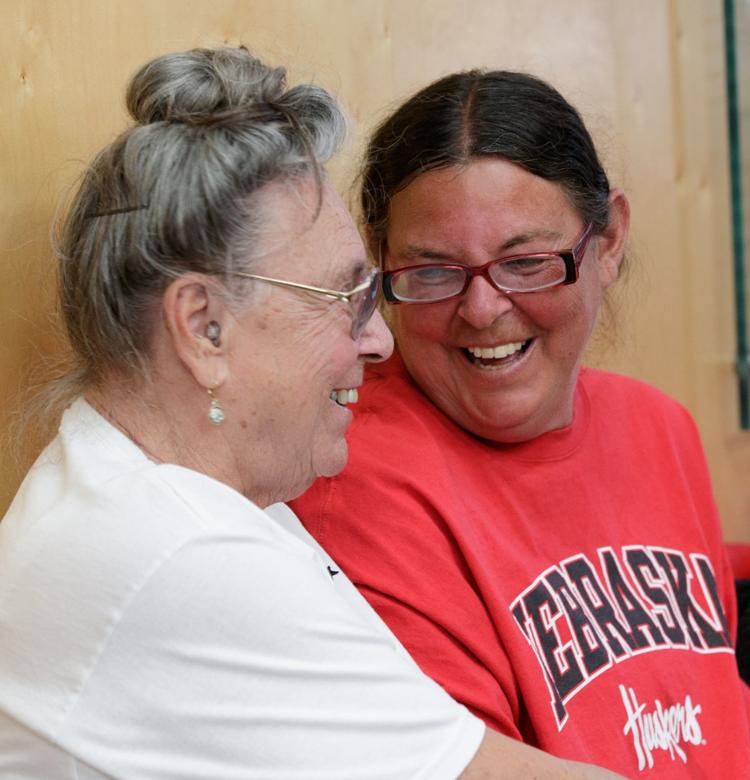 But never, ever had Renee gotten a tattoo. And on this pleasant June night, she was feeling pretty good about it. She might not have been the most capable mother. But she could do this one thing for her daughter, Angee.
"I always tried," Renee said.
Angee Stevens, 37, was right at home inside Big Brain, a place with photos of skulls and crosses on the walls and clients and workers alike in various stages of dress and ink.
Here was a woman in a bikini bottom getting a scene from "Finding Nemo" tattooed on her upper thigh. "Just keep swimming," her leg said, echoing the movie mantra. There was another woman — breast bared — getting a tattoo somewhere on her chest. Old 1980s hits blared, nearly drowning out the buzzing of half a dozen tattoo guns at work.
No stranger to ink, Angee would be getting her 10th tattoo. One on her back is her name in Hebrew. A giant, colorful phoenix rises on her right arm.
Sons' names Beckett and Finnegan, in their sweet children's handwriting, are tattooed on her left arm near a marriage vow of sorts, the words "I will love you till the end." Husband Joel has the same tattoo on his arm. The saying also is inscribed in their wedding rings. Angee's also got a cross on her left wrist and Jesus' name in Arabic.
Tattoos are important to her. They tell the story of who she is and what she values.
And on this June night, she values the resilience and love that got her, Mom and Grandma this far.
Theirs is a story packed with so much drama that the full story can't be told here. Patty, who helped start a support group for parents of mentally ill children, keeps saying she should write a book. Angee plans to make a documentary film with husband Joel, an associate editor at the Opinion-Tribune in Glenwood, Iowa. A theme could be: We went through some real hell. But we made it out. And out of all the hardship, there was beauty.
That's what this tattoo that all three women are getting symbolizes. That's why they are here.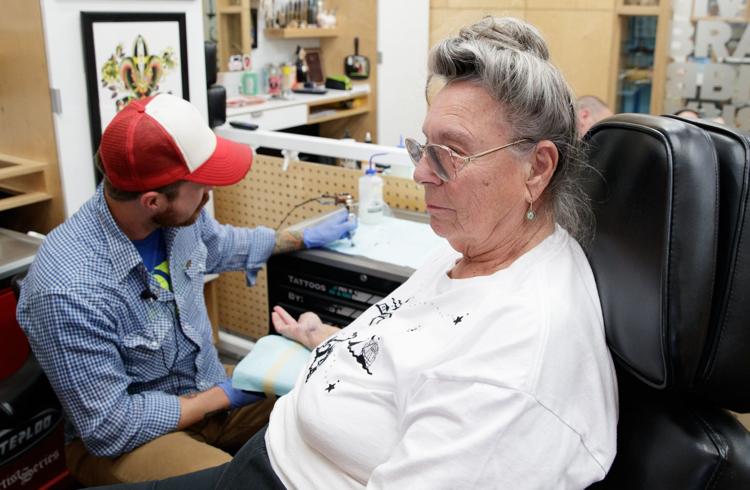 Patty was first in the chair, tapping her right foot while staring stoically straight ahead. She mumbled something about blood thinners but shrugged. You don't get through a life like hers without shrugging off the worry and forging bravely ahead. It's how she left an abusive husband long ago. It's how she coped with having not one but two children with severe mental illness.
Of Patty's three children, just one, a son in Texas, is not afflicted. Patty's oldest son has paranoid schizophrenia, is nomadic and lives either on the streets of Las Vegas or the streets of Omaha. Patty knows she can find him downtown near the W. Dale Clark Library when he's here.
Patty has kept closer tabs on daughter Renee ever since that first red flag while Renee served in the U.S. Marine Corps. Patty kept all the paperwork and shows a memo from Renee's then-commanding officer to a medical officer at Camp Lejeune, where Renee was stationed in 1978. She was 18.
"Her performance of regular duties has steadily and rapidly declined," it reads. The memo cites her "emotional unstableness" as a reason for being dropped from the rifle range and a request for medical and psychiatric exams.
The actual diagnosis came in 1985, when Renee was 25. From then on, Patty was in rescue mode for Renee and later for Angee. She helped Renee remove Angee from an unfit apartment in upstate New York where the then-2½-year-old had been living with her father. Patty raised Angee while seeing her daughter through hospitalizations and moves and marriages and decline and rebound. Patty now lives in Arizona but visits Omaha regularly.
The stability was a lifesaver for Angee. But it still could not shield her from the tumult and heartbreak she experienced. Her father was a mystery and died when she was 15. She never got a chance to know him. Her mother, too, was an enigma, which made attaching to her difficult. Angee didn't know which side of her mom she'd be getting, and her mother's sometimes erratic, inconsistent behavior scared her.
Mood swings could be severe. Renee could be up, up, up — literally staying up for days and feeling so good she'd quit taking the medication that evened her out. Or she could be down, down, down, so down she couldn't get out of bed even to use the bathroom. Once, Renee attempted suicide, putting herself in a coma for 18 days.
Angee responded by acting out. As a teenager in Ashland, Nebraska, she ran away, sneaked out of her grandmother's home and did "any and every drug that would kind of numb me."
"I didn't want to feel because it hurt too much to feel," she said.
Patty gave her a choice: Boys Town or a girls home in Fremont. A family friend then welcomed the troubled teen into his home with his wife and young children. That played a key role in Angee's decision to straighten up. She wound up graduating a semester early from Millard West High School, took a church mission trip to help street children in Romania and then went to work with troubled youths at the Child Saving Institute. She eventually got her bachelor's and master's degrees in social work and now is a licensed mental health practitioner and a married mother of three.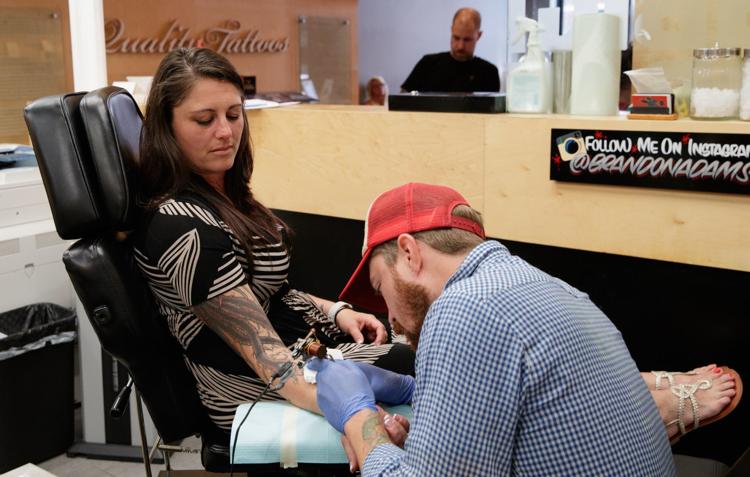 Angee is also her mother's keeper. Angee is the legal guardian and conservator for Renee, who lives in an assisted-living facility in Omaha.
Renee said she's found her own stability at last. She has been in the same place for almost seven years, the longest period of her adult life that she's lived in one place. She's on the right dosage of medications. She gets to play Grandma to Angee's three children, who call her Grandma Nee-Nee (pronounced nay-nay.)
Life for Patty, Renee and Angee is still not easy. Angee grapples with getting straight story lines.
"No offense, Mom, but you're not a reliable narrator," Angee said to Renee when Renee complained that all her socks were missing.
And yet for all the challenge, the women are loyal and loving and relatively at peace with how it's all worked out.
That's why they had come to Big Brain.
Sign up for the Live Well Nebraska newsletter
Get the latest health headlines and inspiring stories straight to your inbox.
Angee had chosen a symbol of their resilience, their perseverance, their shared experience of rising above the surface and blooming: the lotus flower.
Getting this tattoo together was a step in a healing process. It's a way to remind themselves that no matter how muddy the waters get, out of the muck something resilient and beautiful can grow, just as the lotus does.
Angee talked Grandma and Mom into it. They decided the tattoo would go on the inside of their right wrists, where they could be reminded of the beauty that blooms within.
They decided that the image would be small, about the size of a nickel. It would be a simple line drawing, no color. Most important, it would visibly join them in a lifelong reckoning of Renee's illness, which shaped their lives and continues to affect them in their relationship to it and to each other.
Less than an hour after their arrival at Big Brain, Patty the grandmother, Renee the mother and Angee the daughter showed off their new tattoos. Standing together they held out their right arms, looked into the camera and beamed.
"I feel great that I have a tattoo that my mother and my daughter have," Renee said. "It's a connection for us. I'm not over my disease. It's a disease you have for life. But I've come so far."
The lotus flower blooms on the water's surface. Angee said this is a reminder of what life has been like loving someone with severe mental illness. That there is beauty in the muck.
Photos: Our best shots of 2019 (so far)
Take a spin through the best of our staff photos from 2019. The gallery will be updated throughout our journey through the next year.