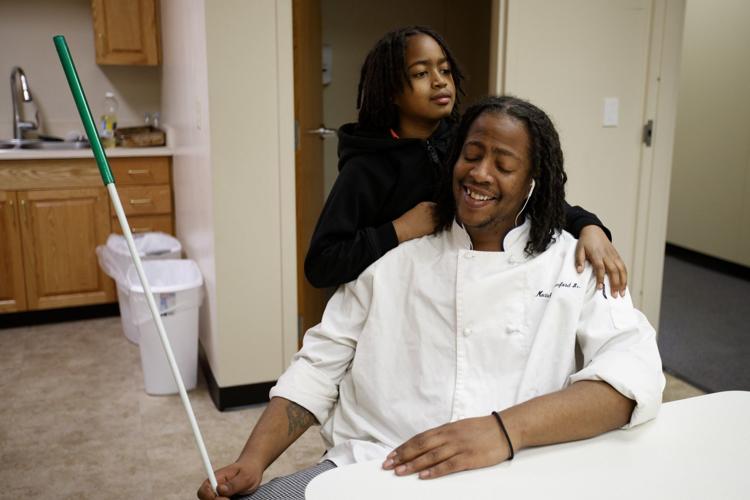 Mortel Crawford took the drink order for Table 31. Then the waiter-in-training hustled to a side room to practice the night's complicated 14-course lineup.
"Pumper-nickel. Pumper-nickel. Did I say that right?" Mortel said to no one in particular.
Raising a tiny digital recorder to his ear, Mortel listened once more to a recording of what was first up: The Brie with tellicherry pepper. The manchego with carrot puree and raisins. And the cheddar with apple on a tiny crisp of …
Not "fluffernickel" or "pupper-nickel," as Mortel had first said. PUMP-ernickel. Pumpernickel.
Already there was so much to remember. Like how many steps to his tables, 31 and 11. Like where to stand and which kitchen door to use and where to find an extra set of hands.
Fine dining service is hard enough when you can see. When you're completely blind, as Mortel is, the job of being a waiter might seem downright impossible.
So can other things, like learning to become a chef when you can't see — or smell — after being shot in the head in 2011. Or learning the rules and regs of owning a restaurant, his dream, when you dropped out of high school.
Yet Mortel's journey — one slow, brave step at a time — is showing those around him what is possible.
"It's a mind-changer. People say, what can he do?" said Johnnie Newson, who works with Mortel. "He can do a lot of stuff."
Before the shooting, Mortel already had a couple of strikes against him.
One was a rap sheet. At 18, he spent 90 days in jail for being caught with cocaine, a felony. At age 20, he was arrested on suspicion of being in possession of a firearm by a convicted felon and possession with intent to deliver of a controlled substance, both felonies. Those charges were later dismissed, and Mortel didn't have any crimes on his record after that. Still, a criminal record was a red flag for employers, and it was hard for Mortel to find work.
Strike two was a spotty education. Mortel had gotten kicked out of Central High School. He dropped out of Northwest. He blamed it on being distracted and "hardheaded."
Mortel met his biological dad once and hadn't ever heard again from him.
Mortel decided he'd be different when he became a father at 23. He'd be present for his son, Mortel Jr. He was already engaged to Mortel's mother, and all three lived together in a house in north-central Omaha.
One night at this house, Mortel and a few pals were enjoying a night of dominoes. At one point, they ran out of booze and decided to make a run for more. The last thing Mortel remembers is hopping in an SUV with his best friend, Jerell Haynie, at the wheel and three other buddies in the back seat.
Records of what happened that night are scant. The Omaha police report gives little more than date (July 17, 2011), time (3:23 a.m.), place (about 46th Street and Ames Avenue) and brief account: A 2006 Jeep Commander had sped down North 30th Street. Inside was "a victim of an apparent gunshot wound" and his name was "Crawford, Mortel." A World-Herald account from then is just three lines long and doesn't include Crawford's name.
Shootings that do not result in homicide are so unfortunately common that when a young man is shot overnight in northeast Omaha — where shootings are most concentrated — it hardly registers. Last year, there were 91 shootings that resulted in injuries. (Forty-four occurred northeast of 42nd and Dodge Streets. The rest were scattered throughout the city.)
Plus without a suspect or an arrest, there was no court record to flesh out the story. Instead, we rely on the memory of one of the five people in the car that night, Lonnie "Shane" Williams, the only other one of the five who is available to talk. (Haynie is in prison in Tecumseh. Another was shot and killed the following year. A third was a no-show in court on a misdemeanor traffic charge and has a warrant out for his arrest.)
Williams was 18 at the time and subsequently he, too, was shot — and paralyzed. But he says he remembers what happened that night well enough.
They'd been playing dominoes at Mortel's home near 56th and Sprague Streets and decided to go out. While driving on Ames Avenue, Williams remembers a green car passing by with a man hanging out the passenger-side window pointing a long gun right at them.
"It was too fast. Everybody basically yelled, 'Duck!' " Williams said. "Mortel was too late. He was tall."
Mortel, who stands 6-foot-3, slumped in the front seat, bleeding like crazy from his head. Haynie pulled over and pounded on his chest. Mortel came to. Then Haynie raced to the hospital, the passengers all shouting his name as Mortel, then 24, moaned out of an open window. Blood turned the right side of the silver SUV red.
Williams ran inside the emergency room and yelled for help. He ran back outside and together all four of them carried Mortel into the hospital.
"I thought he was gone," Williams said.
Mortel remembers waking up with two distinct sensations. He had to use the bathroom. And he couldn't see a thing.
When a doctor told him what had happened, he was shocked, then angry, then despondent.
The bullet had shattered his skull, blinding him and taking away his sense of smell. Even his voice box was damaged.
Some close friends and family stayed away, saying they couldn't bear to see him. His fiancée left him. This increased Mortel's alienation and sense of hopelessness.
"I didn't want to live no more," he said.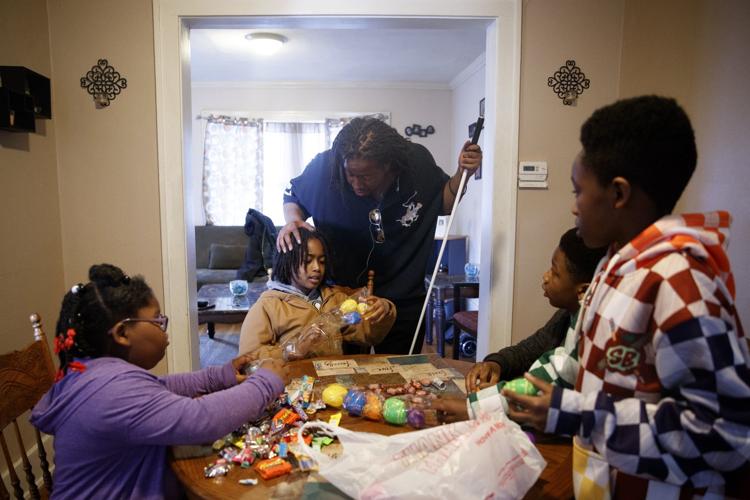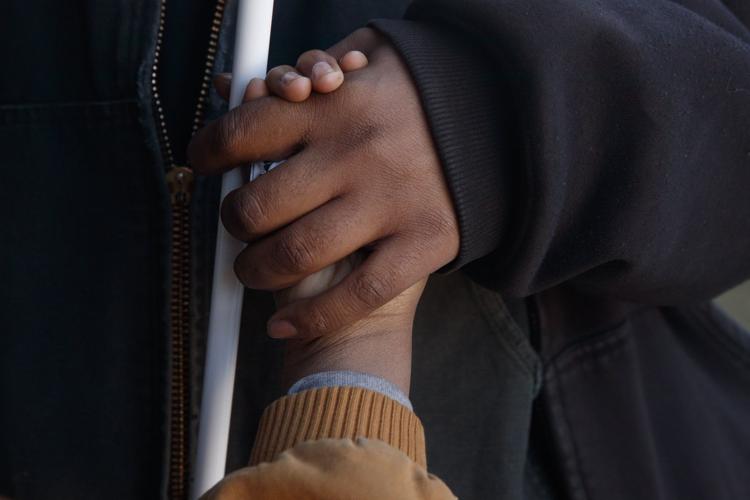 But he had a son, now age 8. And Mortel refused to leave Mortel Jr. fatherless, the way he was.
So he made a choice to live and slowly rebuilt his life.
Church helped. His sister took him, and Mortel found comfort. Support helped. Some relatives let him stay with them. His mother, Christy Ann Crawford, pushed her son to fight.
She urged him to attend the Nebraska Commission for the Blind and Visually Impaired's life skills training program in Lincoln. Mortel resisted; his mother had terminal cancer and he didn't want to leave Omaha. But she insisted, and he went.
In Lincoln, Mortel learned to be unafraid. No one felt sorry for him there. No one said they couldn't bear to see him that way — most of his instructors were blind or visually impaired themselves.
Mortel learned how to use a cane and read Braille. He learned how to cross busy streets and find his way from one end of town to the other. He learned how to operate power tools and built himself a TV cabinet. Mortel got his high school certificate.
And he got much-needed confidence.
Mortel completed his training in the fall of 2013.
Now 31, he is enrolled at Metro Community College's culinary arts program and has about a year to go before an associate degree.
I watched him sit in a classroom learning the alphabet soup of federal employment regulations: COBRA, FMLA, HIPAA.
He got a job at Big Mama's Kitchen and Catering, the soul food restaurant in north Omaha, where I watched him lug and scrub baking potatoes, make corn bread dry mixes and clean his work station.
He gets to use the state blind commission's kitchen in downtown Omaha. There I watched him slice and de-seed jalapeños; de-skin, season and fry up sausage; and then make two pans of cheese-covered stuffed jalapeño appetizers, which got rave reviews from commission staff.
Possibly the hardest thing I saw Mortel do was be a waiter at Sage Student Bistro, Metro's teaching restaurant at its Fort Omaha campus.
Anyone who has ever waited tables can attest to the difficulty of that job. Being a server requires quick thinking, quick acting and an ability to multitask. Servers are like spiders, spinning from table to table to bar to kitchen to table.
The evening I followed Mortel, the bistro was offering one fixed menu with items like monkfish, guinea fowl and scallops.
Dressed in black slacks, a white dress shirt and black tie, Mortel spun. He spun from a side room where he polished silver to Table 31, to Table 11, to the counter where instructor Jaime Ishii was running the show, to the kitchen, to the tables.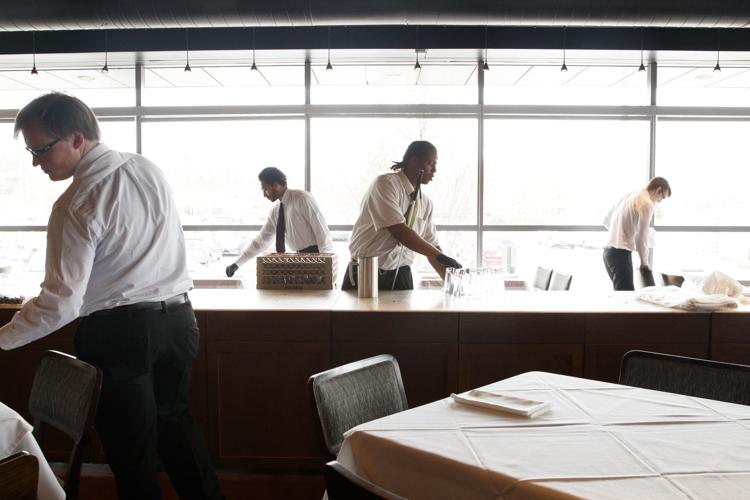 Sometimes this went smoothly.
A tale about blindness is that your other senses become super-human. Not so, say Mortel and blind commission staffers. What changes is your attentiveness.
Other times, Mortel got caught in the whorl of a packed house. A restaurant with its clatter and hustle can be utterly disorienting. It's akin to listening under water.
"Hello?" Mortel said more than once to an empty room. "I can't find nobody!"
The other spiders dodged and weaved around him.
"Right behind you, Mortel!" "In front of you, Mortel!"
Mortel could not do this without help. He had to lean on fellow servers, instructors and kitchen staff and on diners who appeared surprised and charmed to see a blind man take their orders.
Mortel could not, at a glance, tell who was at the table, who was gone, who was finished, who was not, which food was up, what the menu says, whether diners looked expectant or not wanting to be interrupted. Not being able to see meant Mortel depended on eyes and ears around him.
Did Table 31 need to be cleared? Did Table 11 need a new place setting? Did water glasses need refills? Did the dish come without mushrooms, as requested?
Give Mortel credit for staying calm.
"These are duck confit, duck prosciutto and duck with radish," Mortel confidently told Table 31.
"Excellent!" gushed one of the diners, who happened to be Mortel's instructor, Joellen Zuk.
Later, Zuk pulled Mortel aside to tell him what an amazing job he was doing. Then she pulled me aside to emphasize the point.
"We are the ones who put limits on people," she said.
It seems like Mortel has to work 10 times as hard. But technology helps: he uses a talking thermometer and smartphone apps that read the time and messages to him. He relies on familiarity, organization and a keen sense of touch — sugar feels like sand; flour feels like powder.
He is making progress. He now has his own place. He now cooks for anyone. He now relishes  the way the rain feels, the way the birds sing, the way a potato feels in his hand.
Life, as busy and demanding as it is right now, is peaceful. Mortel is grateful for little things he'd never noticed before. And above all, he believes this: no matter how dark it gets, he knows how to feel his way forward, to the light.