Players used to dribble basketballs in Creighton University's Vinardi Athletic Center, but pills will spill there from now on.
The second floor of the Vinardi Center long ago hosted Creighton men's basketball games, then became a practice facility for the men's and women's basketball teams and the Creighton volleyball team.
The teams no longer use the Vinardi Center, and Creighton has turned the old gym into a new pharmacy skills lab with 85 workstations, a conference room, office space, a classroom, sinks and ceiling-mounted monitors.
The original gymnasium window design — tall and arched — was preserved by campus architect Coale Johnson in about 30 windows.
A local firm called Reclaimed Enterprises is converting tons of Douglas fir and maple that once made up the gym floor into small and large tables, keychains, bottle openers, trays, flooring, bar countertops and other pieces.
The company will return 20 percent of the gross revenue to Creighton.
Tram Nguyen, a second-year doctor of pharmacy student from Vietnam, was unaware of the history of the pharmacy skills lab's space.
"So that's why they call it the Old Gym," she said after class one day last week.
The students can practice preparing IVs as if working in a hospital pharmacy. They have mock patient-counseling rooms in their new skills lab as well. They also practice immunizations.
The four-year graduate program leads to a PharmD, or doctor of pharmacy degree.
Creighton admits 85 students a year for its on-campus program and 75 a year for its distance, or online, program.
The lab also accommodates the distance-program students for summer sessions. The lab opened this school year.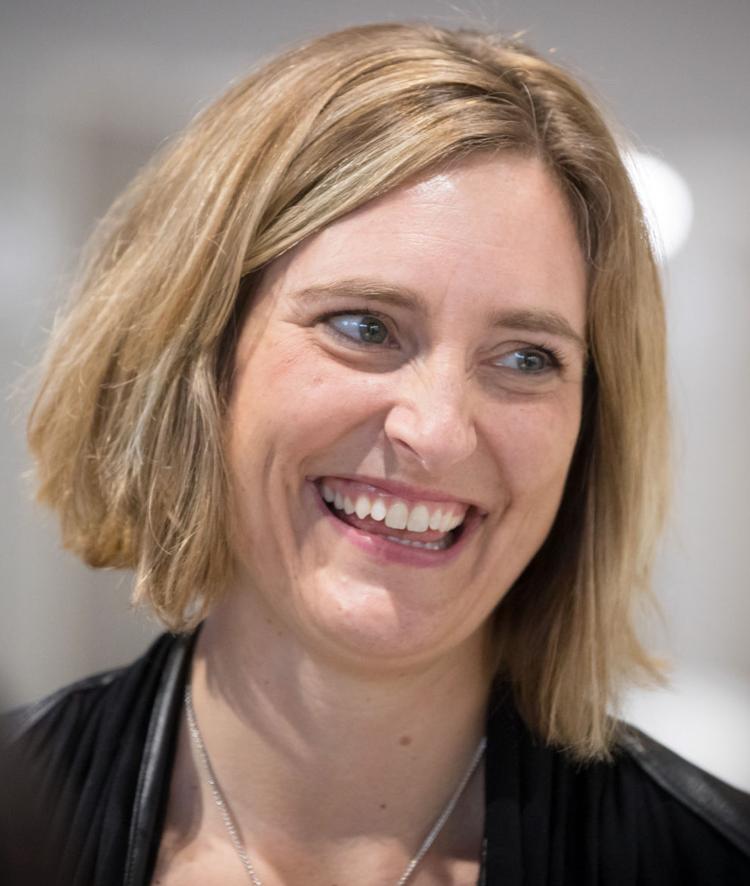 "It's really neat, state of the art — (we're) very lucky," said skills lab director Shana Castillo.
Eric Hoie remembered bringing his daughter, Aidan, to a basketball camp at the Vinardi Athletic Center about 10 years ago. Hoie, an associate professor of pharmacy, teaches on that same spot now.
Creighton's Johnson said the Vinardi Center was built as a campus recreation facility in 1915 and through the years contained features such as bowling lanes, a swimming pool and racquetball courts.
Now, besides the pharmacy skills lab, the center houses information-tech specialists, emergency medical services studies, support offices and other programs.
Creighton spent $3.7 million to renovate the old gym space into the pharmacy skills lab on the second floor. The university added a partial third floor for mechanical systems and future space needs.
Nobody wanted to see that gym floor, with maple on the top layer and Douglas fir supporting it as the subfloor, torn up and sent to a landfill.
Creighton brought in the local company Johnson Deconstruct to use hand tools to pry up the floor in strips and pieces.
Then the wood went to Reclaimed Enterprises.
Jason Gilbreath, president and founder of that company, said he acquired about 70 tons.
The wood is in the company's warehouse and storage space but gradually is being converted into products.
He started marketing items about a month ago and expects them to sell well. "It's alumni, athletes, faculty, community supporters" who are buying, he said. "Creighton is an institution here."
A bit of the wood has been erected outside the box office at Creighton's Ryan Center.
Gilbreath is holding on to some old logos that Creighton will eventually display. Dennis Rubba, a partner with the Denver-Omaha company studioINSITE, said he will use Creighton gym wood for a conference table, panels, swing seats and some of the flooring in a new office he is having built at 610 S. 14th St.
Rubba, an urban designer and landscape architect, has worked with Creighton for about 15 years on landscaping, master planning and expansion.
Creighton has been a major client, Rubba said, and it will be cool to have some of the university's history in his Omaha office.
Back at the old gym space, the wood floor is gone, replaced by concrete and vinyl tile.
But the old windows look down like eyes on the pharmacy skills lab.