Charles Owen will make it up the tower.
His teammates have guaranteed it.
They'll carry him up the last few flights if they have to.
"Don't worry, Charlie," they've told him. "We'll get you to the top."
Owen and more than a dozen of his colleagues from the Bellevue Public Schools will climb the First National Tower's 40 flights during Trek Up the Tower.
The event, in its 14th year, is Feb. 15. Organizers expect up to 2,000 people to tackle the downtown Omaha tower's 870 steps. Trek draws a mix of average athletes and elite climbers.
Owen mulled over tackling the climbing event for a few years, but lacked "the gumption," he said, to go for it.
Sign up for the Live Well Nebraska newsletter
Get the latest health headlines and inspiring stories straight to your inbox.
Owen's father died at 61, a year older than Owen is now. Last year, Owen's sister died at 71 after being in declining health for the last few years.
"I don't want that to be me," Owen said. "I want my health to stay well enough that I can function."
The loss of his sister prompted Owen to focus on his own health. He's been away from fitness for the last 16 years.
While never one to head to a workout, Owen stayed in good shape growing up on a farm. He continued to stay fit during a 26-year career in the Air Force.
Now an eighth grade teacher at Lewis & Clark Middle School in Bellevue, Owen said he's "become lazy."
He approached fellow teacher Gina Stukenholtz to see if she'd tackle the trek with him.
Stukenholtz, a runner, was all in. She took things a step further by recruiting some of their colleagues to join.
"I'm always up for a challenge like that," Stukenholtz said. "(Owen) is such a good guy that when he came and said, 'I want to get healthy. Do you want to do this?' there was no way I could tell him no."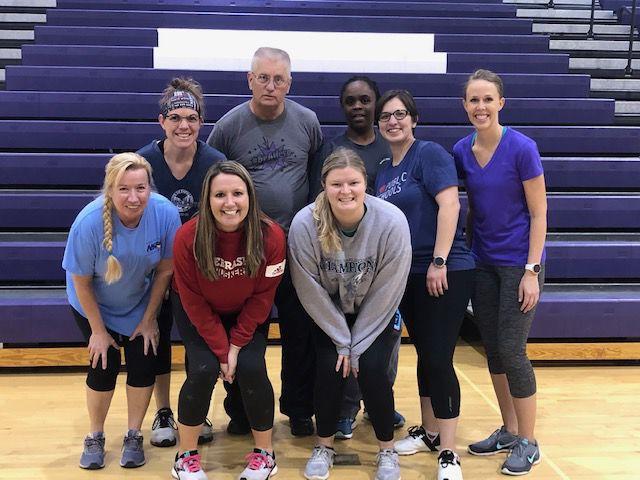 Stukenholtz helped to recruit a team — dubbed "Charlie's Angels" — of 16, including herself and Owen. Thanks to a handful of companies, including Thiele Geotech, Kiewit Corporation, C&A Industries and Streck, the teachers landed discounted registration.
To prep, Owen has been hitting the gym regularly, sometimes with his colleagues. He's been climbing 35 to 40 flights on the stair machine. Some of the workouts have been downright painful.
Owen said he thinks the climb will be manageable thanks to the support from his colleagues.
"It means a lot that they've got my back," Owen said. "They don't want me to do this by myself."
Oh, and he'll be back at the event for the foreseeable future.
Retirement is looming, and he wants to stay fit enough to spend time in the Colorado mountains.