As a few customers straggled into downtown Omaha's Culprit Cafe near closing time, owner Luke Mabie was set up in the back of the bakery.
He stood at a counter rolling out pretzel dough. He rolled the strips back and forth, nearly a dozen times, until they resembled breadsticks.
Then he popped trays of the more traditional-looking twisted snacks into the oven.
Mabie and fellow baker Ricardo Guerra will roll, bake and deliver more than 200 pretzel products by the weekend.
Mabie will run back and forth along a roughly 2-mile stretch of Farnam Street for eight hours on Saturday. He expects to run a 50K, which equates to about 31 miles.
The feat is a fundraiser for Project Purple, a nonprofit that raises awareness of pancreatic cancer. Funds raised will come from the sale of pretzels at local businesses along Mabie's running route on Farnam.
"I'm putting my money where my mouth is," Mabie said. "I'm donating this product I made with my hands."
Mabie had been a regular runner before opening the two locations of Culprit Cafe — one at 16th and Farnam and the other at 32nd and Farnam.
But the recent birth of his daughter and multiple family members battling cancer helped Mabie to shift gears.
"A lot of things took my head out of being immersed in restaurants," he said. "All these things added up to a sense of focus toward something else."
Mabie got back to running and in March 2019 tackled his first marathon in a decade.
Then he started thinking of ways he could give back through Culprit. He wanted to steer clear of donations tied to coming into the restaurant on a certain day or week.
"It gives people a lot of excuses," he said.
Then Mabie found Project Purple through the running community. Some of Project Purple's primary fundraising comes from participation in marathons, half marathons and other races across the country.
While he hasn't been impacted by pancreatic cancer, he saw a need for research on the disease.
"I'm trying to remove the emotion. Let's take a step back," Mabie said. "Who really needs this?"
Mabie hopes to raise $4,000 through the effort.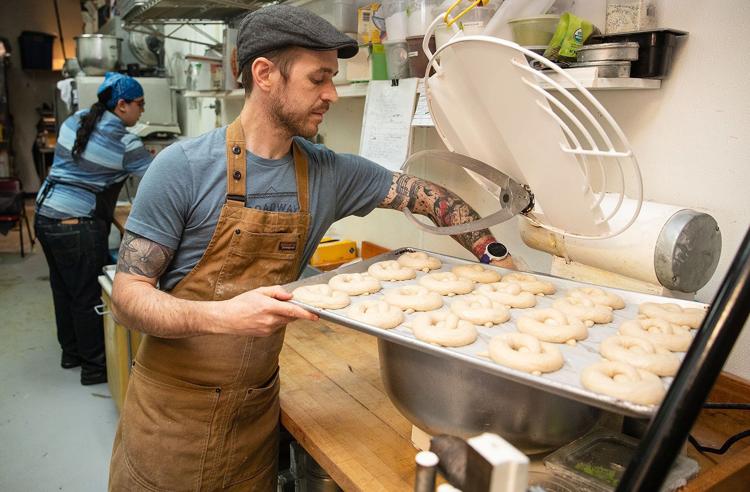 At first, he thought he could make a different type of bread to be sold at each of the nine participating locations along Farnam. Then he decided to simplify things by making pretzels.
"I loved the blue-collar aspect to it," Mabie said. "I loved how we could get a quality item and get it to other restaurants and bars."
Some spots will offer traditional pretzels and others will sell a twist on the classic snack, like hot dog or hamburger buns. A portion of the proceeds from each item will go back to the cause. Mercury and Nite Owl both will offer special drinks for the occasion.
In his free time, Mabie has been going on lengthy runs. He's gotten advice from several members of the local running community. But he's found the mental challenge tougher than physically running.
On a four-hour run, his mind was racing thinking about what calls he was missing, what might have broken down at the bakery and what specials he would make for the weekend.
"What kind of energy are you going to have every day if you just remove your mind from all of these things and remember that it's just a day?" Mabie said.
Mabie will start his run at noon and will go until 8 p.m. He's planning to take breaks at businesses along the way. He encourages fellow runners or cyclists to join in for a lap. If that isn't their style, they can stop by one of the businesses on the route to support the effort.
The run, which also serves as a way to highlight Farnam Street, is something Mabie hopes to grow.
"I think Farnam is the place to be. I mean, I know I have two restaurants on it," Mabie said. "If this (event) goes over well, I want to do it every year and get more restaurants involved."
Think Mabie's taking the day off after the eight-hour run?
Think again. He'll be up at 3 a.m. to get back into the bakery.
A roundup of inspirational stories from Midlanders with heart
There's the woman with MS who runs despite her diagnosis. The 7-year-old born without his left hand who plays baseball just like the other kids his age. The refugee who turned to Zumba to help her recover from cancer treatments. Check out their inspiring stories and others below.