Candi Troia received a diagnosis of stage 4 lung cancer nine years ago and was told that she had one year to live. Yet there she stood Sunday at the finish line of the 39th Omaha Corporate Cup handing out medals to runners and walkers raising money for the American Lung Association.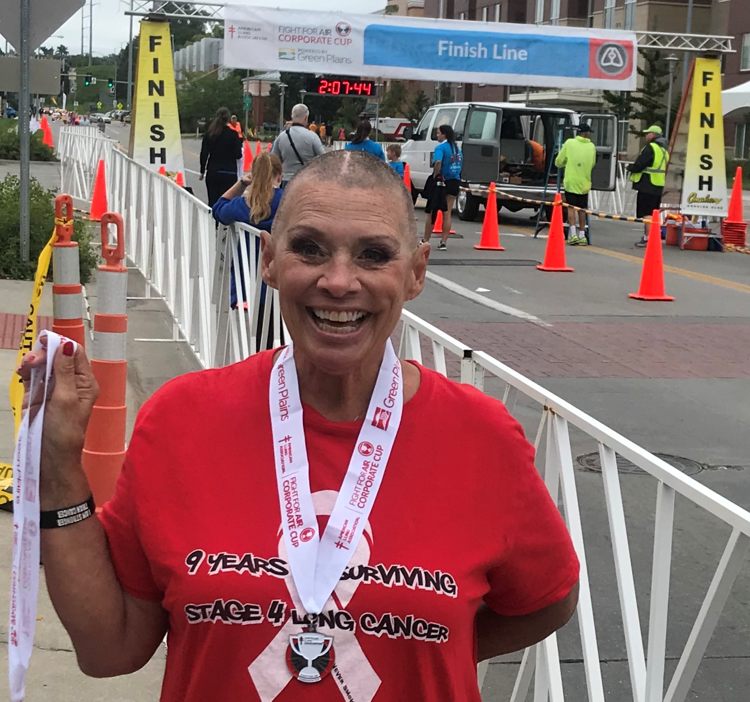 "It feels amazing. It's wonderful to see all these people here," said Troia, who also underwent surgery in June to remove a brain tumor that had spread from her lungs. "We need more funding, more research and more awareness about lung cancer because you don't have to be a smoker to get it."
Troia, 63, is a longtime real estate agent who never smoked. Doctors were slow to make a diagnosis because of her nonsmoker status, she said.
"It just shows that anyone can get lung cancer," Troia said. "I think there's a stigma attached to lung cancer because of smoking, but no one ever deserves to get it."
The 10K run and 2-mile walk started and finished in Aksarben Village, near 67th and Center Streets. The longer course took runners through Elmwood Park and the University of Nebraska at Omaha campus before heading back to the finish line.
Sign up for World-Herald news alerts
Be the first to know when news happens. Get the latest breaking headlines sent straight to your inbox.
The event is expected to bring in more than $340,000 from more than 4,000 participants, corporate sponsorships and donations, said Julia McCarville, executive director of the Nebraska chapter of the American Lung Association. The total was at $333,000 as of Sunday morning with a month of fundraising to go. Last year, the Corporate Cup raised $325,000.
This would be the fifth year in a row that the Corporate Cup will have exceeded its fundraising goal, McCarville said. Fundraising will continue over the next month on the Internet at omahacorporatecup.org with the money supporting education, research and advocacy in Nebraska.
"This has become part of Omaha's culture," McCarville said. "We've talked with people today who were pushing their children in strollers (along the course) that were being pushed in strollers by their parents in the 1980s."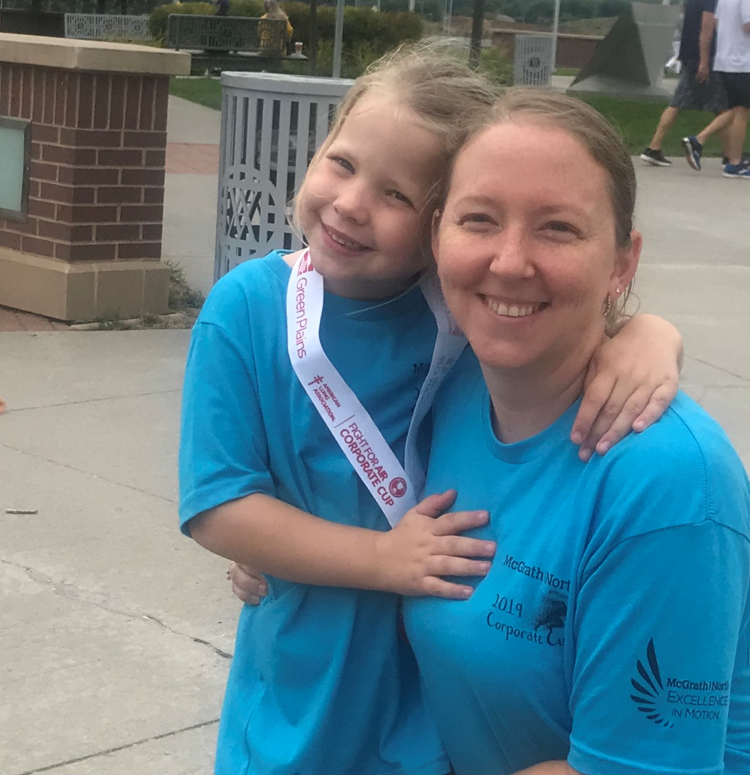 Brooklyn Ballinger, 5, of Kennard, Nebraska, used to be one of those babies. Her mother, Katie Ballinger, said it's the fifth year they've navigated the 2-mile walk.
"We've done it every year with (Brooklyn)," said Ballinger, a paralegal with the McGrath North law firm. "It's always good. Actually, it was better than last year because they removed that big hill."
The big hill she referenced is on Woolworth Avenue starting at 66th Street. McCarville said the course was judged "not wide enough" at that point and so the route was tweaked.
"It was a monster hill, but it just wasn't wide enough," McCarville said. "We had a lot of positive comments about the course this year."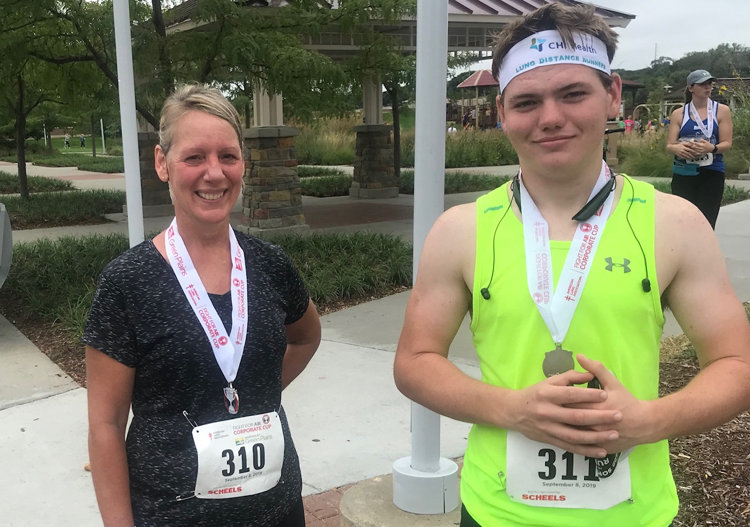 Giving a thumbs-up for the course were Katie Higgason of La Vista and her 14-year-old son, Phil. The freshman runs cross country for Skutt Catholic High School.
"I enjoyed it," Phil said. "It's a good course and much better than last year."
The near-perfect weather conditions — 63 degrees at 8 a.m. — and a chance for a nice workout were motivators for another mother and son duo. Deb Leffler and Dillon, a senior at Conestoga High School in Murray, said the weather and festive mood made the morning most enjoyable.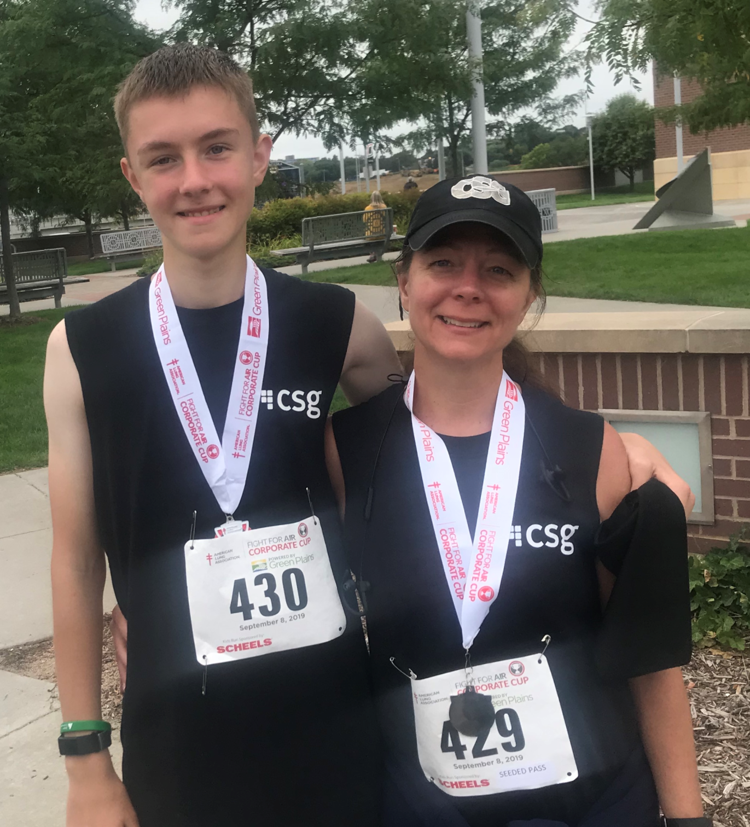 "(Dillon) was telling me about this little kid he saw running and then there was a guy running without shoes," Deb said. "It was just a very fun atmosphere."
After the run, volunteers from Athletico Physical Therapy helped runners stretch out. Therapists pushed, pulled and worked muscles to keep them from tightening up.
"We want to make sure they don't have any post-race injuries or soreness," said therapist Jerry Jacobi. "We've been doing this a couple of years. It raises awareness and it's good community service for us for a great cause."