The newest event from organizers of the Market to Market Relay and Good Life Halfsy will have runners tucking away their sneakers and race bibs and dusting off their bicycles and camping gear.
The Radler, a two-day bike festival, is the first cycling event for Pink Gorilla Events. It's set for Aug. 3.
The event combines some of the flavor of a European bike riding tour with an all-American camping experience, said Jared Bakewell, marketing director for Pink Gorilla events.
Sign up for the Live Well Nebraska newsletter
Get the latest health headlines and inspiring stories straight to your inbox.
The cycling event, for riders 21 and older, is capped at 1,000 participants. The 33-mile course includes closed roads, paved bike trails and crushed limestone trails between Lincoln and Roca, Nebraska. The festival will include food, beer, yard games, yoga and live music.
Pink Gorilla Events formed in 2008. The organization puts on nine running events a year that draw more than 25,000 people. Organizers heard interest in a cycling event from participants at Pink Gorilla's running events. Some staff members are cyclists themselves.
The first day takes cyclists on a 20-mile trip from Lincoln to the Roca Berry Farm in nearby Roca, Nebraska. The ride departs on closed streets from the Railyard in Lincoln. Cyclists will head through Pioneers Park and Wilderness Park on the way to the farm.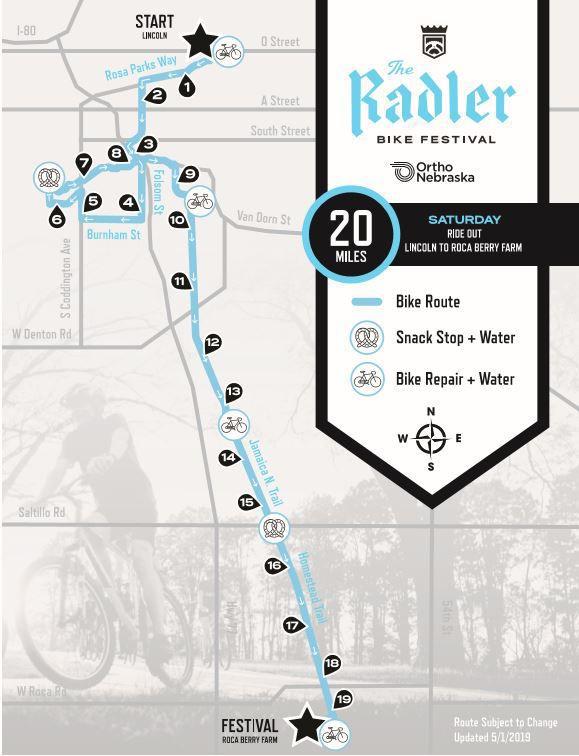 They'll also be met with two snacks during the 20-mile course. A lemonade stand will be set up in Pioneers Park. Then, near mile 15, cyclists can snack on Italian ice.
Bakewell said they expect it to take between one and four hours for riders to reach the farm.
At the farm, cyclists can drop their bikes, pick up luggage — each rider can check two bags at the start line — and take a hot shower in shower trailers before hitting the festivities.
"I think of the festival as a combination of music festival, beer festival and festival for foodies," Bakewell said. "Our idea was to essentially make it feel like an adult day camp."
In addition to having a bite to eat and a beer, festival-goers can take part in yoga sessions hosted by Lotus House of Yoga or listen to live music from local acts Rascal Martinez, Twinsmith, State Disco and Andrea von Kampen.
Other activities include cornhole, dodgeball, tug-of-war and a rock paper scissors tourney. Participants can also take it easy around a campfire and eat their fill of s'mores.
Beer will be flowing in two air-conditioned barns. That includes the event's signature brew from Kinkaider Brewing Company. The beer also will be available at select retailers and at this year's College World Series. The name of the event and the beer — radler — is German for cyclist, Bakewell said.
When things wind down for the night, cyclists can tuck away in tents or hotel trailers. Participants can bring their own tents, or pay an extra $80 to rent a tent that will be set up and torn down for them. The hotel trailers, which sleep four, also can be rented for an extra $225.
Planning for the Radler started 18 months ago.
The format is similar to other local cycling events like the Bike Ride Across Nebraska, or BRAN, and RAGBRAI, the Register's Annual Great Bicycle Ride Across Iowa. BRAN, in early June, is capped at 600 riders. RAGBRAI, in late July, typically draws about 10,000 riders.
Both BRAN and RAGBRAI offer options for multi- and single-day riders.
Organizers said they envision the Radler fitting into the market differently than BRAN and RAGBRAI. A weekend bike ride felt more accessible to more people, Bakewell said.
"It's designed to be distances that are accessible to cyclists of all abilities," Bakewell said. "If you have a bike, you should be able to do this."
Those who don't feel like roughing it can hop on a shuttle back to Lincoln for a $5 fee. It's about a 30-minute drive. In the morning, they can get back on the shuttle to have breakfast at the farm and complete the bike ride home.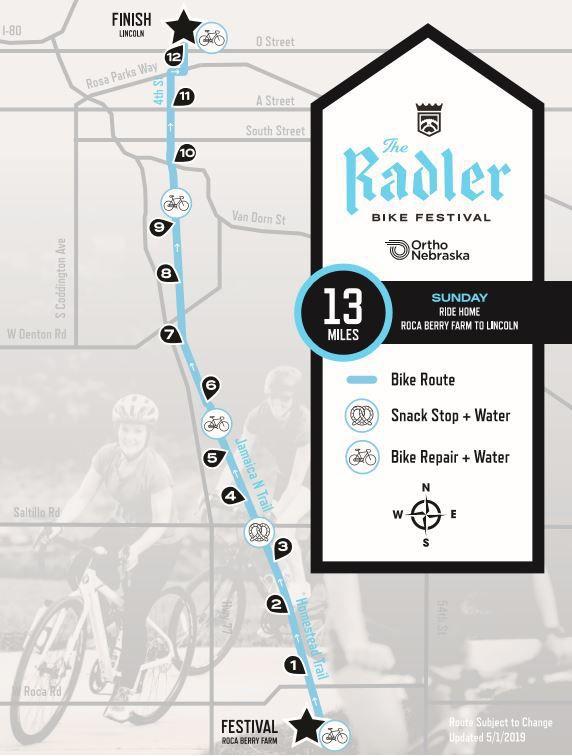 Riders will leave the farm between 7 and 9 a.m. for the 13-mile ride home. They'll be met with an event T-shirt and finisher mug once they reach Lincoln.
Online registration opens May 24 at 10 a.m., and costs $139 per cyclist. Registration fees include a free beer, snacks, a meal on Saturday and breakfast on Sunday.
Omaha's most popular parks
What better way to enjoy the outdoors than spending time at a park? Pack up your family or friends and head to one of these 20 local spots, among the most popular in the city, according to the Omaha Parks Department.