When Hannah Mirmiran started working out, she knew she wouldn't see results overnight. But that didn't make it any less frustrating.
The Omaha woman stuck with her boxing workouts, and within six months she had dropped 60 pounds. It became a lifestyle change. She makes it to the gym five times a week, has cut out alcohol and has revamped her diet.
Mirmiran, a mother of three, has made working out a family activity. Her oldest son, 9-year-old Joey, joins her in evening classes.
She helps him wrap his hands and put on his gloves. Then they set up at neighboring bags. After each 3-minute round, Mirmiran offered her son a high five.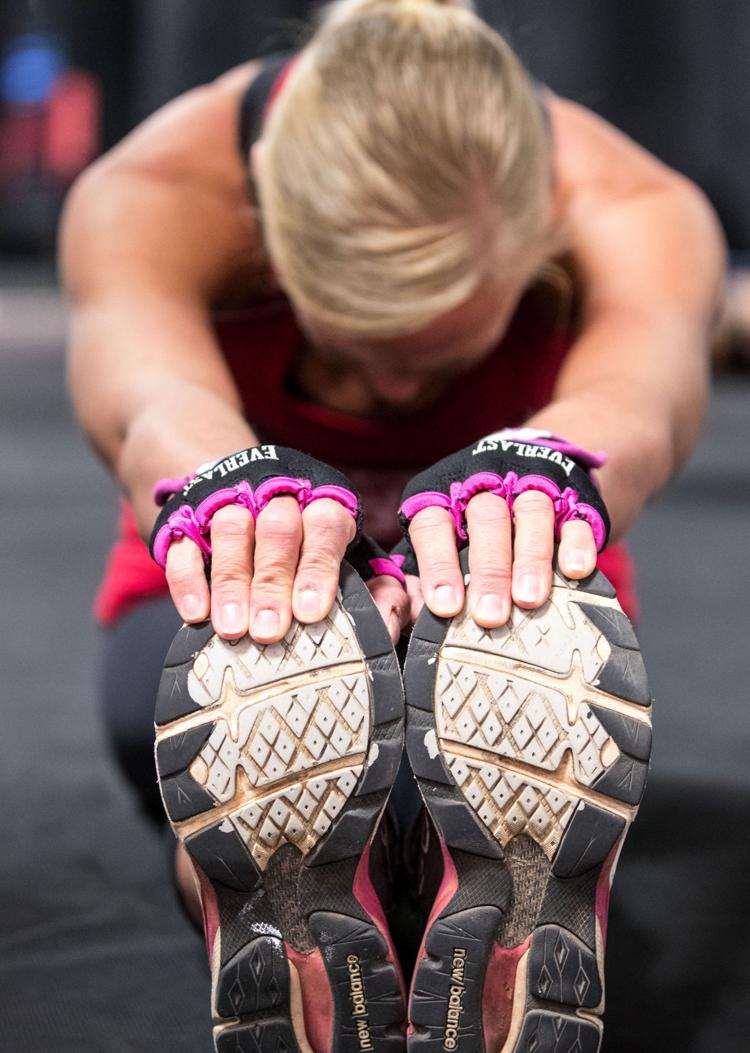 Q: When did you start working out and why?
A: I started six months ago. I was not happy with the way I looked. I was going through a tough time and a divorce. I wanted to be healthy. As a therapist, I'm always telling people to get healthy. So I wanted to be more authentic in that way.
Q: Describe your workouts. How many days per week do you exercise?
A: It's a one-hour boxing class. It's broken up into a 10-minute warmup, 35 minutes of boxing or kickboxing and 15 minutes of strength training. I come to boxing five times a week. I go to yoga twice a week. I've always hated exercise. This I like because I feel like I'm doing something productive. I've never been in a fight with anybody, and hopefully I never will be.
Q: What is your current fitness goal?
A: I want to maintain my weight. I've lost 60 pounds since I started working out here. I want to keep strong as I get older and maintain my strength and cardio. Once I started coming here, I noticed the changes in my body.
Q: What has been your biggest accomplishment?
A: I quit drinking alcohol. I feel healthier and happier. I'm a better mom. My kids say I'm more active and fun.
Q: What has been the toughest hurdle and how did you overcome it?
A: Changing my daily pattern. When you start to make changes at the beginning, it's hard because you don't see them. I had to just believe in myself and told myself to stick with it. It's a lifestyle change. I can see myself doing this forever and not feel like I'm restricting myself. I'm replacing my negative habits with positive ones.
Q: What helps you stay on track?
A: My kids. This has helped our relationship, and it's something we can do together. I've also stayed on track because of the way I feel. The gym community is really empowering. People are supportive and trainers get to know you.
Q: What do you do when you aren't in the gym?
A: I like to spend time with my family. We go to the movies and take care of our goldendoodle, Johnny. We also like playing games. The game Clue is our latest obsession. I also like to travel.
Q: What is the piece of equipment, supplement, clothing, etc. that you can't live without?
A: My gloves. They're my good luck charm, I guess.
Q: What advice would you give to someone who is just starting their fitness journey?
A: Trust the process. Know that you won't see results overnight. It takes time, and it's worth it. Find a community that fits, one where you feel supported and not judged.
kelsey.stewart@owh.com, 402-444-3100, twitter.com/kels2