About six years ago, diet and exercise weren't part of Andrea Hennings' daily routine. She was at her heaviest, about 187 pounds.
The Papillion mom started to revamp what was on the dinner plate and started working out.
Now the 31-year-old is maintaining a 60-pound weight loss.
And she's hooked on exercise. Hennings hits the gym six days a week.
"I kind of became addicted to it ever since," she said. "It's a healthy addiction."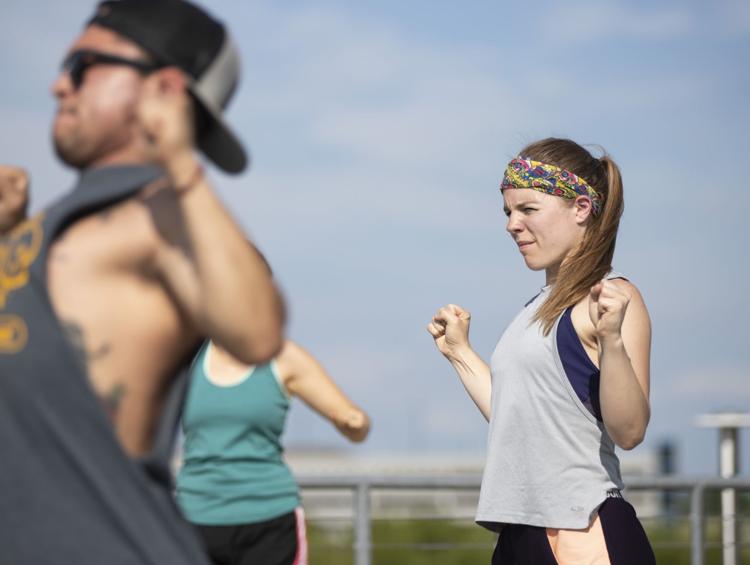 Q: When did you start working out and why?
A: About six years ago, I weighed 180-some pounds. Then I started to focus on what I was eating and working out. My sister introduced me to this boot camp. When I was pregnant, I wanted to work out safely. So I started training at the Downtown YMCA.
Q: Describe your workouts. How many days per week do you exercise?
A: Lots of weight training, cardio and high-intensity interval training. I work out six out of seven days. I take Sundays off.
Q: What is your current fitness goal?
A: To build lean muscle. I used to be a cardio junkie. I would try to do at least two to three half marathons a year. Now, lean muscle mass is my goal. I've started Olympic weightlifting.
Q: What has been your biggest accomplishment?
A: Finding a work-life balance with working out.
Q: What has been the toughest hurdle and how did you overcome it?
A: Finding that balance, even on nutrition. The Downtown YMCA team taught me ways to do that, and I'm applying it to my everyday life.
Q: What helps you stay on track?
A: The fun workouts. They challenge you in ways you can't challenge yourself. They keep the workouts different every time.
Q: What is your gym pet peeve?
A: Loud grunting noises. It makes you feel overwhelmed. I try to shut it all out.
Q: What do you do when you aren't in the gym?
A: We do the Nebraska Passport program. So I travel Nebraska with my daughter, sister and mom. I also run.
Q: What is the piece of equipment, supplement, clothing, etc. that you can't live without?
A: I can't live without a good pair of workout clothes.
Q: What advice would you give to someone who is just starting their fitness journey?
A: Don't be intimidated. Get in the gym. Ask questions and give things a try.
Gymgoers share what motivates them, pet peeves and their proudest accomplishments
You never know who you might run into at the gym.
There's the man who's exercising as he waits for a heart transplant. Or the woman who's made Jazzercise workouts part of her life for more than 30 years.
Some workouts see moms accompanied by babies. Elsewhere you'll find folks well into their 90s who stick with exercise.